Call Of Duty Warzone requires the players to upgrade their weapons and character continuously, and for that, you need XP. Now completing almost any task or challenge in Call Of Duty can get XP points, but if you are looking for a quick boost overall, then you need to use the XP tokens.
The XP tokens are exclusive rewards you get in the game that effectively brings you double the amount of XP; then you would usually earn. So in this article, we will take a look at how these tokens can be used and how you can get these tokens.
How to use XP tokens in Call Of Duty Warzone?
Almost every weekend, Activision pushes out weekly events that help their Call Of Duty players to earn a double amount of experience points. Now even when these events are not happening, players can still earn double XP, and for that, you need to use the XP tokens as mentioned above. The XP tokens come with a time frame from 15 minutes to 60 minutes, and for that short interval of time, every point you earn will double up. Now, remember, this time is not limited to only when you are playing the game, even when you are on the game's main screen, time will get eaten up. So make sure to use these token right before you are about to enter a match.
While you are in the lobby, you can use the left stick of your console, or mouse of your PC to bring up the menu on the left that will show all the tokens that you have currently have on you. Depending on your earnings before, you could see several different types of double XP tokens. To use any one of them, just select and press the X or A button on your console. You can do it directly with your mouse, too, if you are on a PC.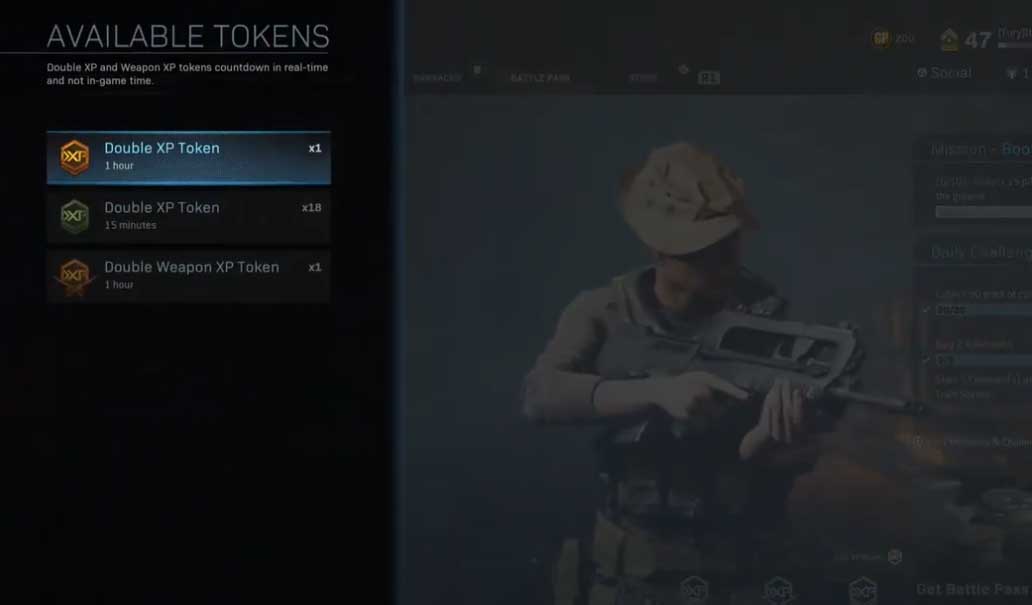 Depending upon the token you select, the timer will start, and now you need to get to work and collect as many experience points as you can.
Now, how exactly you earn these XP tokens? You can upgrade your weapon and character, and that will get you XP tokens sometimes. Completing challenges you see on the right-hand side in the game's lobby will get you XP tokens. And the best way of all is to level up the battle pass every new season, and that will also get you a double XP token.
So there you have it, a quick and easy guide on how to use double XP tokens as well as how to get them in Call Of Duty Warzone. If you have any queries, then comment down below and let us know. Also, be sure to check out our articles on iPhone Tips and Tricks, PC tips and tricks, Android Tips and Trick much more for more useful information.