Borderlands 3 is an action role-playing first-person shooter video game. Developed by Gearbox and published by 2K Games, this is indeed one piece of creative art. Borderlands 3 was released on 13 September 2019 for Microsoft Windows, PlayStation 4, Xbox One and on 30 October 2019 for Apple macOS. Borderlands 3 is the sequel to 2012's Borderlands 2, and the fourth main entry in the Borderlands series. Progressing in the game by eliminating bosses and winning war zones with friends is fun and challenging. And the game is a thrill of its own when you drop among a whole variety of guns to choose from and actions that you can mess with!
One of the Legendary weapons in-game, the Anarchy, is our main purpose today. Anarchy is a Shotgun that falls under the Legendary or Orange rarity in Borderlands 3, which a majority of players are searching for the potential location to scavenge for it. However, this weapon is a part of the new DLC Guns, Love, and Tentacles and is exclusive for this DLC. This sadly means that in order to access the location of this weapon, you'll need to have access to the Season Pass or purchase the particular DLC separately. If your love for a powerful shotgun is intense but don't know where to find it, read on. Because following is the potential location to get the Anarchy in Borderlands 3.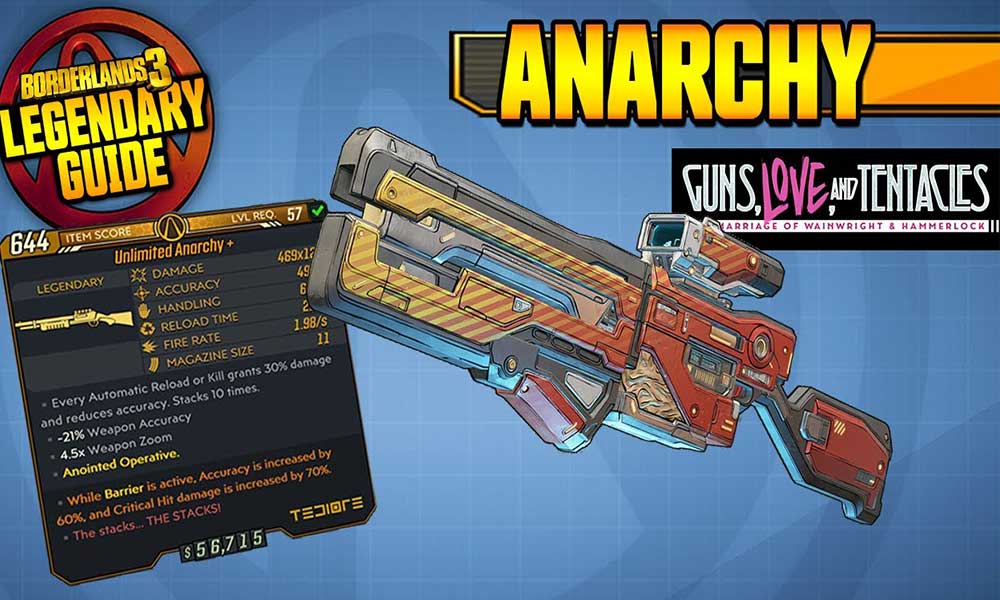 Where to Get the Anarchy
Make sure you have the basic requirements as we mentioned earlier. That is either access to the Season Pass or purchase of the Guns, Love, and Tentacles DLC is required to access the potential locations for the drop. However, Anarchy is a world drop and does not have a dedicated drop source. Hence, we are listing the certain/potential locations/enemies you can kill/farm to get the drop. Furthermore, there are plenty of talks on the internet that says you'll have to be on a specific Mayhem level in order to be able to get this weapon. This is entirely wrong, you legit don't need to be on any Mayhem level to get this weapon's drop.
There are potentially three enemies/bosses that you can kill/farm to get the weapon. These are:
From the enemies TOM and XAM in the Heart's Desire map.


Killing the boss

Empowered Grawn

in

Negul Neshai

From the SKRITAARI in Xylourgos


Summing up our guide, you can go to these three locations/enemies to get the Anarchy. You might have to make multiple tries in order to get the drop it only comes randomly and rarely. We deduct a 40% probability of finding the drop in multiple tries since farming these enemies will help you pinpoint your grind further. And as said before, you don't have to be on any Mayhem level but in order to access these locations, you'll need the Season Pass or the particular DLC. Good luck!