Those who are regular in the Android world, they must be knowing of Evan Blass. He is our friendly neighborhood leaker who is always in the forefront to spread the latest word about upcoming Android updates. Evan recently came up with a sweet tweet citing that Android P developer preview is going to drop in the middle of March 2018. We definitely trust his words on this. The fact remains that, on the Android P release date what we will see is a developer preview. It is pretty much meant for developers. This will also be an opportunity for custom ROM developers who will bring out cool alpha/beta version of ROMs based on the layout of Android P.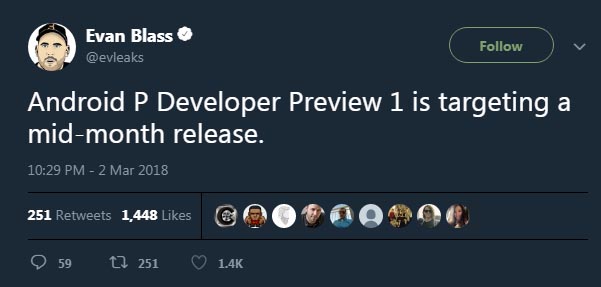 As it happens, the early version of android P is gonna show up on Google's own Pixel and Nexus series of smartphones. As it happened last time with Oreo, Android P developer preview might drop in phases spanning around months. Android P release date is expected to be 14th of March. Android P is expected to concentrate more on security aspects. A feature we might see that will notify the user if the call is being recorded. It sounds quite interesting. To be honest to get any reliable and detailed info regarding features of Android P you have to wait for the Google I/O Conference. The conference happens in May 2018 which is not that far away. So, mark your calendars for the same.
Though everyone is excited to get the first look of Android P, it still brings an important question. The question remains there is still a number of devices that are yet to get Android Oreo, mind you they have been slated for an Oreo release.  Now it isn't even a full one year of Android O release and rollout. Many OEMs are still into Beta testing Oreo. Even though some OEMs like Samsung recently finished Beta testing, the stable Oreo is only rolling for one or two premium flagship devices. In this context, entrance of Android P seems intriguing. Hopefully, by the time developers officially make the most of Android P, Android O has annexed all the smartphones it was meant for.
Check: What Are The Features of Android 8.0 Oreo 
Android P Release date: What will be Android P Named As..?
Everyone knows Android OS versions have been named after popular sweet dishes and chocolates. Android O was named as Android Oreo after the popular cookie from Nabisco. So, going with the flow Android P will also be named after sweet item. Some sources are pointing that it will be termed as  Android Piue. The interesting fact that is being circulated over the interweb is the name Pie is synonymous to the developer preview release date. In simple terms, we know mathematically value of Pi is 3.14. Now, 3/14 is the date dev preview rollout is happening. Hence the 9th iteration of the popular smartphone OS may be called as Android Pie.
Some are expecting Android's upcoming OS will be called Android Pistacchio. Maybe or may not be. Who knows what it will be named..?! we guess it's just a matter of time.
So, that's pretty much about it.Mark your calendars for having a look at the first developer preview of Android P. Android P release dates is now revealed. So, keep your eyes peeled for more on this.
Stay tuned and follow GetDroidTips to get more latest info and updates regarding the upcoming Android P.