Here we will list all the eligible Android 9.0 P Supported Vivo device (Android Pie). As we know manufacturers are still working on rolling Oreo out to customers before the end of 2018-19.
Android P is just around the corner with its beta version i.e. Developers Preview already making the buzz on the internet with thousands of positive reviews and more. Check out our compilation of List of Android P Supported Vivo Devices where you can check out the list of devices from Vivo, a Chinese smartphone manufacturer, supporting the upcoming Android P. In fact, as a part of Google Project Treble, Google launched the beta version of the new OS on nine smartphones which includes its battalion of four Pixel devices, Vivo X21, and one smartphone each from its top partners including Oppo, OnePlus, Nokia, etc.
Android P is touted as one of the finest Android updates with refined features and APIs, unlike its predecessors. Google has worked a lot in making its animation and transition completely new with added colors and fantastic transition which also play in reverse when the user is trying to get back to the main menu. Its multi-camera support will enhance the camera experience we have with our Android devices. Google has paid an up-close attention towards the privacy and security of its users and thus, there are a bunch of new features that concentrate on providing optimum privacy to its users.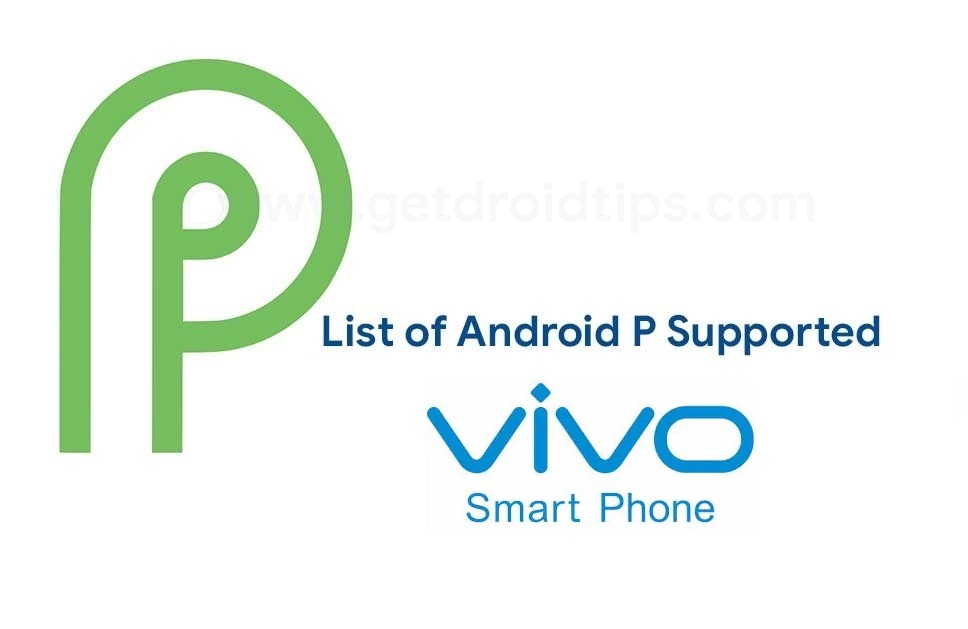 Its security feature doesn't allow any background app to access mic or camera without the permission of the user as it may be used for spying or tracking. So, Android P is great, however, its name has been a mystery that wasn't even revealed at the Google I/O Conference 2018 held between May 08 and May 10, 2018. If you are an Android user, you'll have to wait for some more time until Google announces the official name of Android P. But this hasn't stopped people from speculating names such as Parfait, Pancake, Pie, Popsicle, Pineapple and there is a whole bunch of potential names though.
Google released the Developers Preview in early March 2018. Since beta version is for testing purposes, there may be bugs in the new OS which requires resolution. Soon after receiving the reports on bugs found, Google will work on it and finally, it will start rolling out the official update in August 2018. But launching an update and releasing it to the devices are two distinct things which means, Android users will have to wait for more time to receive the update citing that Android Oreo, which went live last year is yet to be received by a plenty of user base and sadly, there will be a huge section of users that won't get the update.
What's on Android 9.0 P?
Finally, Google started rolling the next major version of Android for the supported Google Pixel device. After the Android 8.0 Oreo, this is the 9th iteration from Google. The Android P developer preview is out for the for developers (and eager Android enthusiasts) to take for a test drive. With Android P, Google has revamped many UI changes which includes notification panel, Settings, Quick Toggles and more. The main highlighted features of Android P is notification panel, indoor WiFi positioning, support for iPhone X-style notches, Material Design 2, Dark Mode, Enhanced Auto-fill, Dual Camera API, Neural network API implementation and many more.
Features of Android 9.0 P:
Here is the list of top features in Android 9.0 P:
New Notification Panel: With Android P, Google has completely changed the interface on the notification panel. The quick toggle button now resides inside the dark circle while date, time and carrier name have been removed. With the new notification, Google will also let you select the reply from Google's machine learning-powered Smart Replies, which scans your messages and will suggest custom replies for you.
iPhone X Like Notch Support: With phone screens getting bigger and bigger and bezels getting slimmer and slimmer, the smartphone manufacturers now have no room for camera, and earpieces> If you like it or not, Google has introduced Notch supports in Android P for developers to test how their app will behave on devices with notches.
Multi-camera API: Google finally introducing the Multi-Camera API which enables developers to "create innovative features not possible with just a single camera." Also this feature allows every app to request multi-camera instead of the single camera.
WiFi Round-Trip-Time (RTT): This feature allows apps to receive indoor positioning data at an accuracy of 1-2 meters of your position.
New UI for settings/quick settings: Google once again revamped the settings menu and quick settings after the Android Oreo. With the new settings UI, Google introducing new icons for each settings menu.
Power Saving: In Android Nougat, Google introduced the Doze mode which enables more battery backup while your phone is not in use. With Android P, Google has worked hard to bring the more advanced doze mode with App Standby, and Background Limits to further improve battery life.
Enhanced Auto-fill: Auto-Fill one of the best features which will save all your username and password. Google rolled this feature in Android Oreo and now they have improvised it with Android P.
and more features such as:
New Animation/Transition
Pixel launcher has been improved
Battery saver no longer shows orange warning
About phone screen now shows additional info in a popup window.
Screenshot button in power menu
Text selection zoom (like iOS)
Battery saver can now be scheduled.
Do Not Disturb has been simplified down to a single mode
Volume buttons now control media volume by default
Adaptive Brightness is now much more useful as it actually changes the base brightness level
Hotspot can be turned off automatically if no devices are connected
Rotation can be locked to landscape mode
List of Android 9.0 P Supported Vivo Devices
Will my phone get an Android P upgrade?
Android 9.0 P is the latest operating system by Google which will start rolling out in August this year. With newer versions of the operating system, newer Android device drivers are required to be written by manufacturers which means, each smartphone company will have to create drivers for their devices in order to send an update via OTA. Every newer Android update has a specific minimum hardware requirement which must be met in order to support the update which is another factor that reduces the number of devices to get the update.
Smartphone manufacturers usually release 6 to 7 smartphones a year and updating every newer and older version of phones to support the new Android update becomes a great amount of task. Since there is a huge population of phone users who will update their phones every year or two, manufacturers usually skip updating the older versions where they would have to pump efforts and money in order to provide the update. On the other hand, newer models of phones are pre-configured to support newer Android version which is sold across the globe making a huge incentive for the companies.
There are other factors involved too. Many smartphones are made to support the only small amount of functions while many models are made with the cheaper specification for the cheaper price tag which will barely get any further updates. So, if you are looking for an Android P update, your phone must have sufficient hardware requirements and must have released last year or so. You can check out the list of Vivo (and other) devices that will receive the update later this year.
What should I do if my phone is ineligible to get an update?
There is a trick that you can use to get Android P update without much hassle. Instead of official Android P update which will be available for only limited devices, you can check out custom ROMs. These are firmware that extends smartphone's capabilities and features. Formerly known as CyanogenMod, the Lineage OS is among the top contenders in the Custom ROMs sector. It is expected to roll out the new Lineage OS 16 which is based on Android 9.0 P and will start rolling out in December 2018. The best thing about these custom ROMs is that there is a much larger market for devices that can use it that were earlier ineligible to receive official Android updates. Check out GetDroidTips for more tips and tricks.