Updated on August 06, 2018: According to Evleaks, Google will release the stable version of Android P on August 20, 2018. There are rumors that Google will call the next Android version with either Android Pistachio or Android Popsicle.
We all are aware of Google's sweet tooth. The OEM names its Android operating systems with sweet dishes. The current sable Android OS is Oreo which initially came with v8.0 now upgrading to v8.1. However, Oreo is soon going to have a worthy successor which is the upcoming Android P. Well, as of now, Andriod P's link with any sweet dish is yet to reveal. We have a gut feeling that Android P will stand for Android Popsicle.
There are a lot of speculations going on the interweb, regarding the name of Android P. Now we will tell you why we think Android Popsicle will be the name of the upcoming open-source Android OS v9. Back in spring this year, Google let out a pack of wallpapers. It is the Google Spring 2018 stock wallpapers. In the set of wallpapers, it had a certain wallpaper which was quite indicative of Android P. This wallpaper displays various colors of popsicles. Here you can have a look at it.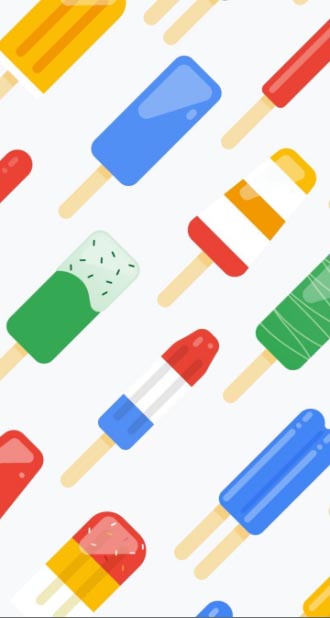 However, some people suggest the upcoming Android OS v9 will go by the name Android Pistacchio. It belongs to the nuts family and is not really a sweet dish. So, this may not be Google's choice to name its new OS. Therefore it may go for Popsicle. This is only speculation. It may take any name.
Android P is currently rolling for various devices in its Beta form. It will soon drop in its stable avatar. Till then we have to wait and watch which sweet dish we are going to taste this time with Android v9. Will it be Android Popsicle or something else..? Let us know in the comment down below.