A life simulation video game developed and published by Nintendo exclusively for their very own Nintendo Switch on March 2020, Animal Crossing: New Horizons gives players an enjoyable and stress-free experience. Players can not only interact with a whole community of animal residents but can also express their own creativity. This fifth Animal Crossing entry is a great attention grabber. In just two months it has managed to sell over 15 million units all over the world. That's quite high according to the user base of Nintendo. Well, let's not make things complicated and tell you that today our guide will give the codes for Fire Force outfits in the game.
As we have already earlier the codes for Harry Potter outfits, the users again want the codes of Fire Force outfits. And we cannot deny the fact that we have them with us. So here is the guide with all the codes of Fire Force outfits. If you are one of those users who was waiting for these codes, then well, you are in the best place. So let's get started.
Customizations in Animal Crossing: New Horizons
You are free to do whatever you like!. You can set up goals or can compete in certain activities to earn in-game rewards. Once you discover your island, you get a lot to customize and create. Not only floors or wallpapers, but you can customize your outfits too! For all the Fire Force fans out there, a lot of options available to customize your outfits into different characters.
The only condition you need to fulfill here is that you have to be a Nintendo Online Subscriber and should have also unlocked the Able sister's shop. Right after head over to the kiosk in the right corner of the shop. Search for different creators and hit the codes to access the costumes directly.
Animal Crossing: New Horizons Codes for Fire Force Outfits
Here are the Fire Force custom outfit codes of various characters! You can use these codes to add these fabulous outfits to your wardrobe.
COMPANY 8 FIRE FORCE COAT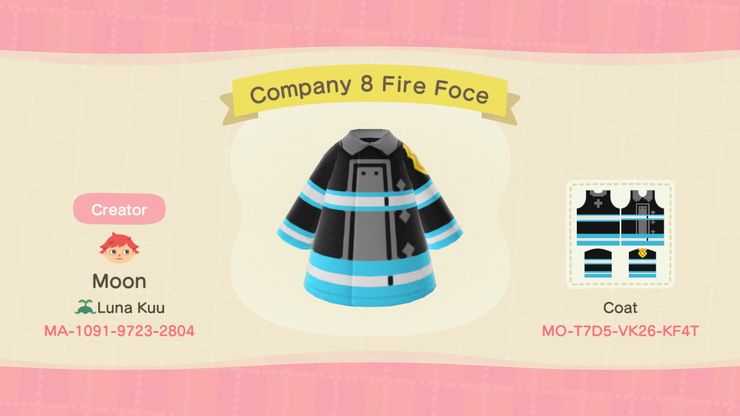 MO-T7DS-VK26-KF4T
HEAD SUPERVISOR FF (Brimmed Cap)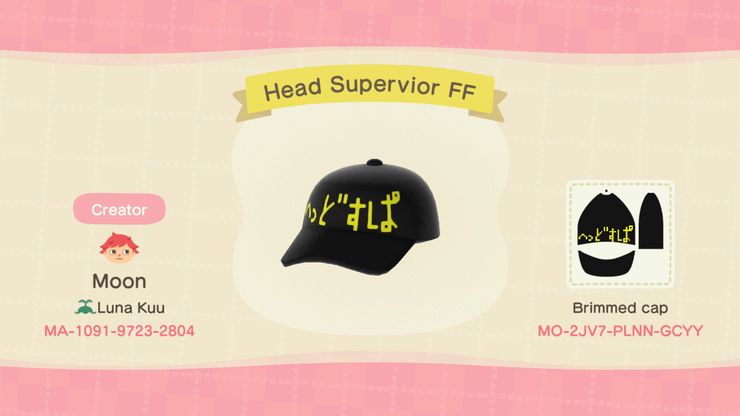 MO-2JV7-PLNN-GCYY
HIBANA ROBE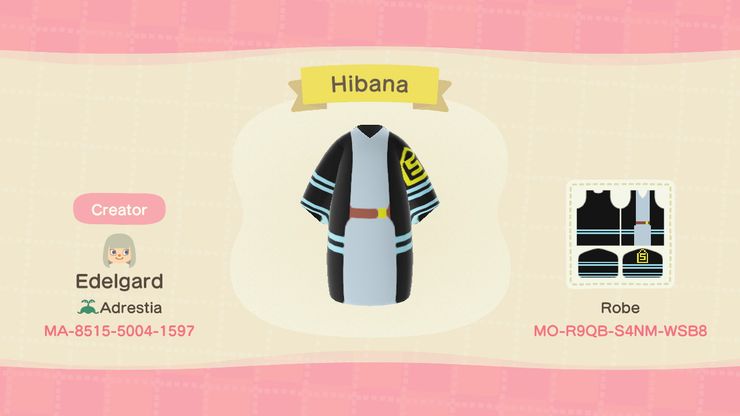 MO-R9QB-S4NM-WSB8
THE FIRE FORCE COAT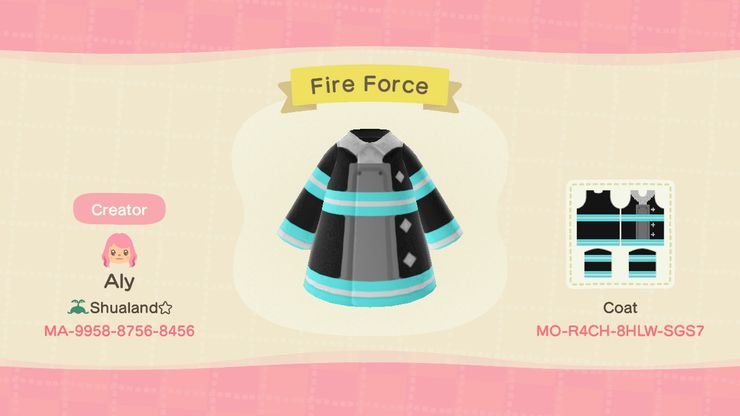 MO-R4CH-8HLW-SGS7
Animal Horizon has provided customizable outfits of other Anime shows as well, like Demon slayer, Naruto, and One Punch Man. Not only Anime, but Harry Potter and Avengers fans can show off their outfits as well, whatever suits you best. 
This guide was to help the players of Animal Crossing: New Horizons to get the codes of Fire Force outfits and add them to their collection. After reading our guide, they will be surely able to do so. GetDroidTips works seamlessly for the people day and night to offer the best iPhone Tips and Tricks, PC tips and tricks, Games and Android Tips and Tricks. So it would mean a lot to us if you subscribe to our YouTube Channel. Moreover, there, the benefit is yours. We are offering a $150 giveaway contest for all our subscribers who watches our videos there. Now signing off here, to prepare another best guide for you. You can also comment down below with your feedback and queries with your name and e-mail ID, and we will love to help. Happy gaming!