Nature Day festivities in Animal Crossing: New Horizons will have plenty of new Nook Miles challenges for you every day. If you're participating in this, you'll receive five times as many Nook Miles as a reward for completing the tasks before the end of the day. One such challenge is to decorate your island using flowers. But if you've been planting the flowers everywhere on your island, you'll know that something is wrong and weird here.
The short answer is that the directions you get aren't that well-explained ones, and plating flowers anywhere on your island for decorating does count towards the task. There something more to it that you must know. So in this guide today, we'll help you to decorate with flowers for this challenge in Animal Crossing New Horizons. Without further ado, let's see how to decorate with flowers on Animal Crossing New Horizons.
How to Decorate with Flowers in Animal Crossing New Horizons
Since planting a flower somewhere on the island won't count is as a decoration for this task, you'll need to find the exact spot, which qualifies as a decoration spot for the task.  We won't brag too much – it's your house. To make things working, simply go to your workbench and see what flower-based DIY project you have available at the moment. For our guide, we'll take Rose Wreath as an example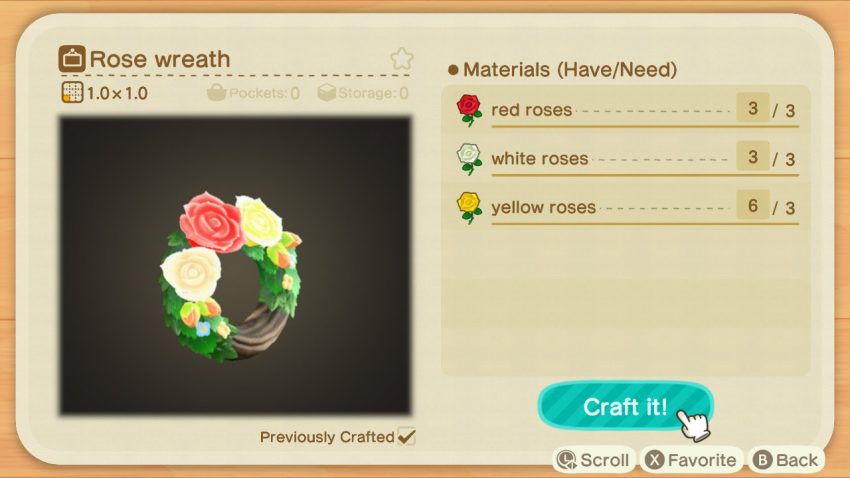 After you've decided on what flower-based DIY project to craft, look at the materials that are needed to craft the particular DIY project. In our case of the Rose Wreath, we'll need 3 different kinds of roses to craft it so we'll scavenge our garden and turn them in to our inventory. Once you have every material that the DIY project needs, simply craft it. After crafting, hang it anywhere inside your inside. Hanging the flower decoration anywhere in your house will count towards the challenge so don't bother going out.
Summing up our guide, planting flowers anywhere on your island for decorating doesn't actually count towards the daily challenges. Instead, you'll have to craft them and place them anywhere inside your house in order for it to be considered for the challenge. Simply go to your workspace, craft a flower-based DIY project, and place it inside your house. If you have any further queries, please let us know in the comments down below. Good luck!
Also, check out our iPhone Tips and Tricks, PC tips and tricks, and Android Tips and Tricks if you've got queries for it or want help. Thank you!