Grape Harvest Basket is a big item in Animal Crossing: New Horizons. It is a pretty backpack in the shape of a little basket or barrel with grapes inside. It was introduced in the 1.4.0 Summer Update Wave 2. In September, the game will celebrate the "Grape Harvest Festival," which will have Grape-Harvest basket item. You can collect this item during this event.
To be precise, there is a real Grape harvest festival in Germany, Spain, Italy, and France. This Grape Harvest Basket festival is designed to keep in find the real festival. So if you are interested in getting this Grape Harvest Basket, then you are in the best place. Let's get started.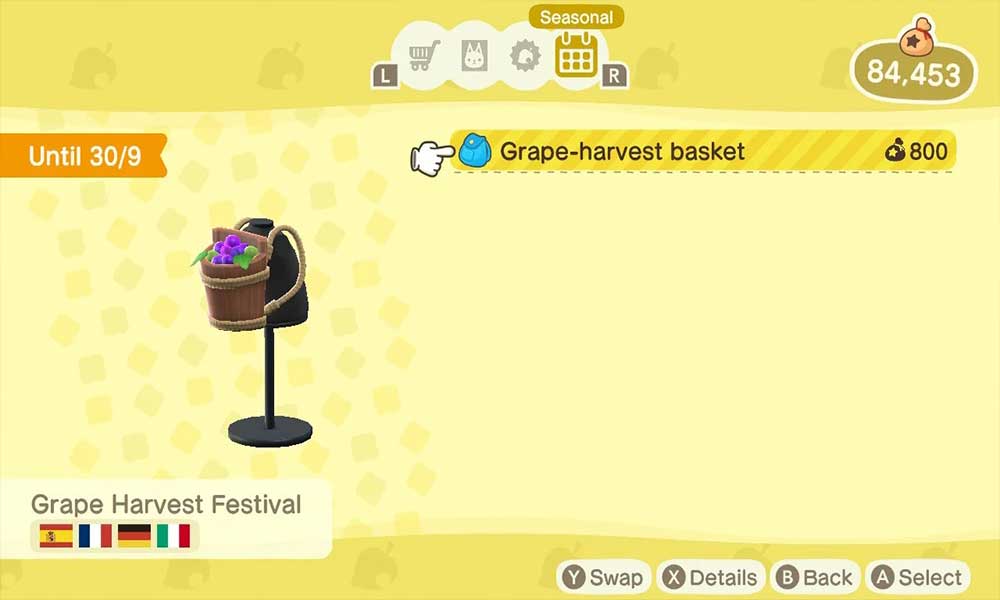 How to Get Grape Harvest Basket?
Make sure to access the festival from September 1 to September 30 as this festival is accessible only for this month. Fortunately, this festival is available for all the regions.
First of all, go to the Nook Stop terminal in Residential Services. Select "Nook Shopping," which is the second option. You can also access the Nook shopping catalog if you have unlocked the Nook Shopping app on your NookPhone.
After that, click on Special Goods and use the R button to navigate the items. Move to the rightmost column, which is the seasonal items column. The Grape-Harvest backpack will be there during the Grape Harvest Festival (September 1 to September 30). This backpack will cost you 800 bells.
Make sure you have them to purchase the backpack. Request for the basket as a gift there, and it will be delivered to your mailbox the next day.
We hope this guide was helpful. Make sure to enter the game during this festival. Now, check out our Windows Guides, Gaming Guides, Social Media Guides, iPhone, and Android Guides to read more. However, if there are any queries or feedback, comment down with your name & email ID. We will try our best to reply soon. Also, subscribe to our YouTube Channel in order to watch awesome videos on gaming and smartphone tips and tricks. Thank you.