Animal Crossing is one of the most loved games in the world that is exclusively made by Nintendo. Today we have with us Animal Crossing: Pocket Camp on mobile, that is meant for picking up a device and play the game there. However, it seems that the game is getting much more updates than usual and thus getting larger. Moreover, the players are getting more and more addicted then they used to be. Since Nintendo has been updating the game with full its efforts, it is hard to keep the game even for a single day. Needless to say, whether you have started playing the game today or you are a veteran, you need to know each and every pair of new animals joining your camp and many more.
Animal Crossing: Pocket camp requires no introduction. It is one of the best-known life simulation game developed with uttermost care and sophistication by Nintendo. They have put in all the bells and whistles that make a game perfect and complete, and Animal Crossing is no different. Here we have with us a jumbo guide that will help the players of Animal Crossing: Pocket Camp with everything they will ever need to know during the season. As the game is free to play, it has gained quite a lot of popularity since 2017. We know you are one of those players who love playing this game so that we won't take long and directly jump on to the guide. Let's get started.
Animal Crossing: Pocket Camp Cheat Codes
This is the most searched term online by the players of Animal Crossing: Pocket Camp. Players are desperate to get bells and many other things that can make the gameplay easier for them. Unfortunately, Animal Crossing currently does not support any kind of cheat code as of now. We recommend you to bookmark our site to get any further updates regarding this section, as we are the one who strives for the latest updates every day for our loyal readers.
Money Tree
People think money cannot grow on trees. But the case is different in the game. Money Trees spawn randomly every day. Moreover, if you share them, you can get up to 1000 bells. However, the Money Tree is not a regular fruit tree but can be any tree that does not bear fruit. It can be any standard tree or simple coconut tree.
Fruit Hack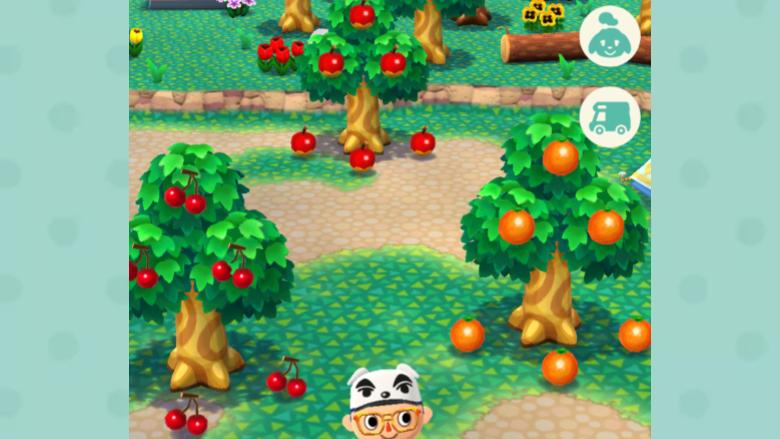 There is an unknown fruit hack that most of the players don't know. Yes, it kind of a hack, suppose you don't have room in inventory, but you share your desired fruit tree. Now when you leave the fruits on the ground, they will stay there no matter whenever you come back and collect them. This is helpful in case of special fruits where the chance of getting the fruit next time is rare.
Speed Up Craft Time
You can speed up craft time in Dual Screen games, but unfortunately, Nintendo has caught people red-handed doing that trick. In Animal Crossing: Pocket Camp, it does not matter if you change the date and time settings on your smartphone. It will not change th crafting times resulting in a no gain policy. The only thing you can do here is waiting here till the crafting time is over. Or you have to use the Leaf tickets available in the game to speed up or complete the work.
Link with Nintendo Account
It is very important to link your game to a Nintendo account even if you don't care for Nintendo Gold Points. Linking your account secures it from the deletion of your in-game progress even if your delete the game mistakenly. So the first step should be linking with Nintendo Account.
Animal Crossing: Pocket Camp APK
In case you don't have access to Google Playstore or App Store, you can get the game installation files from many different websites. However, you need to be cautious of other facts that some APK can be malicious. They can even hack your phone and perform a ransomware attack. Do download your APK from a trusted source and verify it through Google Play Protect.
Pocket Camp: Garden Guide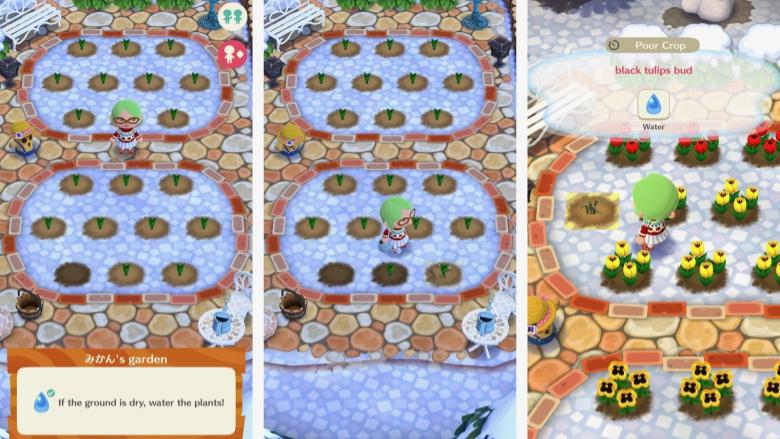 After the most recent update of the game, gardening in Animal Crossing has become faster and easier. You can harvest multiple plants and flowers at one, and there are no more animations for every single story.
Moreover, in the last update planting the non-seasonal flowers beyond flower trading has brought a purpose to the game. Animals may request one or more types of flowers to make a bouquet and perfume. Clearly, no animal has still requested a flower that can be obtained by cross-pollination. Gardening is easy, and you just need to plant whatever you need and let that grow. You can also use fertilizers to speed up the process by 30 minutes. However, it takes about 6 packs of fertilizers. You get fertilizers as login bonuses and garden events.
You can also buy Lloyd's version for one lead ticket per pack. It speeds up the time by half an hour. But you will need five packs together to cut off the complete time
Current Event Garden Events Tips and Tricks
Whenever garden events occur, you would want all the items to be available. So the best advice here is to log in ever two hours and continue gardening insanely. Repeat the process: harvest, plant, wait. Moreover, if you have Leaf Tickets, you can use fertilizers to rev up the process and collect more of what you need.
Most importantly, remember to share with your friends. So in return, even they will share, and that will fill up your garden with more collectible items. Moreover, you can also get bonuses for sharing with friends. Bonuses include fertilizers and essence.
Cross-Pollination Guide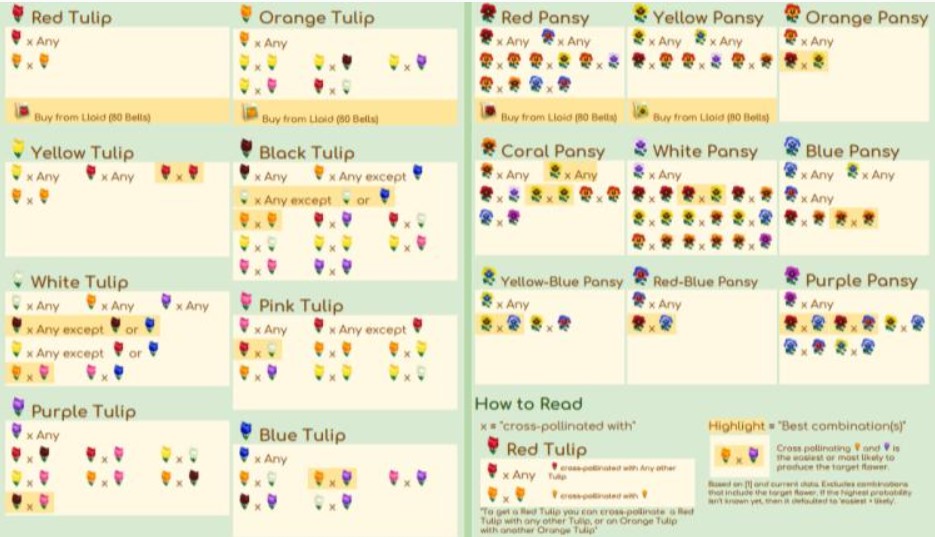 Non-Seasonal flower seeds cost 80 bells. They currently include the Red Pansy, Yellow Pansy, Red Tulip, and Orange Tulip. Different cross-pollinated flowers take different times to grow. For example, the Pink Tulips takes about 4 hours, whereas the Red Tulip takes just 3 hours.
While cross-pollinating, do keep in mind that with every pollination, there are chances where it does not work. When that happens, you won't receive any seeds or anything. In addition to that, it has also been found that if you find someone to cross-pollinate using the flowers in your own garden, then you will receive one Friend Powder for every cross-pollination.
Flower Trade Guide
After reading our perfect guide to cross-pollination, you are ready to trade off your flowers. There are a numerous list of flowers available to trade, so compilation of a list is not possible. However, you can Google them out for more information.
Animal Crossing: Pocket Camp Amenities
If we try to define simply, amenities are the items that are crafted once and increase the friendship level limit for certain animals. Let us take an example, and the Natural Tent will increase the friendship level of Natural Animals. The first and last level of each amenity takes about 1-3 days, while every limit between them will take no time. In the case of materials, amenities are about average as compared to some of the furniture. For the tents, you will get the only Cotton, however, at 30 Cotton per level.

Become the Cotton Dragon
Amenities and furniture are the places where you are going to invest most of your Cotton. There are at least ten or so furniture items that require 120 Cotton. Further, the amenities will cost you no more than 30 Cotton. Everything depends on how you are going to play the game. However, we suggest you do not go for crafting items that require Cotton without a prompt from an animal.
After all, if you want to craft for those 120 Cotton furniture items, then it may take three days or more depending on your gathering capacity. If you are still unable to get enough Cotton to craft the items, then make sure your account is linked to Nintendo. After linking, you will be getting Cotton rewards that you can redeem whenever you want. When you want to come out of this, you have to hoard Cotton just like a Dragon.
Where Should You Spend Your Bells?
If you are full of Bells and already bought everything you see around, then we suggest use them as for crafting. Amenities can get expensive if you have all the materials to craft four levels at once. Additionally, you will find your bells disappearing very fast if you are buying items from the Market box instead of collecting them. If you have crafted all the amenities, then you can even go and spend them on your expanding Camper. But before that, its a waste of bells when you don't use your Camper too often. After all, everything depends on your style of playing and your personal choices.
Requested Items Trick
If you are finding yourself low on requested items, then make sure to collect every time you visit an area. Once you start doing this, remember to keep a maximum of 10 items—any excess items you can sell or place them in the Market Box for your friends to buy.
The Power of Friendship
Talking about friends, be sure to stay around the current ones. You can also see your friend list for the last time your friends logged in. It will be easy to fiddle around to the ones that come every day. Be generous whenever you can with your friends. During garden events, you can share and get awesome rewards. Another easy way of saying thanks is to give them kudos. Do keep in mind that you are getting the real benefit from this task.
Update
Animal Crossing: Pocket Camp Fortune Cookie Shop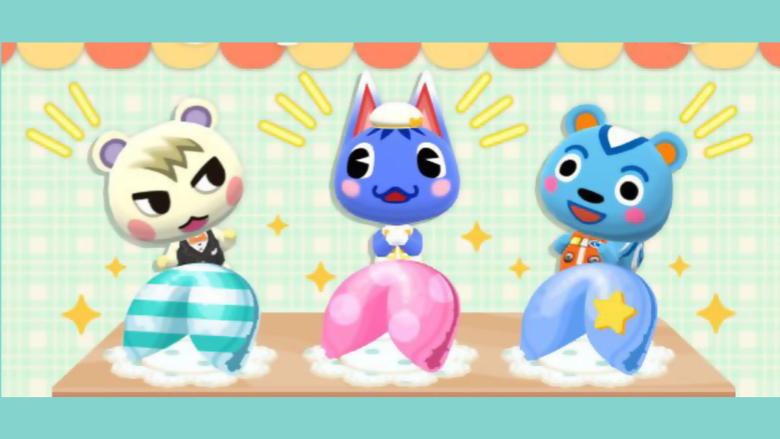 The last update that had included the Gulliver's Ship and the Fortune Cookie Shop. You can buy cookies for either bells or leaf tickets. Moreover, they will update every 12 hours. The one which you buy with bells are of 500 bells each and can give you random objects. However, all of them belong to the three Fortune Cookies. You can also buy them using Leaf Tickets, and they cost 50 Leaf Tickets per cookie. They will give you memory sets. Memory Sets include Rosie's Pop-Star Memory, Marshal's Pastry Memory, Filbert's Rocket Memory, Hopkin's Game Cookie. You can trigger them once you have all the appropriate items and the animals.
Gulliver' Ship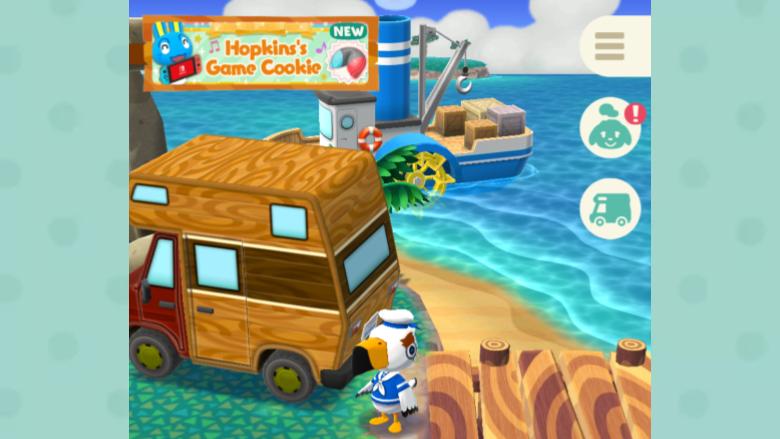 If you have achieved a furniture limit, then Gulliver might be useful to you. You can send ten furniture items at a single time, and Gulliver will return the favor with special sweets. If you give these special sweets to any friend, you will receive a +2 friendship level.
Special Fruits, Bugs and Fishes
After the most recent update, there is an addition of special fruits, bugs, and fishes. When you find these rare items, they will be listed separately. When animals need help with anything, they will have three dots floating above the heads, then try to choose a particular item and give it to them. It will increase the friendship level up to +6.
Animals Asking for Furniture
These requests can occur anytime wheather you have furniture or not. Moreover, it will not affect your inventory if you have it. Just like the above methods, you can obtain sweet rewards. Although it is important to match the specific furniture with the one asked for. If both are not the same, then you won't get your bells back. However, your friendship levels will increase.
Animals Asking Where to Fish
As far as tested by ourselves, the answer to this question is completely random. Most of the time, you may pick up the right one and get rewards while the other times not. If you are able to get to the conclusion of this question, make a comment below and tell us.
Animals
If you are on a mission to get more Cotton or any resource, Animal Crossing Wiki has an extensive set of lists of different animals and their providing. Additionally, if you miss it, you will even find a link to that on Wiki.
Clothes Crafting
You can now craft clothes. However, it all depends as all the clothing items require Cotton. They are not much, but they will get expensive whenever you try to craft Amenities and Furniture. Likewise, craft clothing carefully until you complete all your projects. You can get 20 paper for crafting one item of cloth and 5 Leaf Tickets for five clothing items.
Calling Card
It depends on your play style to get a good time to use the Calling Cards. If your current projects is to get each animal into your camp, then you need to increase their friendship levels. In that case, using a Calling Card will be necessary. Using a Calling Card increases the friendship levels by +1 to +3 points.
Request Card
You can request cards whenever you want. They are similar to calling cards. Both the cards give you three extra requests from the animal you wish to choose. However, request cards are useful if you are close to levelling up your animal to the desired level, or maybe you need more crafting materials.
This was a complete guide of Animal Crossing: Pocket Camp along with many useful tips and tricks. After reading our guide, players will have a sound knowledge of everything in and around the game. We hope this guide will help the players. If you have any queries or feedback, feel free to comment down below with your Name and E-mail ID. Likewise, check out our iPhone Tips and Tricks, PC tips and tricks, and Android Tips and Tricks for more such tips and tricks. We urge you to participate in the $150 giveaway by subscribing to our YouTube Channel. Happy Gaming!