Nintendo's beloved game Animal Crossing: New Horizons is widely appreciated for keeping its players entertained with fresh and exciting updates periodically, on a regular basis. The ongoing Wedding Season, where gamers go to Harv's Island and participate in photoshoots for Reese and Cyrus, allows you to obtain Heart Crystals and use them to purchase unique new items.
Apart from this, two brand new season-themed items have now been introduced in the game now! You will now be able to obtain two special Summer and Winter Solstice items in Animal Crossing: New Horizons. These objects were initially hinted at the start of June and were finally made available to purchase today. If you had been worried about them not coming up in the game, you could relax now. Head towards our guide and read more about them.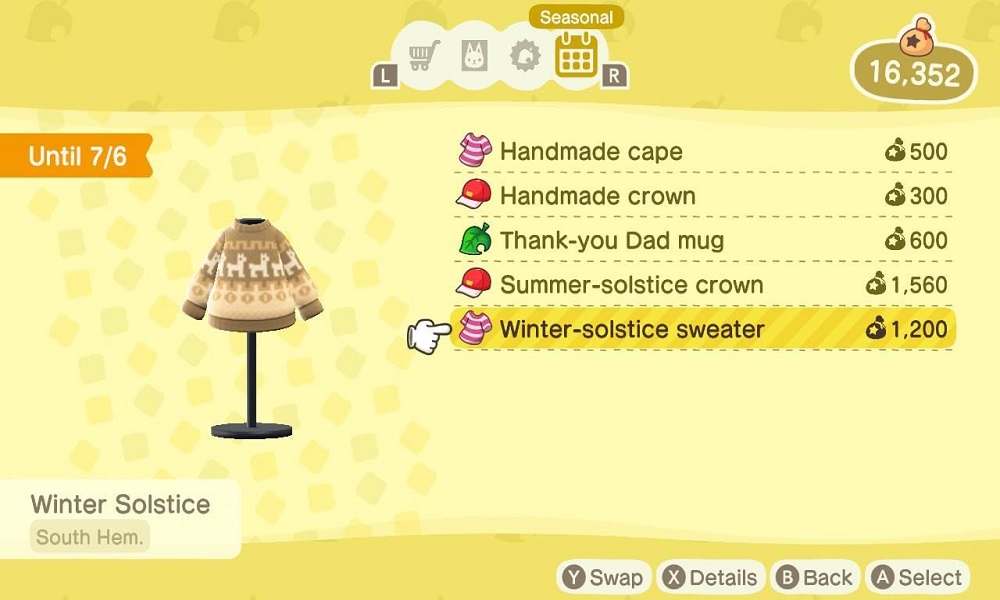 Get Summer Solstice Crown and Winter Solstice Sweater
As you must know, the Summer Solstice is the longest day of the year in the Northern Hemisphere. It typically occurs around the twentieth of June over there, and it also represents the Winter Solstice for the Southern Hemisphere. The latter is the shortest day of the year.
Nintendo has already introduced the exciting new Summer Solstice Crown and Winter Solstice Sweater in Animal Crossing: New Horizons. You can buy both of them from the Resident Services. The good news is that you do not have to complete any quest or get lucky in order to obtain these objects. They are readily available to buy in exchange for Bells at the Resident Services.
You will have to pay 1560 Bells to buy the Summer Solstice Crown. On the other hand, you need 1200 Bells to purchase the Winter Solstice Sweater. The Summer Solstice Crown is basically a beautiful wreath of sunflowers that will adorn your head magnificently. On the other hand, the Winter Solstice Sweater is a tan-colored jumper that features an adorable design on it.
How to buy the two Solstice items?
In order to buy the Summer Solstice Crown and Winter Solstice Sweater in New Horizons, you simply need to visit the Resident Services and then approach the Nook Stop Terminal. After that, proceed to do the following:
Select "Nook Shopping."
Click on "Special Goods."
Select "Seasonal Items."
There, you will be able to buy the Summer Solstice Crown and the Winter Solstice Sweater for 1560 Bells and 1200 Bells, respectively. However, you will not obtain them immediately after making your purchase. Instead, they will be present in your mailbox the next day. Also, you will be able to buy both of these special objects regardless of the Hemisphere you live in.
That is it for now. Make sure you participate in the photoshoots on Harv's Island every day for an opportunity to win new cool stuff that goes along well with your newly acquired Solstice special gear.
We hope our guide helped you to get Summer and Winter Solstice Items in Animal Crossing: New Horizons. If you loved this, check out our Windows Guides, Games, Social Media, iPhone Tips and Tricks, and Android Tips and Tricks for more. Subscribe to our YouTube Channel to participate in our $150 giveaway contest. Likewise, if you have any queries or feedback, do comment down below with your name and e-mail ID