Last year's adrenaline-fuelled shooter-looter role-playing game from Gearbox Software and 2K Games, Borderlands 3, has proven to be quite a hit among fans of the franchise. It's now well known that being the third entry in a popular series is no easy task. It comes with high expectations and the prospect of being subjected to tenacious critiques. Thanks to the continued efforts of the developers, Borderlands 3 has succeeded mostly in living up to the hype. It has received significant praise for its upgraded graphics, improved gameplay, and several new features available. In particular, the new Skill system, while provides excellent scope for customizing the characters, has been widely lauded.
That said, the gameplay itself can be quite challenging. If you're a hardcore player, you need to stack the deck heavily in your favor in order to have a chance of making it through. In the ongoing seasonal Revenge of the Cartels event, which will continue until the 4th of June, Gearbox introduced several new items. Of these, the most important is the legendary Yellowcake Rocket Launcher. It's one of the most powerful weapons available in Borderlands 3. Even if you already have it, you now have a chance of obtaining one with an Anointed perk. Well, so what are we waiting for? It is time to add this dynamic new toy to your arsenal! Let's head over to our guide to help you obtain the Anointed Yellowcake Rocket Launcher in Borderlands 3.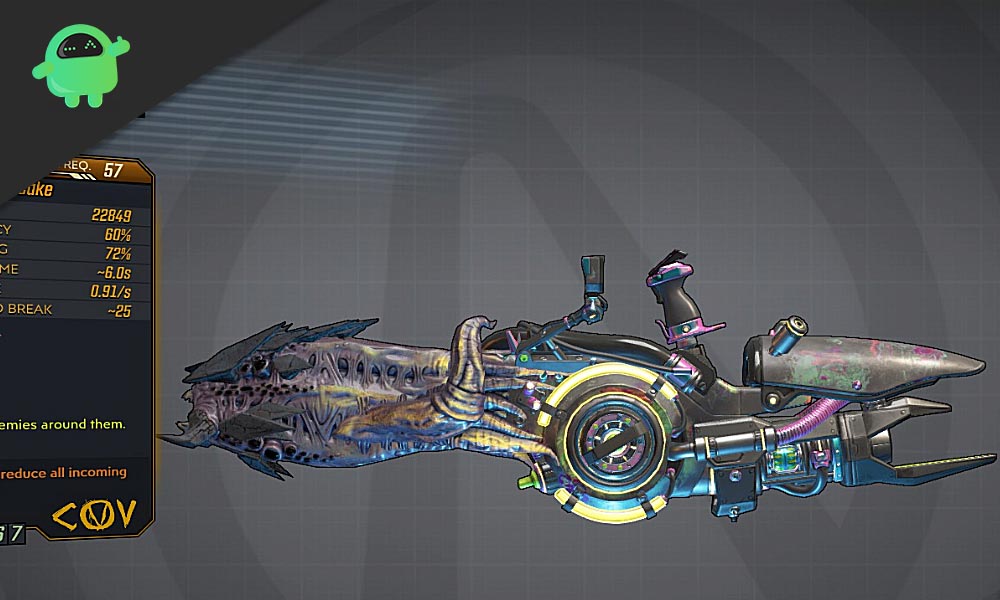 The Yellowcake Rocket Launcher: A Brief Introduction
Apart from the Yellowcake Rocket Launcher, you have a good chance of winning several more goodies if you participate in the aforementioned Revenge of the Cartels event. Among them are a host of legendary weapons, a cosmetic Trinket, and even interesting skins for your characters. There's nothing more appealing, however, that the undisputed star of the lot – the Yellowcake Rocket Launcher!
This legendary rocket launcher is famous (or infamous?) for the devastating Radiation damage it inflicts upon its targets. This powerful weapon fires a deadly projectile that can potentially deal up to five times the damage that's listed as its standard. The reason for this is that after being fired, the projectile splits into two smaller projectiles, which also split likewise before they find their target. Despite this, the accuracy of the projectile remains relatively uncompromised owing to the fast nature of the split.
About the Anointed Yellowcake Rocket Launcher
We simply discussed the basic version of the Yellowcake Rocket Launcher up above. If we were to get started on the version with the Anointed perk, well, that's a whole different ballgame altogether. The rocket launcher's power gets so powerfully boosted as a result of the Anointed perk – 300% weapon damage against a target with 90% health or above – that many agree it almost unfairly tips the scales entirely in the user's favor. In fact, it's almost like playing with cheats officially turned on! No wonder it's so high on the wish list of players. So high, in fact, we have seen reports of it actually being sold for cash on eBay lately!
Obviously, it's simply too powerful to stay that way forever – it's bound to be taken down sooner or later. Until then, you really do have a golden opportunity to beat some of the toughest missions in Borderlands 3 by obtaining this rocket launcher and bringing it along on your campaigns.
How to obtain the Yellowcake Rocket Launcher in Borderlands 3
We've arrived at the million-dollar question now. You have a chance of obtaining the Yellowcake Rocket Launcher as a drop from one of these three foes in the Villa Ultraviolet – Fish Slap, Tyrone Smallums, and Joey Ultraviolet. You can find Fish Slap and Tyrone Smallums in some places all around the Villa, including the entrance. Joey Ultraviolet, however, is a challenging and dynamic boss battle that you really need to be prepared for.
One of the best methods of obtaining the Yellowcake Rocket Launcher is to take up the Ultraviolet Nights mission from Maurice. This will require you to go after Joey and kill him. The added advantage is that you're allowed to repeat this mission if needed. Joey tends to call in a host of other bosses during the battle, to come to his aid. If he happens to summon Fish and Tyrone, you'll actually have a threefold chance of obtaining the Yellowcake Rocket Launcher. Of course, you'll have to dominate the battle for that. We should mention that there happens to be a chance of Fish and Tyrone turning up in another scenario. If you kill Cartel members and their distress beacons go off, they might come along. You might want to give it a try if you're prepared.
Going Ballistic. Quite Literally!
You will have access to the Mayhem 2.0 mode after you finish beating the game once. If you turn it on, you'll be able to obtain much rarer loot items from the bosses. The higher the Mayhem, the better the loot you receive as a reward. There's a good chance that the Yellowcake might be in there. In fact, at higher Mayhem levels, you have a good chance of obtaining the Yellowcake Rocket Launcher with the Anointed perk.
You can only obtain this as a drop from enemies, so your best bet is to keep battling and killing Joey, Fish, and Tyrone at progressively higher Mayhem levels. In fact, after obtaining it, you can even take on Joey and his minions again using your new Yellowcake and turning up the Mayhem to level 2.0, to obtain an even more destructive version of the rocket launcher! This can be a vicious cycle, which the developers are bound to notice eventually. So better grab that toy while you can.
Wrap-Up
This guide was to help the players of Borderlands 3 for getting their hands on the Anointed Yellowcake Rocket Launcher. After following our guide, they will be able to do so easily. We hope this guide helped you. If you have any queries or feedback, feel free to comment down below with your Name and E-mail ID. Likewise, check out our iPhone Tips and Tricks, PC tips and tricks, and Android Tips and Tricks for more such tips and tricks. We urge you to participate in the $100 giveaway by subscribing to our YouTube Channel. Happy Shooting!