OnePlus 5 and 5T users are waiting for the Android 10 update on their devices for quite some time. It was previously reported that the devices will get the update by Q2 of 2020 by there was no confirmed date mentioned for the device. Moreover, the devices were launched back in 2017. Talking about the OnePlus 5, it is powered by the Snapdragon 835, offers 6/8 GB of RAM with 128 GB of onboard storage. It sports a 5.5-inch display along with a 3300 mAh battery. In the camera department, it houses a dual-camera setup with 16 MP primary shooter.
On the other hand, the OnePlus 5T also came with all the same specs but has a 6.01-inch display, and also in place of the front fingerprint scanner, the OnePlus 5T has the scanner located at the back. Now for those who were waiting for the Android 10 update on their OnePlus 5 and 5T, there is some new information for you. As per a post on Weibo (Chinese Twitter), the Android 10 update might arrive for the devices by the end of May of mid-June 2020.
Check out the screenshot below: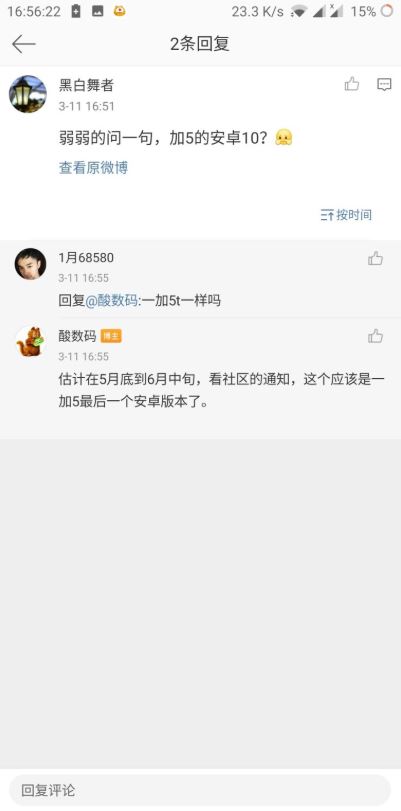 We tried to translate the text from the screenshot above, below is the translated text:
It is estimated that from the end of May ro mid-June depending on the notice rom the community, this should be the last Android version for OnePlus 5.
Now, we cannot confirm anything about the source of this info or this information is legit or not. All we can suggest as of now is to take this piece of info with a pinch of salt. Moreover, the Chinese OEM OnePlus is yet to comment on this matter. We will keep you in the loop until we have more information in this regard. Whatever, be the case may be, by the looks of it, the devices will get the Android 10 update considering the fact that both the devices were scheduled to get updated by Q2 2020.