In this tutorial, we will show you how to install the AOSP Android 11 on Redmi K20 Pro / Mi 9T Pro. Recently, Google released its latest stable Android 11 for the general public. And with that, many OEMs were quick to adopt the same. First in the line were the Pixel devices, which were anyways along the expected lines. Then OnePlus also released the open beta for its flagships. Along the same lines, Xiaomi, Realme, and Oppo are near about ready with its customized offerings.
But what is really commendable to note is the fact that the custom development is already up and running. In this regard, CarbonROM 8 based on Android 11 was recently announced for a set of OnePlus and Xiaomi devices. And now, we are about to welcome the AOSP Android 11 for Redmi K20 Pro / Mi 9T Pro. In this tutorial, we will list out the complete flashing instructions as well as all the new features that you would be getting with this ROM. Follow along.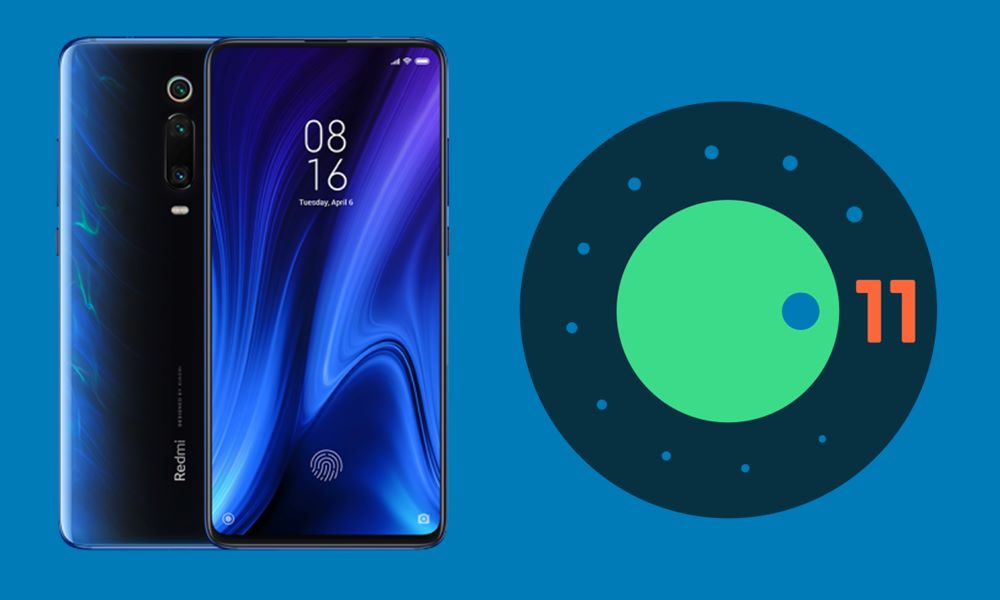 Android 11: What's New
Now that the latest iteration of Android is available for the wider audience, here are some of the noteworthy features that you are likely to welcome. To begin with, there is now a One-Time permission set (just for a single session), a separate conversation section for your messages, and the introduction of Chat bubbles. Likewise, Media Player has now moved to the Quick Settings toggle, and Smart Device Controls have been added to the power menu.
Apart from that, you could now pin your favorite apps to the Share Sheet, try out the dark mode scheduling, copy texts from the Recent menu app's overview, and use the native screen recorder. Furthermore, the ability to Send Images in Notification Replies, New APIs for 5G, Reverse Wireless Charging Support, Scrolling screenshots, Back Cover Gestures, Show Refresh Rate, and Notification History UI are some of the other noteworthy features.
How to Install AOSP Android 11 on Redmi K20 Pro / Mi 9T Pro
With such a long list of goodies to offer, no doubt you will want to try out the AOSP Android 11 on Redmi K20 Pro / Mi 9T Pro. But before we list out the installation steps, please go through the prerequisites section. Make sure your device meets all the mentioned requirements. After this, go through the working features and the list of known issues present in this ROM. Once you have gone through all the requirements section, you may then proceed with the installation steps.
Prerequisites
First and foremost, create a complete device backup.
Next time, enable USB Debugging on your device. This will make your device recognizable by your PC in ADB mode. So head over to Settings > About Phone > Tap on Build Number 7 times > Go back to Settings > System > Advanced > Developer Options > Enable USB Debugging.

Your device also needs to have the bootloader unlocked. If you haven't done so, then refer to our detailed guide on How To Unlock Bootloader On Redmi K20 and K20 Pro [Official Method].
Next up, you will also need to install the TWRP Recovery on your device. This will be needed to flash the AOSP Android 11 on your Redmi K20 Pro. You could refer to our comprehensive tutorial on how to Download and Install TWRP Recovery For Redmi K20 Pro (Latest).
What's Working
Here are all the working features in this ROM:
Boots
RIL (Calls, SMS, Data)
Fingerprint
Wi-Fi
Bluetooth
Camera
Camcorder
Video Playback
Audio
Sensors
Flash
LED
GPS
Volte
Known Issues
Download AOSP Android 11 Custom ROM on Redmi K20 Pro / Mi 9T Pro
Before you download the firmware file, there is a pretty important worth mentioning. You should only use the proper vendor and firmware of your device of stable MIUI ROM. So, if your device is EEA then use the EEA vendor and firmware.
If the device is an Indian variant, then use the Indian firmware and vendor and the same is the case with the Chinese version. On that note, we would like to thank XDA Senior Member abhishek987 for this ROM.
Once you have downloaded the above files, transfer it to your device. Then proceed with the below steps to install AOSP Android 11 on your Redmi K20 Pro / Mi 9T Pro device.
Warning
Before we begin with this procedure, I would strongly recommend you to create a backup of your device storage and all your files stored on your device. Moreover, it is advised to follow the steps mentioned in this post very carefully to avoid permanent damage or to brick your device. If anything goes wrong the author or GetDroidTips is not responsible for it.
Install AOSP Android 11 on Redmi K20 Pro
Connect your device to PC via USB cable. Make sure USB Debugging is enabled.
Then head over to the platform-tools folder, type in CMD in the address bar, and hit Enter. This will launch the Command Prompt.

Execute the below command in the CMD window to boot your device to TWRP Recovery:

adb reboot recovery

Now head over to the Install section and navigate to the downloaded vendor and firmware. Perform a right swipe to flash it.

TWRP Home

Its now time to flash the AOSP Android 11 ROM onto your Redmi K20 Pro. For that, head over to Install, select the AOSP ROM ZIP file and perform a right swipe to install the file.
If you want Google Apps as well, then you need to flash it at this instance itself. Go to Install, select the GApps ZIP file, and perform a right swipe to flash this file.
When that is done, you may reboot your device. Head over to Reboot and select System.

Your device will now boot to the newly installed OS. With this, we conclude the guide on how to install the AOSP Android 11 on Redmi K20 Pro / Mi 9T Pro. Do keep in mind that the first boot might take up some time and you might have to set up your device from scratch.
Furthermore, once you have installed the ROM, do share your opinions about the same in the comments section. Rounding off, here are some iPhone Tips and Tricks, PC tips and tricks, and Android Tips and Trick that you should check out as well.