If you are a fan of Paranoid Android, then you are at the right place. Paranoid Android 2017 Nougat is back with many old and new features. Paranoid Android is a very popular custom os which was introduced at the age of Android Lollipop. It was dead after the team was been recruited by Oneplus company for the work of OxygenOS ROM. After 9 months, AOSPA is back from the dead with the support of few handsets such as pixel, nexus and Oneplus. More device will be supported soon. Today I will guide to install unofficial Paranoid Android 7.2.3 for Xiaomi Mi Max. Now install AOSPA for Xiaomi Mi Max (hydrogen) using our guide below. The guide is simple and easy to follow. All you need is a full ROM file and GAPPS file to install this using TWRP Recovery.
Now you can enjoy the all new Paranoid Android AOSPA for Xiaomi Mi Max (hydrogen). We had already shared some custom ROM for Xiaomi Mi Max, So check out this link to install Custom ROM on Xiaomi Mi Max. If you are here for the first time, then read the difference between Custom ROM and Stock ROM. If you are trying to install Custom ROM for the first time, then please make sure you install the TWRP or any Custom Recovery on your phone. 
Now you can download and install Paranoid Android 7.2.3 AOSPA for Xiaomi Mi Max (hydrogen). The guide is simple and easy to follow. All you need is a custom recovery or twrp on your phone to install this ROM. Here are the list of other supported devices which include OnePlus One, OnePlus X, OnePlus 2, OnePlus 3 and 3T, Nexus 5, Nextbit Robbins, Pixel and Pixel XL, Nexus 5X and 6P and more.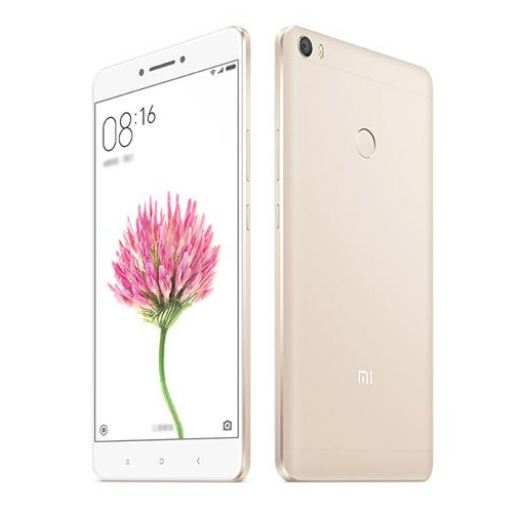 Download Install Paranoid Android 7.2.3 AOSPA for Xiaomi Mi Max (hydrogen)
I'm a big fan of Paranoid Android at the age since it was deployed. Now they are back and supports few devices. If you are a fan of AOSPA paranoid android custom ROM, then here is the full guide to install Paranoid Android 7.2.3 for Xiaomi Mi Max. To install AOSPA for Xiaomi Mi Max, you need TWRP Recovery on Xiaomi Mi Max.
What's new with 7.2.3 AOSPA for Xiaomi Mi Max?
Paranoid Android 2017 Nougat Resurrection is back with many old and new features which have revamped and brings the latest version of Android 7.1.2 Nougat. The new version of Paranoid Android Nougat comes with Pie Control mode, custom camera binaries, themes support (Built in Color Engine) also can use Substratum which replaces the color engine, OTA updates, design, Gesture Support, immersive mode (run any app in full-screen view), etc. 
With Immersive mode, you can activate the Pie Control and use it to make the full screen view without status or navigation button. You can also customize the navigation buttons, battery icon, and other features. As we said, Paranoid Android Nougat is back from the dead which also comes with various performance and battery improvements.
The following languages have now been included in this release:
● Arabic
● Catalan
● Chinese Simplified
● Chinese Traditional
● Czech
● Dutch
● English UK
● French
● German
● Hindi
● Italian
● Norwegian
● Polish
● Portuguese
● Russian
● Slovak
● Spanish
● Swedish
● Turkish
Double tap on status bar to sleep device
Screen off action for button settings
Fixed navigation bar swiping gesture
Improved notification light performance
PA Browser is now based on M60
Fix for pulse on pickup bug
Various fixes for contact handling with Google apps
Removed bugs causing Bluetooth connectivity issues
Improved lighting for hardware navigation keys
Higher quality stock wallpapers
Optimized speed for fingerprint unlock
Fixed message when rebooting your phone or putting it into recovery mode
Enhancements for device performance
Power-related enhancements
Numerous other improvements and fixes that you'll notice the more you use the ROM
(New)Paranoid Android 7.2.3 Changelog:
Solved GPS issues with the "Waze" app
Updated PA Browser
Enabled extended built-in file manager (Files)
Power improvements for Pocket Lock
Block screenshots in Pocket Lock
Added a thermal warning when the device gets too hot
Icon customization and app labeling in launcher
Optional Google search bar in Launcher
Solved some issues related to Accidental Touch
Telephony related improvements
Improved reliability of clock alarms on a fresh install
Fixed setting of a user profile picture
Fixed manual focus in certain scene modes in Camera
Fixed various media playback issues
Fixed various Bluetooth connectivity issues
Fixed automatic OTA update
Fixed cases of Wifi display not working
Fixed various theming issues
Major performance enhancements
Various stability fixes and minor improvements
Paranoid Android Features
General Features:
Pie Controls
Color Engine
On-the-spot controls
Immersive Mode
Paranoid OTA Updater
Battery Styles
Advanced Power Dialog
Recent App Locking
Quick Pull-down
Substratum Support
Enhanced Kernel + Control
OnePlus Specific Features:
Advanced Button Control
Gesture Control
Alert Slider Support
Fingerprint Enhancements
Camera Enhancements
Just like every custom ROM, you'll need to have an unlocked bootloader and a custom recovery (such as TWRP) in order to install Paranoid Android 7.2.3 Nougat for Xiaomi Mi Max. Furthermore, you'll have to backup your phone before changing any custom ROM or Stock ROM to Paranoid Android AOSPA ROM. After flashing the ROM zip, install the Google apps package of your choice from Open GApps (unless you are going Google-less, which is up to you).
What is in Android 7.1.2 Nougat and its feature?
It's been a while since Android 7.0 Nougat has released. As we know Google Pixel is the first smartphone by Google which debuts the Android 7.1.2 Nougat update which comes with a unique feature called Google Assistant, an AI bot which acts and talk like a human. With Android Beta Program, Google released the Android 7.1.2 Nougat update for all Nexus device in the form of the developer preview. The update is pretty stable and Fair warning, though, that the developer preview isn't free of bugs.
Android 7.1.2 Nougat comes with handful of features such as  App Shortcuts, Multi Window support, restart setting to power menu, Launch the camera by pressing the power button twice, Image Keyboard support, 100 emoji added, GIF Support, Quick Reply via Notification, Notification Redesigned panel, Notifications prioritization, Enhanced Doze Mode, System UI Tuner, Customizable Quick Settings, Don Not Disturb, New Settings Panel Redesigned, Data Saver per App, seamless updates and New Emoji Support.
PRE-REQUISITE 
This will work on Xiaomi Mi Max (Don't Try this in Any other device):
Charge your phone up to 80% or 70%.
You will loose the original ROM or any CUSTOM ROM if you already installed on your phone. So make sure to Backup your phone before doing this step using TWRP or CWM or any Custom Recovery.
Watch Full Video on How to Install TWRP on any Android Phone.
Download all the Zip files from below and Place it in your phone's root of internal memory.
Here Is The Full Guide On How To Install Paranoid Android 7.2.3 ROM On 

Xiaomi Mi Max:
DOWNLOAD FILES
Download Paranoid Android 7.2.2 for Xiaomi Mi Max
Under Development 7.2.3 Coming Soon
Download Paranoid Gapps (CM14.1)
Guide to Flash Custom ROM using TWRP Recovery
That's it! I hope you have installed the Paranoid Android 7.2.3 on your smartphone. Leave a comment or feedback down below. Thank you!.
Credit goes to: yshalsager