Apple is rolling out an important software update which brings the iOS 11.4.1 to various of its devices. Latest update from the smartphone giant weighs 225.2 MB. It brings reliability improvement for syncing of notes, emails, and contacts with exchange accounts. Users have been reporting of not being able to find the last known location of their airpods. After updating the latest iteration of iOS 11.4.1 this bug apparently resolves.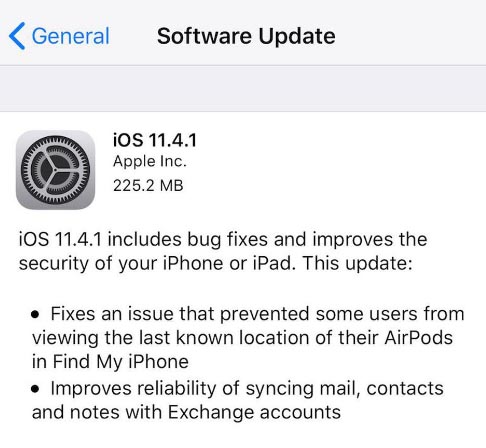 The highlight of this updates us the new USB restrict mode. With this feature, if your iPhone or any other Apple device is set to lock for more than an hour, iOS will restrict USB accessories to connect to the device. This in turn barres the passcode cracking tools from accessing the device. After the update to iOS 11.4.1, you can go to your device Settings and check for the new option called USB accessories. It's present in a toggle button format.
The USB restrict mode marked its entry with the iOS 12 beta. Apple is quick enough to pack it with the iOS 11.4.1. However, you can toggle the option to unlock for removing the hour limit. This way USB access will be possible.
Besides the iOS, the WatchOS is also receiving the 4.3.2 software update. There are no feature add-ons in it. It only brings bug fix and performance optimization.
Usually, the new iOS update is rolling to the devices. In case, you are not getting it, you can go to Settings > General > Software Update to catch it right away.
Apple is currently busy bringing up the final stable iteration of its iOS 12. Not long ago the iOS 12 public beta 2 began rolling for the users across various Apple devices. Also, the smartphone giant is possibly bringing out a series of iPhones with all new features this September. So, Apple is going to be fairly busy with fresh updates of its operating systems and devices. As of now, grab the iOS 11.4.1, fix the bugs and install the new features.
Source