Apple is rolling out the Apple iOS 12.1 Beta 2 which brings a lot of important changes to the devices. The latest update weighs around 332.6 MB and brings a new software version 16B5068i. It is the follow-up to the iOS 12.1 1st Beta. Apple iOS 12.1 Beta 2 brings 70 new emojis to Apple devices. Also, it now brings support for the eSIM technology. In the About section of your device, you can find the two slots for Physical and Digital SIM.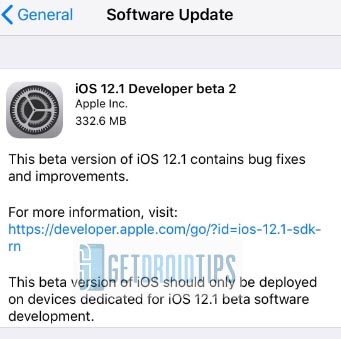 If you do not know what an eSIM is, then it is a digital SIM that allows you to use a cellular plan from any tele- carrier. You do not need a physical SIM card for this.
Most importantly the latest iOS beta solves the charge gate issue. The problem arose when the device was connected for charging, but it won't charge. Hopefully, now it's charging just fine post the update. Another minor change that follows the Apple iOS 12.1 Beta 2 is a click sound occurring when the 3D touch is toggled.
Latest Apple iOS 12.1 Beta 2 also brings 52 new color options for the watch face. You can find it in the Watch App. This is not over yet. The current beta software brings a new real-time Depth Control feature. Using this you can adjust the depth of field of your pictures before you capture them. Literally, you can control the portrait mode as per your requirement.
The Apple iOS 12.1 Beta 2 is available for only the users with Apple developer ID. The update is rolling over the air and it weighs a massive 336.2 MB. As it is a large update, you can use Wi-Fi to download it. Go to Settings > General > Software Update. Check for the update if it is rolling yet. If the OTA shows up, download and install it.
So, what are you waiting for..?! The latest beta is full of features and bug fixes. It is an important update. So, go grab the Apple iOS 12.1 Beta 2 now and enjoy.