Recently, an early access version of Baldur's Gate 3 was released. Apart from action combats, Baldur's Gate 3 has several other challenges. The moon puzzle is one of the most challenging puzzles of the game.
The Defiled Temple's floor has the moon puzzle. Furthermore, this puzzle is the key to open the moon door. In-game puzzles are most difficult for players. Nonetheless, you have Sherlock Holmes's spirit inside you. Besides, you have to solve this puzzle to reach the Moonlight Towers' Quest.
However, to a great despise, Baldur's Gate 3 provides very few instructions along with some clues to solve this puzzle. However, you need not worry about it. Here, we will share a guide that will help you solve this puzzle.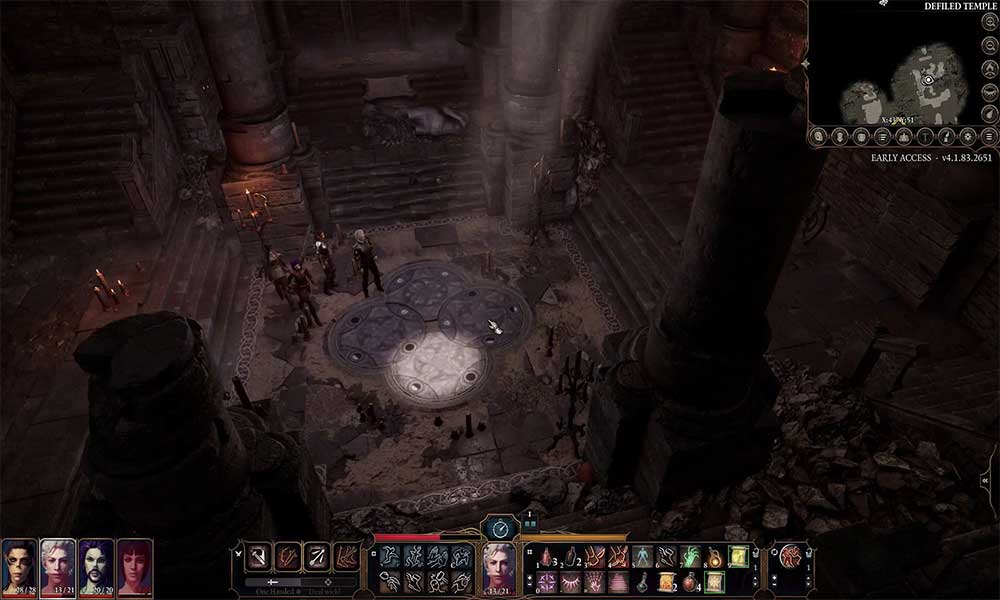 How to Solve the Defiled Temple Floor Puzzle
Solving the Defiled Temple Floor Puzzle is one of the two ways to open the moon door. The primary and only clue that Baldur's Gate 3 provides to the players is found on the Body of Ogre, Polma. He is the bodyguard of the High Priestess. After killing her, you will see the Priestess Journal that has that main clue written on it. Fortunately, this clue is not hard to decipher.
Moreover, the writings in the journal refer to the correct pattern of the moon puzzle. The Priestess Journal says that the darkness in the new moons must be brought into the light.' Eventually, this means that you have to arrange the floor puzzle so that all the black dots are exposed to the light. Putting the puzzle in this pattern will solve the puzzle. Also, the moon door will open instantly after solving the puzzle.
Besides, there is another way to open the moon door. You have to search for a lever in on the wall around the Selune symbols. Although, you have to use the thief's tools to pull this lever.
That's all we have got with the Defiled floor puzzle in Baldur's Gate 3. We hope our guide helped you. Now, check out our Gaming Guides, Windows Guides, Social Media Guides, iPhone, and Android Guides to know more. However, if you have any queries, comment down below with your name & email ID. Also, subscribe to our very own YouTube Channel in order to watch awesome videos on gaming and smartphone tips and tricks.