If you are in the market looking for the Best Android TV Box in 2020, then we have just the right article for you! In recent years, the usage of Android TV Boxes has skyrocketed tremendously. This is all thanks to the utilization of digital media and popular streaming services like Netflix, Amazon Prime Video, Hotstar, Hulu and more. Since all of these are new and upcoming services, many people still lack access to devices to enjoy such services. Also since most of us like to watch our movies and TV shows on a big large Television screen, multiple companies started developing technology to make our existing dumb TVs smart!
We have seen things like the Google Chromecast and Amazon Fire TV Stick and how they have brought media consumption from the internet possible on older Televisions which don't support network exchange. In the recent months, several good Android TV Boxes have been rolling out and we've seen them all in action. An Android TV Box is basically an all in one hub for people to enjoy media, play games, use millions and millions of apps – all on their large television screens. However, due to all the competition and large amounts of products being released in this genre, it has grown incredibly difficult to trace what the best offer out there is for you. Worry not, because we have the perfect list for you!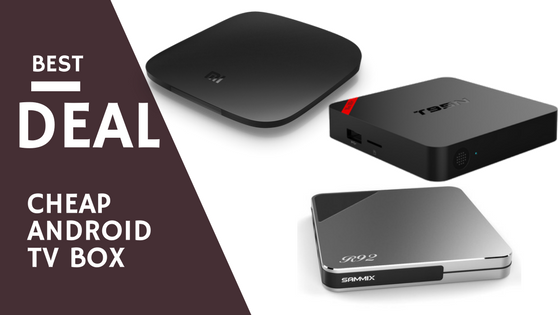 Best Android TV Box for the Year 2020
Below you can find our listings for some of the best Android TV Boxes that have been released in 2020. You will come across many unfamiliar companies and products too but be assured that we only provide links from reputed and customer satisfactory products. You can also educate yourself about all the unique features that each TV Box from the list below has to offer! Without any further delay, let's go on with the list!
#1 – SkyStream 3 Plus TV Box
Kicking the list off, we have one of the best deals going around on Amazon right now. The SkyStream 3 Plus is an Android TV Box that supports resolutions up to 4K or Ultra HD. It comes with 4GB of RAM and 64GB of storage built it. Users can obviously connect external media devices such as pen drives or hard drivers to access locally saved movies and other types of content. The SkyStream 3 Plus come baked in with a huge library of streaming services like Netflix, Hulu and Amazon Prime. You can also use the built in News channel applications to watch what's latest and ongoing in the real world. Lastly, like any other Android TV Box you can hook up your Google Account and enjoy all the apps that you use on your phone. The SkyStream 3 Plus Android TV Box is available on Amazon and Amazon Prime for a mere cost of $149.99.
#2 –

NewPal

H96MAX X2

TV Box
Up next is one of the cheapest Android TV Boxes you can buy. The NewPal TV Box comes with 4 GB of RAM and 64 Gigabytes of storage which you can expand using an SD Card or external media. It comes with Android 8.1 Oreo out of the box, and supports all of the Google Play Services. This is a 4K enabled Android TV Box which makes it one of the best deals on this list as well. You can view crisp clear 4K video files in H.265 formats for the best experience as well. Thanks to the faster Bluetooth connectivity, you can also use this TV Box to play games via bluetooth enabled controllers, keyboards or mice. Once hooked up to your TV, the initial setup is very simple. You also get a small remote controller which has a built in mic for you to give voice commands and make things a lot easier for users. Going for only $69.99 on Amazon and Amazon Prime, the NewPal TV Box is a must have if you are on a strict budget.
#3 –

EVANPO T95 Android TV Box
This one on our list is also a great option for those who want the bare minimums but don't want to sacrifice on video quality. Like the NewPal TV Box, the Evanpo T95 also supports 4K streaming in the new H.265 file formats which significantly reduce picture noise and grain. It comes with 4 GB of DDR3 RAM and 64 Gigabytes of onboard storage which one can expand using any external media such as a pen drive or a hard disk. What makes the Evanpo T95 so unique is that it also supports Televisions which go up to 6K in resolution. Even though it outputs in a maximum of 4K Ultra HD, you still get benefits like lossless compression and better detail. The Evanpo T95 also comes out of the box with Android 9.0 Pie which is the latest and greatest of what Google has to offer as of now. The best deal about this Android TV Box is the fact that it comes with a free wireless Bluetooth enabled mini keyboard which makes things easier to type and search on the go. For a mere price tag of $68.99, you really cannot go wrong with this option.
#4 – Amazon Fire TV Stick 4K
This one is by Amazon itself, and we highly recommend the Fire TV Stick 4K for those who want the minimum and the easiest approach to enjoying digital media on your old TV. While the Amazon Fire TV Stick is not as convenient and powerful as the other Android TV Boxes on the list since you cannot play games or run whatever apps you like on this, it still takes the crown for being the easiest to set up and use. The Fire TV Stick is just a little bigger than a normal USB thumb drive and goes directly into your TV. Once launched, you gain access to dozens of video and music streaming services such as Netflix, Amazon Prime, Hulu, YouTube, Hotstar and many more. The Amazon Fire TV Stick also brings support to a lot of video and audio codecs such as K Ultra HD, Dolby Vision, Dolby Atmos, HDR, HDR-10, HLG, and HDR-10+. It comes baked in with Alexa and with this you can make your TV truly smart by giving it voice enabled orders and tasks to perform. Lastly, if you are an existing Amazon Prime subscriber, you gain access to unlimited number of movies, TV Shows and a huge library of movies straight out of the box. For just $49.99 you can't do any better than the Amazon Fire TV Stick 4k.
#5 – Nvidia Shield TV
The last one on our list also happens to be the most powerful Android TV Box in existence probably too. The Nvidia Shield TV isn't exactly the latest offering around, but it comes with flagship grade internal specifications inside which makes it a no brainer for those who were looking for a media console that could not only play streaming apps but also manage cutting edge gaming! The Nvidia Shield TV is 4K ready and supports codecs like H.264 and H.265 with audio codecs like Dolby Digital and Surround Sound. The actual chassis of the TV Box is also very console like and one might like to display it in the front too. With the Nvidia Tegra X1 Processor inside, there is virtually no lag with the interface and while playing any graphic intensive games on the Shield TV. You can also enjoy the best of both worlds since the Shield TV supports services from both Google and Amazon. The TV Box is also smart home ready and can communicate with any smart appliances in your home to make your life smarter and easier to deal with. There is a version of the Nvidia Shield TV that comes with the remote as well as the controller, and you can get that if you plan on playing a lot of games, but for most the starting price of $179.99 really appeals which comes with the TV Box itself and the remote controller.
That's all folks! We hope you enjoyed our roundup of some of the Best Android TV Boxes to get in 2020. Which among the list was your favorite and caught your eye the first? Do let us know down below, we would be delighted to hear what you think about these products. Make sure to regularly check the links to get the best price and the frequently availed deals as well.