Season 4 is Activision's highly popular FPS shooter Call of Duty: Modern Warfare and Warzone are here with a bang, and how! Apart from the new game modes and engaging new maps, players are too busy admiring and trying out the two new guns now available via the Battle Pass – the Fennec SMG and CR-56 Amax(Galil) AR.
The CR-56 Amax Assault Rifle is available at Tier 15 in the Battle Pass and is based on the Galil Assault Rifle from the previous Call of Duty games. In this guide, we will list our attachments of choice for this powerful new rifle in Modern Warfare and Warzone.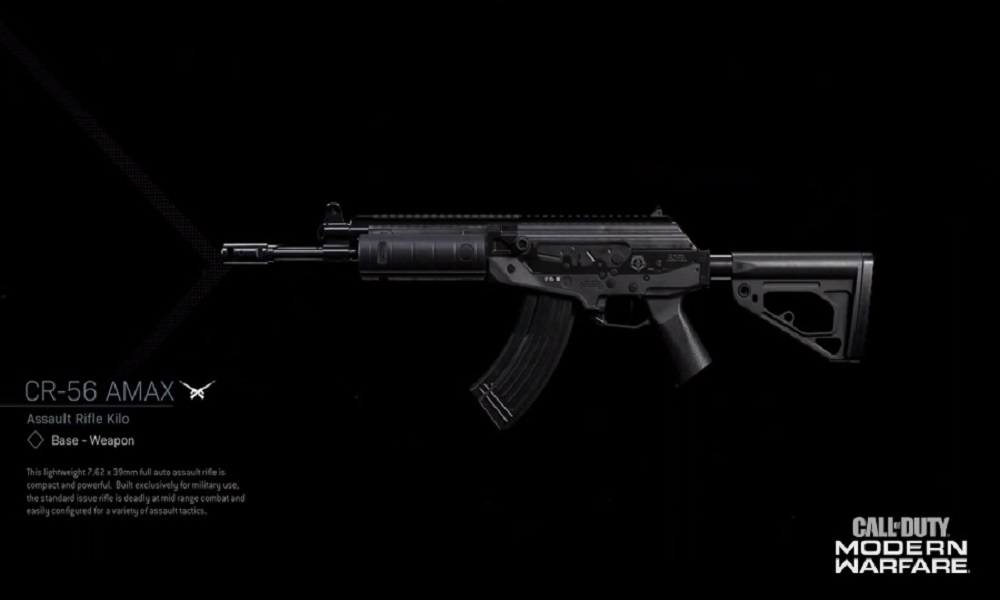 Unique Attachments for the CR-56 (Galil) Amax Assault Rifle
Considering damage, mobility, and range, we have come up with these three combinations that will help you obtain the best results on the battlefield with your CR-56 Amax Assault Rifle in Modern Warfare.
First Combination: Up Close and Personal 
Ammunition: 45 Round Mags
Barrel: FSS 8.3" intruder
Rear grip: XRK CR-56 stippled wrap
Stock: No Stock
Under-barrel: Operator foregrip
This is a powerful combination for confronting your enemies up close and personal. The FSS 8.3" Intruder barrel reduces range but enhances your weapon's mobility, enabling you to shoot at multiple targets in close combat with fluidity.
The stippled wrap and no stock help you shift your aim from one target to another with lethal speed and precision. The roomy magazine allows you to load faster and deliver fire almost continuously.
Second Combination: Like A Hawk In The Sky 
Ammunition: M67 10-R Mags
Barrel: XRK Zodiac S440
Optic: VLK 3.0x Optic
Rear Grip: XRK CR-56 Granulated Wrap
Stock: XRK Gatekeeper
If you are more an "Enemy At The Gates" kind of player, this could be the build for you. Accuracy and lethalness are what this one is all about. You can take up your ideal sniping position comfortably and shoot down targets at long ranges with well-placed bullets.
The Gatekeeper stock and Granulated Wrap with greatly enhance your weapon's stability, while the M67 10-R magazine boosts your damage. As a result, two shots to your target's body above the waistline will be lethal.
Third Combination: Phantom On The Prowl 
Barrel: XRK Zodiac S440
Muzzle: Tactical Suppressor
Rear Grip: XRK CR-56 Stippled Wrap
Stock: FTAC Hunter
Under-barrel: Commando Foregrip
With this build, you can get through the map with the stealth of a shadow, and deliver a seriously hard fight at intermediate ranges. The components will help stabilize your weapon even when you are engaging enemies at longer distances. In spite of the presence of the Suppressor, the damage is severe enough for you to take down most targets with three or four bullets.
We hope you have a great time trying out these builds for the CR-56 (Galil) Amax Assault Rifle in Call of Duty: Modern Warfare and Warzone. Check out our Windows Troubleshooting Guides, Gaming Guides, Social Media Tips and Tricks, iPhone Guides, and Android Guides. Moreover, you can also subscribe to our YouTube Channel to participate in our $150 giveaway contest. In case you have any queries, doubts, or feedback, do comment down below with your name along with e-mail ID, and we will respond shortly. Thank you.