Of all the classes in Destiny 2, the Hunter features some unique Exotics armor that complements not just the Hunter but super abilities as well.
In Bungie's popular free-to-play shooter game, Destiny 2, the Hunter class is almost universally regarded as an integral part of any fireteam, and this stands true for both PvE and PvP matches. This gives it a significant advantage over other classes featuring exotics, such as Titan and Warlock.
Not to mention, it is absolutely vital to master this class for higher levels in the game. So today, we will present to you our picks for the best exotics for Hunters in Destiny 2 so far.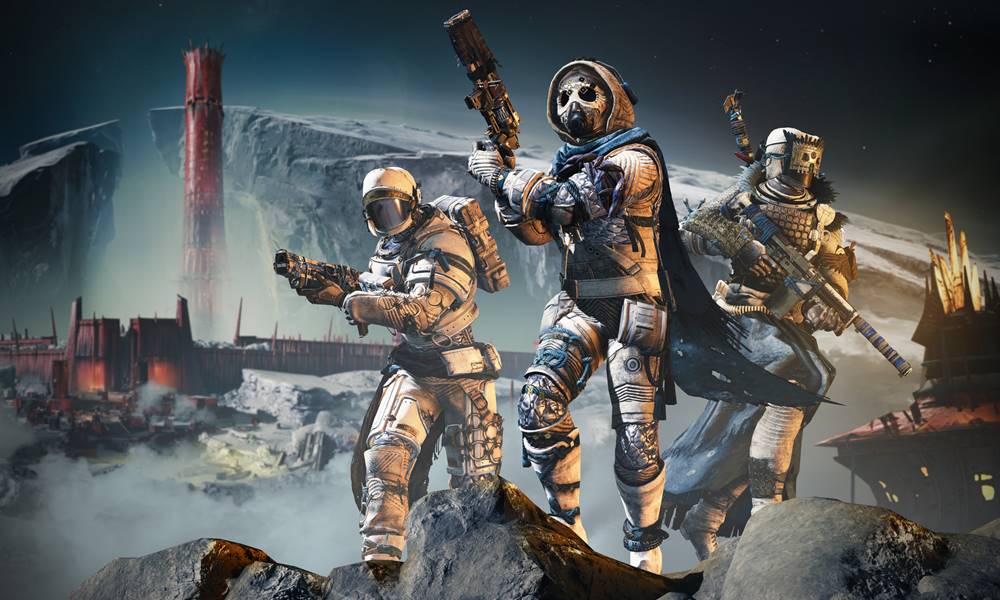 Best Hunter Exotics in Destiny 2
Below we have listed the best Exotics for hunters in the game. Look out for all of them as any one or more of them will suit your need.
Celestial Nighthawk (PvE)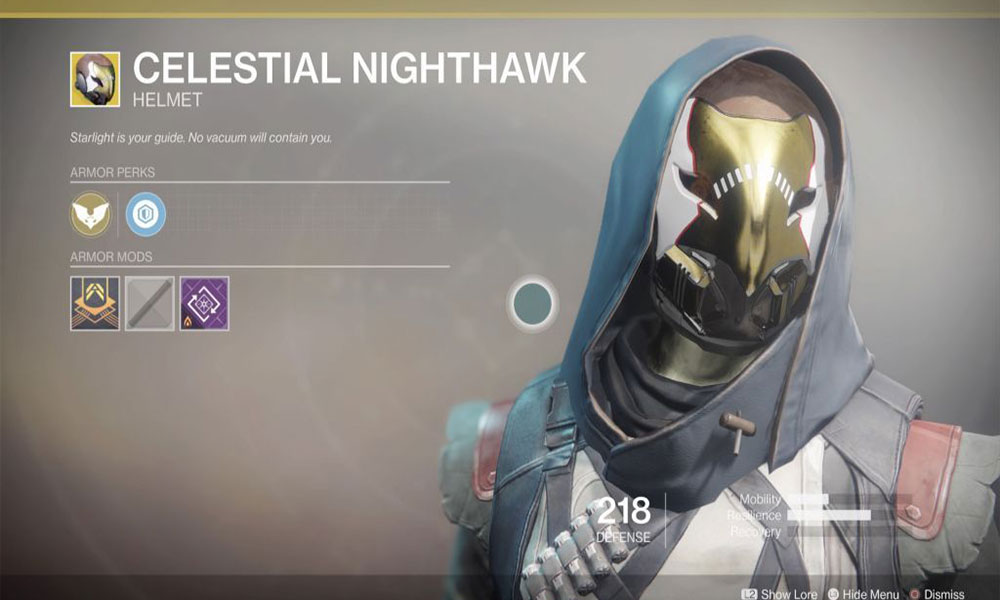 This is an excellent option for players who focus on their shooting abilities. It modifies your Golden Gun to fire a single shot, which causes six times the normal amount of damage. Although your Golden Gunshots get reduced by three, the boosted damage more than makes up for that. It is powerful enough to decimate most yellow bar foes in Lost Sectors. It is also indispensable in boss battles and raids. Make sure you aim the shot properly, though.
St0mp EE5 (PvP and PvE)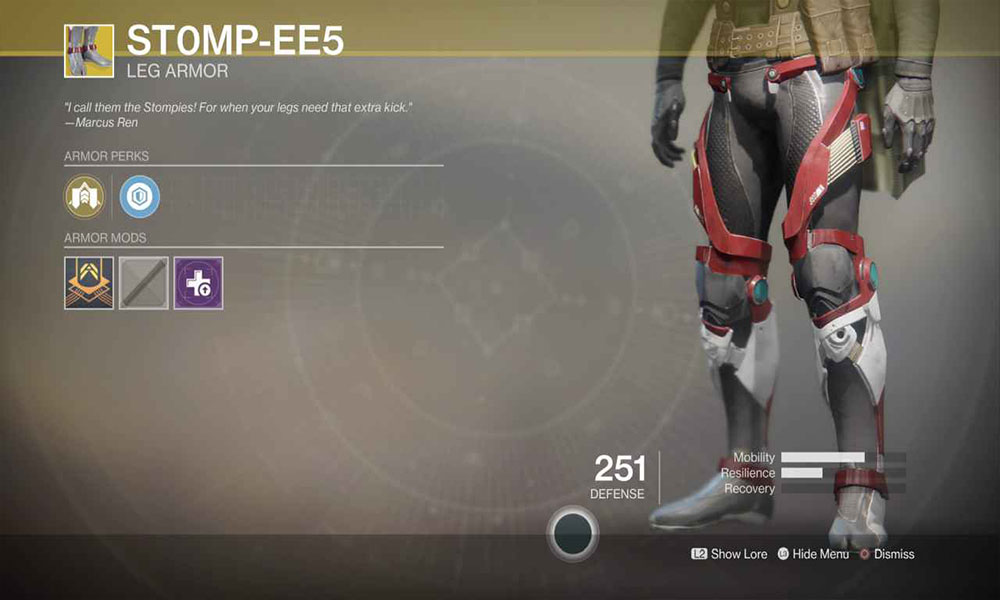 This is specialized leg armor – a pair of stylish sneakers that boost your mobility and enhance your jumping abilities as well. They will come in handy to help you win at raid jumping puzzles and platforming situations in PvE. It also enhances your sliding distance, which comes in handy while going through sliding lanes in Crucible. You can also use these to befuddle your foes with airborne maneuvers in Trials.
Foetracer (PvP)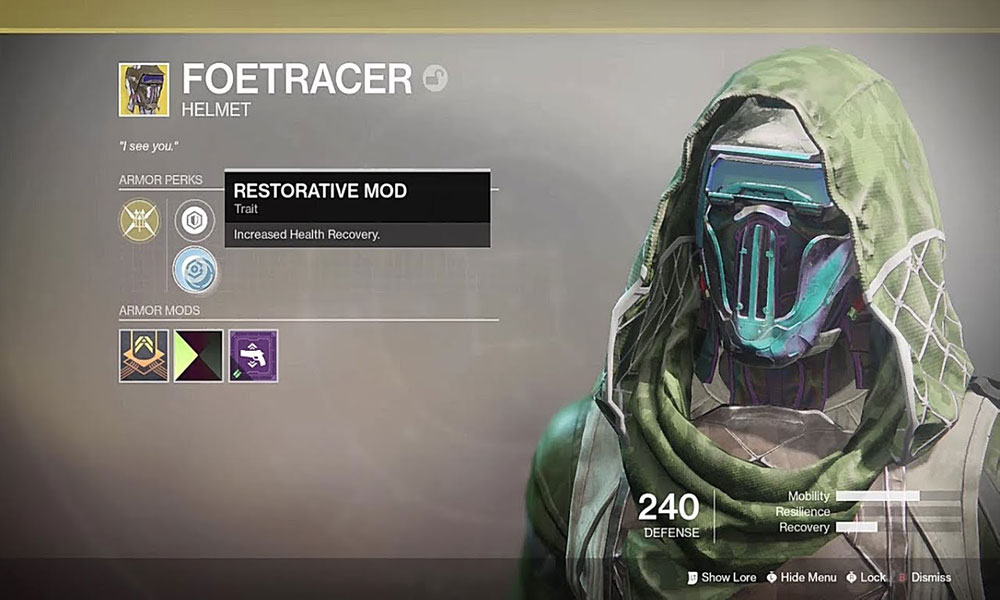 This is one of the most stealth-friendly Exotics available in Destiny. In PvP matches, the Foetracer will bestow upon you nearly Terminator-like powers – helping you to both tracks down your foes and easily neutralize them after you attack them. This is easily the best Crucible Hunter Exotic that is not powered by dodging. This is an excellent choice when you take part in Competitive Crucible because even a small amount of damage can be the difference between life and death over there. You can also use this to target foes with lesser health for a little bump in damage.
Liar's Handshake (PvE)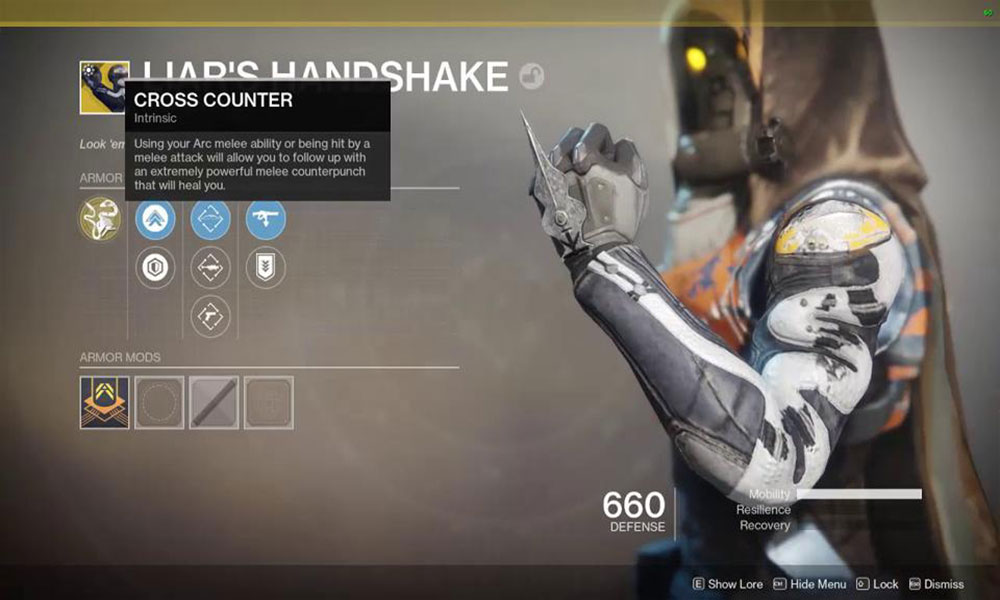 This is one of the most powerful Exotics in the game. You can unleash some seriously lethal hits by combining its Cross Counter perk with a One-Two Punch shotgun and Combination Blow. If you launch a counter-attack after being hit, the Liar's Handshake will enable you to take down your opponent with a single attack. This will significantly aid you during PvP matches, especially for Hunters, who are partial to the Arcstrider subclass.
The Dragon's Shadow (PvP)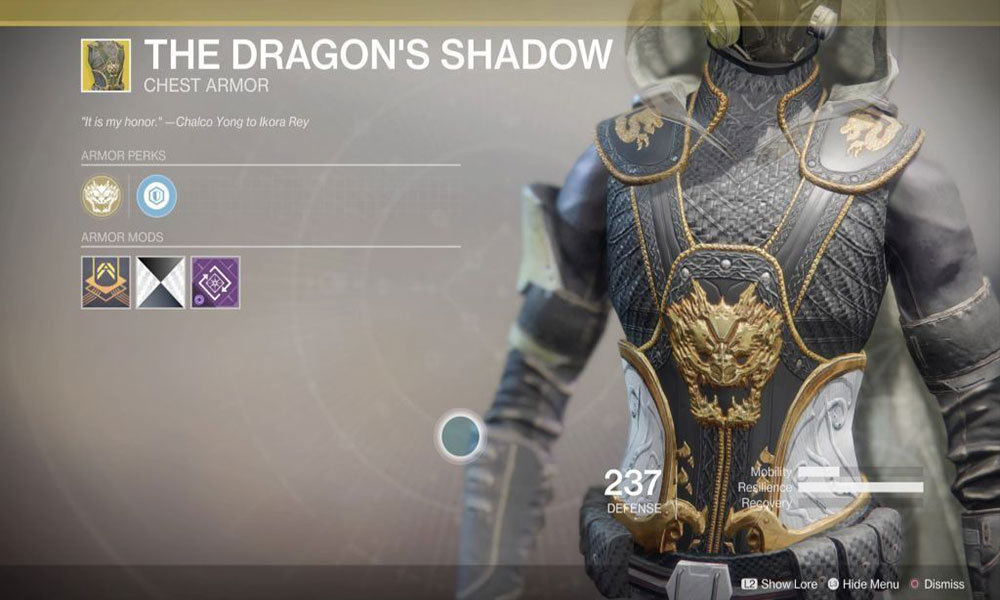 In Dodge, Hunters possess the best overall PvP class ability. Like the Wormhusk Crown, the Dragon's Shadow improves upon this with its Wraithmetal Mail perk. It reloads your weapons (whether equipped or stowed) and enhances your weapon handling and speed (provides 50 Mobility) for ten seconds, prior to dodging. At 100 Mobility, you will get your Dodge back in nine seconds. You will be able to obtain the Dragon's Shadow as an Exotic drop from just about any source, like Engrams or Nightfall loot.
Wormhusk Crown (PvP)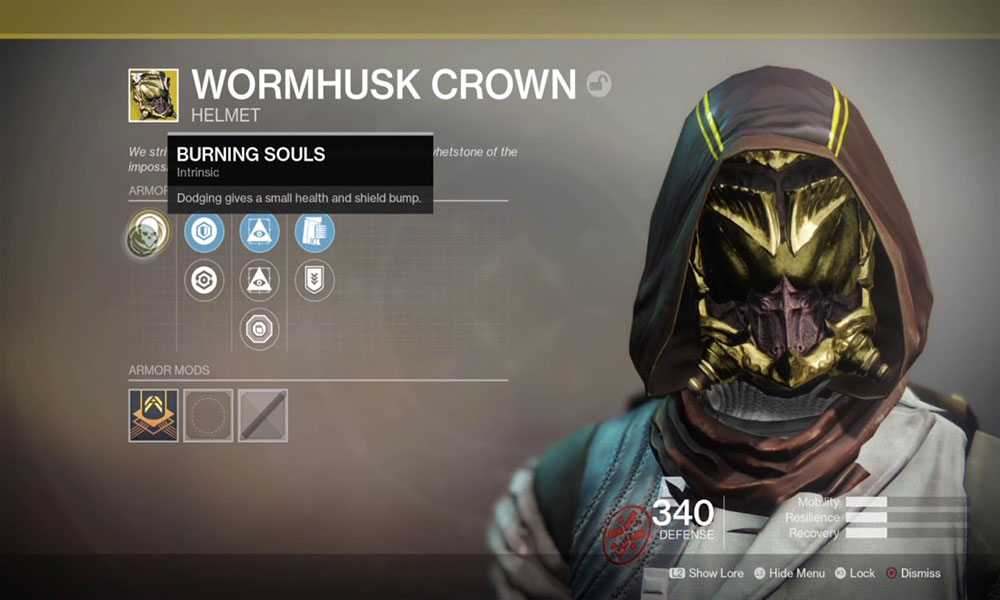 Although it does not pack as much of a punch as the Dragon's Shadow, the Workhusk Crown is rather easier to use. It will turn your Dodge into an emergency survival button. This can help you hold your own in a control zone, and survive lethal encounters by virtue of its instant health and shield. It can help you escape from no-win scenarios in Crucible.
Oathkeeper (PvP)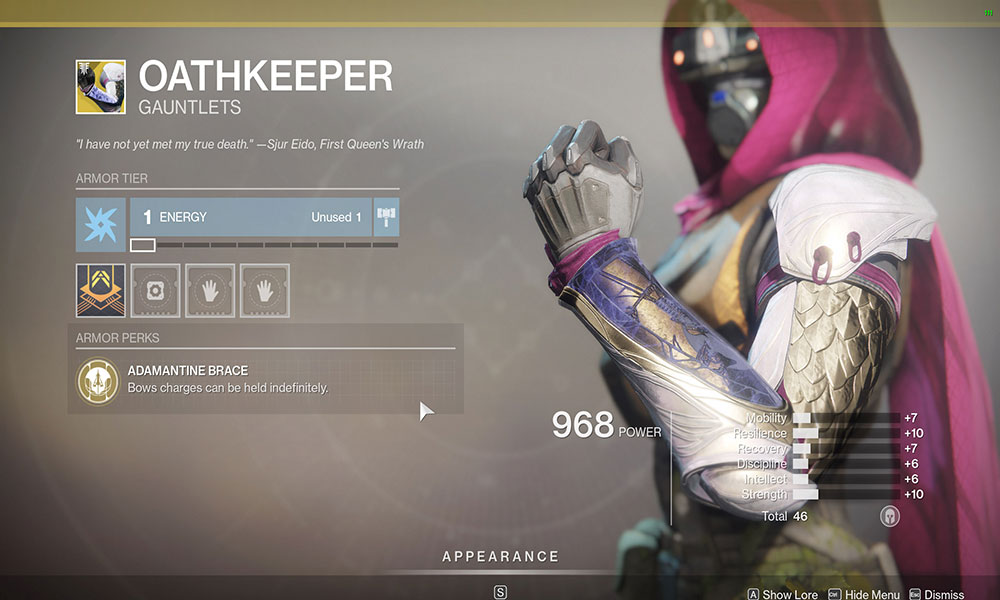 Following the release of Forsaken, the developers introduced a new type of Bow weapon in the game. This allows you to neatly take down enemies at a long-range, stealthily. This is especially useful for Hunters, by virtue of their super ability – Nightstalker. And now, Oathkeeper is an Exotic gauntlet that not only allows you to draw your bow faster but allows you to hold the weapon's string back as long as you want to. This is especially useful in PvP matches because longer draw time of bows can be problematic when you encounter enemies wielding rifles. With this new Exotic, you can swiftly turn around corners with your arrow cocked, and let forth deadly headshots in fast succession.
Shards of Galanor (PvE)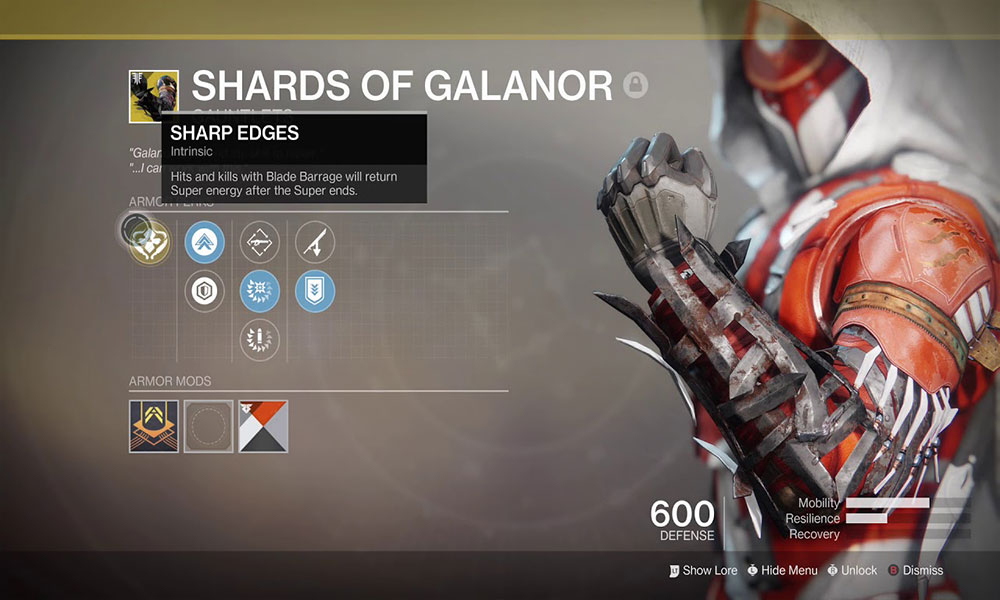 With Forsaken, Hunters received Blade Barrage – the Solar Super, which allows them to hurl a swirling mass of fiery knives at foes directly facing them. It inflicts an incredible amount of damage, similar to the Warlock's Nova Bomb. The Shards of Galanor are Exotic gauntlets which return some of the super energy from Blade Barrage, for every knife that strikes an opponent. It comes in handy in PvE matches, especially during strikes and raids.
Gwisin Vest (PvP)
Spectral Blades is a powerful Void super ability, released for Hunters with Forsaken in 2018. It bestows you with assassin abilities – twin blades that allow you to slash down foes on the move. Apart from this, you will also acquire invisibility and boosted mobility after being killed. Gwisin Vest is an Exotic chest piece that will extend this duration of invisibility. It will also give you bonus super energy when you take down a foe before going invisible. This will greatly help you in ambushing down off-guard enemies in PvP matches.
Raiden Flux (PvE)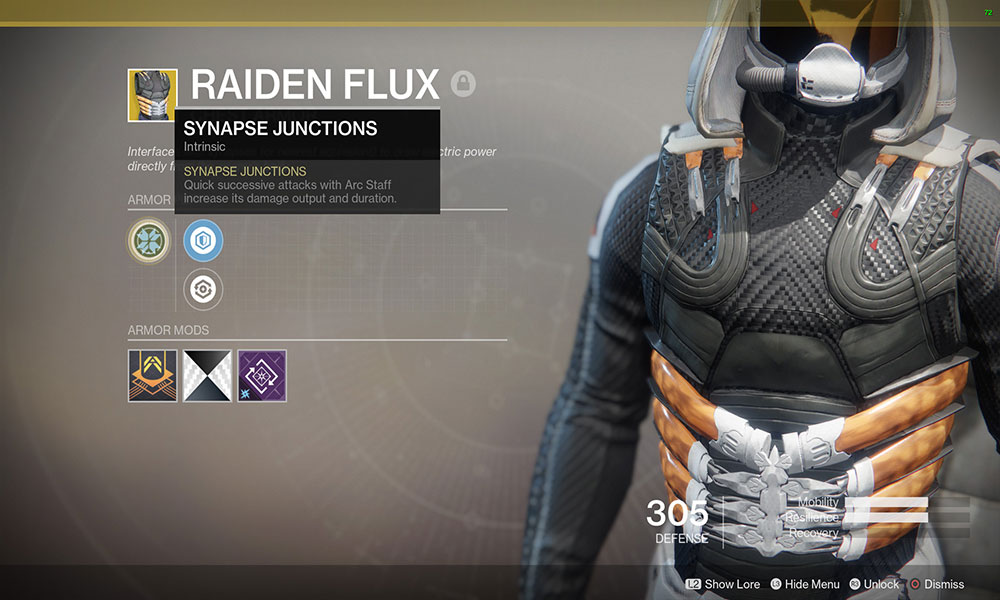 Arcstriders are a useful subclass of Hunters for both PvP and PvE matches. This is mainly by virtue of their excellent mobility and respectable damage, which you can use to wipe out large groups of enemies relatively swiftly. The Raiden Flux, an Exotic chest piece, will significantly boost this ability. It will, with fast attacks, increase the damage and duration of the Arc Staff super ability. This is powerful enough to turn you into a one-Guardian army of destruction!
That is it for now. We hope you have a great time going through these powerful Hunter Exotics in Destiny 2. If you liked this guide, remember to check out our other Windows Guides, Gaming Guides, Social Media Guides, iPhone Guides, and Android Guides to read more. If there are any queries or suggestions, comment down with your name along with the email ID, and we will reply shortly. Also, subscribe to our YouTube Channel to watch awesome videos on gaming and smartphone tips and tricks. Happy Hunting!