Today we have a guide with us on with best PP19 Bizon Loadout in Call Of Duty: Warzone. So without wasting any time, let's get started.
This gun is a 9mm submachine gun created by creators of Ak-47 and Ak-74 in Russia. The weight of Bizon is about 2.1KG, and a fire rate is around 650-700 rounds/min. We see this gun in many games such as Pubg, COD Warzone, CS: GO, etc. Season 4 of the Warzone added a new weapon that is a high capacity PP19 Bizon submachine gun find at the dropping location Verdansk.
This gun is not much powerful as an MP5 or MP7, but players can use PP19 Bizon by taking the right attachment for it, which will help to boost its power, stability, ADS, many other things.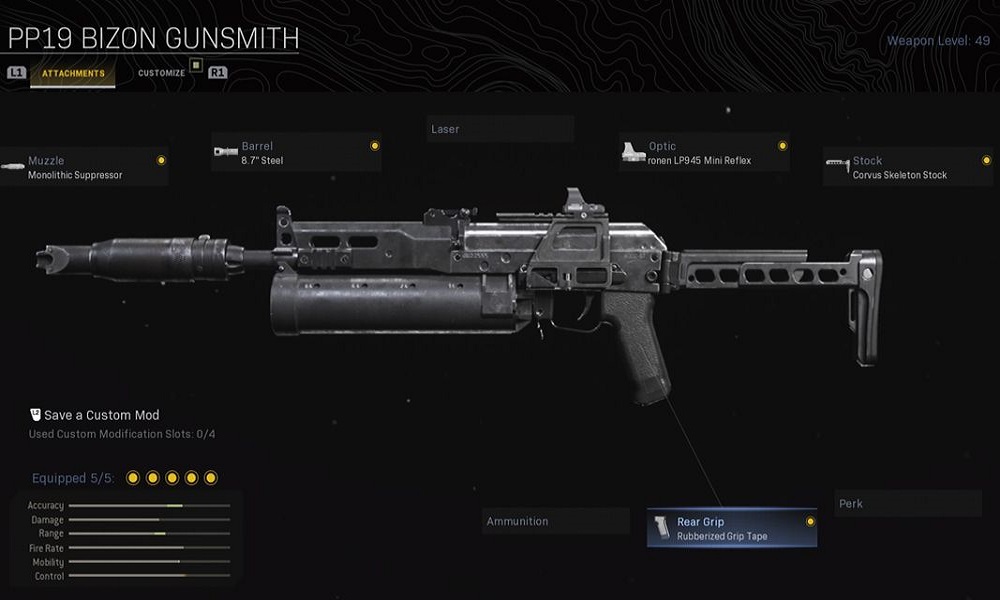 Best PP19 Bizon Loadout
PP19 is one of the quickest weapons in the Warzone, the gun can either vanish enemies up close or have you missing every shot due to its recoil occur during the high firing rate. So We have designed a loadout for you, which will mitigate the recoil without sacrificing with its damage, range, or mobility.
Attachments
Rubberized Grip Tape
Cronen LP945 Mini Reflex
Corvus Skeleton Stock
8.7″ Steel Barrel
Monolithic Suppressor
The first attachment is the Rubberized Grip Tape. This helps to control recoil. The next attachment is Cronen LP945 Mini Reflex this will really help you to control the accuracy at range.
Another attachment is known as a Corvus Skeleton Stock, and it is one of the best stock available in the game. It speeds up your aiming down sight and also allows you to strafe quicker, which makes your aiming faster and also increases gunpowder, although for the short-range fight.
And last but not least, 8.7″ Steel Barrel and Monolithic Suppressor, which will increase player's damage as well as reducing its recoil. The suppressor will help the player hiding from enemy radar. This means your location will remain covert whenever you are firing.
Pros and Cons of PP19 Bizon
Its damage range is very high.
Aim Walking Movement Speed is also pretty good.
Its Aim while walking and steadiness are considerably high.
Bullet velocity is very high.
Movement speed is also pretty good.
Recoil control is easy as compared to other guns.
With the help of a suppressor, its sound suppression quality is good.
In Bizon Aiming stability is very poor.
Aiming gun steadiness is not so helpful for players.
The laser is visible to enemies.
That's all we have for you on Best loadout for PP19 Bizon in Warzone. We hope this guide helped you. If you liked this, check out our Windows Guides, Gaming, Social Media, iPhone Guides, and Android Guides for more amazing content. Subscribe our YouTube Channel for participating in our $150 giveaway contest. By the way, if you have any queries, doubts, or feedback, do comment down below with your name along with e-mail ID, and we will reply shortly. Happy Shooting.