We know that the recently launched Modern Warzone successor, Warzone 2, has a lot of improvements and additions. In which weapons mostly play a strategic role. Warzone 2 has a wide variety of firearms, including LMG, AR and many more. But it is imperative for a novice player first to equip LMG weapons. LMGs are so popular that they are more popular than many capable ARs.
The choice of an LMG is not the only thing that confirms your victory in a role-playing action game. We have observed a lot of players having outstanding weapons but losing due to inappropriate loadouts. However, these loadouts are primarily recommended by other professional gamers. But you can try your own. Sadly, as a newcomer, you might need such abilities. Here we will tell you about it.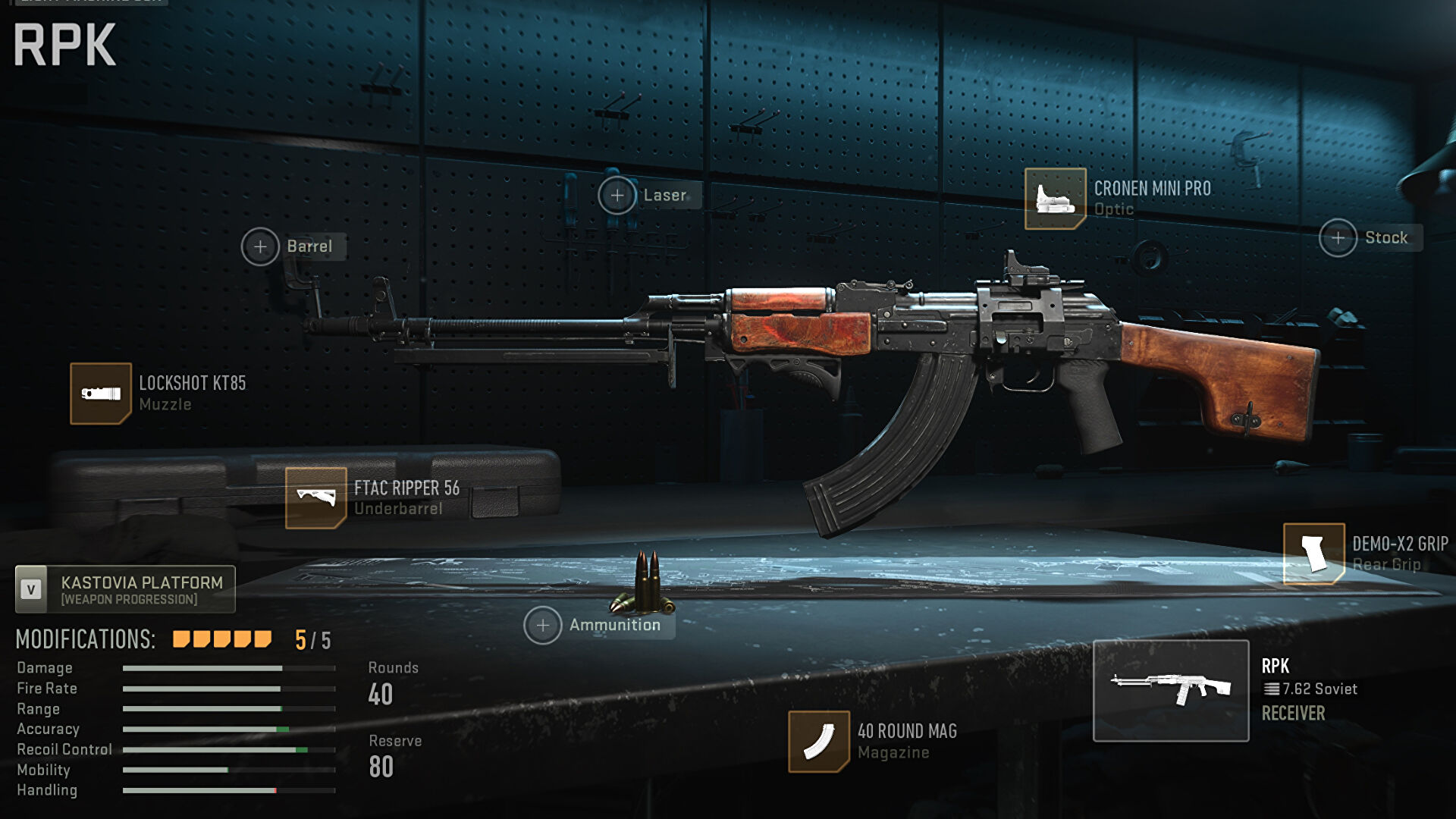 Best RPK Loadout in Warzone 2 Season 1 Reloaded
Season 1 of Warzone has started, and many professional and beginner players have taken part. The most impressive part about Warzone 2 is that it hit a massive user base in just two days of launch. Before telling you about the most effective RPK loadout, note that they have some inherent strengths. With every RPK, you can be sure of portability and severe damage. However, to get an RPK, you need to rank up to level 23 for Kastov 762 and further level 16 from there.
Now the question came up about the right loadout for an RPK file. Because starting the game directly with a raw RPK loadout is not recommended. You need a proper loadout. So based on numerous professional players' gameplay, we came to this conclusion. More specifically, we also tested loadouts and found positive results from there. So without further ado, let's look at the following loadouts.
Muzzle: Kastovia DX90
Underbarrel: Commando Foregrip
Magazine: 40-Round Mag
Rear grip: True-Tac Grip
Taking you through the analysis of why we chose these loadouts. First, we have chosen a 40-round magazine and a True-Tac grip. This increases the RPK's mobility and handling, making it a more static player. As a dynamic player, you might have multiple attachments, which may become an obstacle for players to target. As a result, the Commando Foregrip allows players to keep their weapons stable.
Moreover, to add the cherry on top, we shortlisted Kastovia DX90. Due to the muzzle's ability to smooth recoil and increase bullet velocity. Most of its strength will be evident at a long-distance target. Additionally, you can equip stun grenades (tactical equipment) and other perks like Overkill, Strong Arm, and similar ones for more strength.
Understanding these loadouts and the reason for doing them on an RPK is helpful for you. But if any player wants to try his loadout, they are free to do so. However, if they are still looking for it, this guide would greatly help them. Even though we have explained everything, if you still have any questions, please ask them below.