Season of Arrivals came up with new exciting features and The 11th season of Bungie's Destiny2 Season of Arrivals, which brings the Contact Public Events, the Interference weekly mission, and a special Umbral Engram. Now, in this new season, many new weapons prove themselves to be very helpful for short ranges. Moreover, they are reliable as well as best for combat fights, and these weapons are none other than Scout Rifles.
Scout rifles are also great in terms of semi-long range battles as well. However, the players of Destiny 2 are confused regarding the selection of the best Scout Rifles in the game. If you are one of them, then look no further as we are here to help.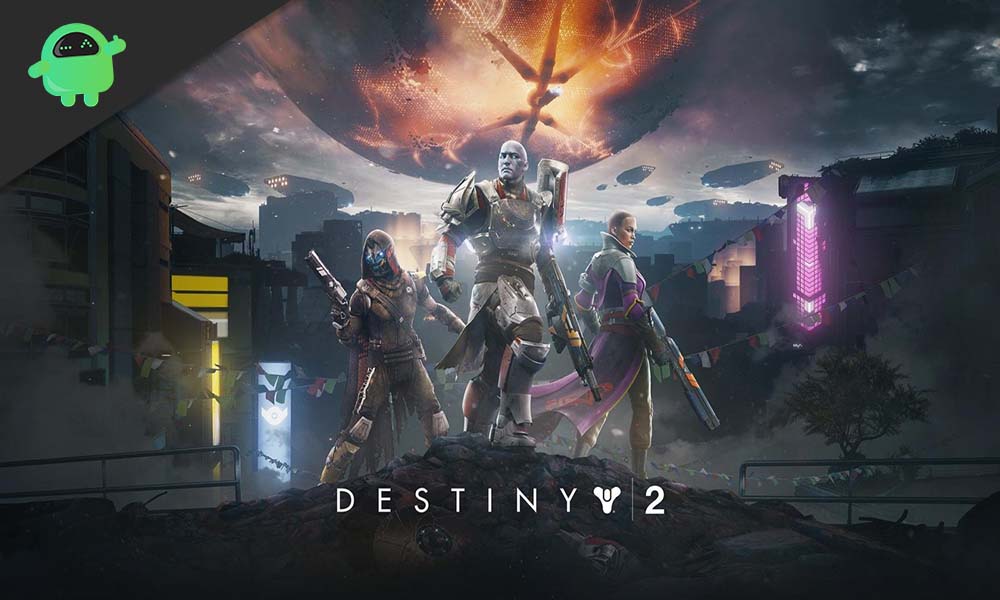 Best Scout Rifles In Destiny 2 Season Of Arrivals
Among all the different types of weapons, the scout rifles are much more favorable for players because Scout rifles are not the only beast in semi-long range battles, but also a brutal mid-range weapon like Pulse and Assault Rifles. Here are some of the Scout Rifles which are currently more popular than any other weapon along with their ranking based on our opinion.
10. Tone Patrol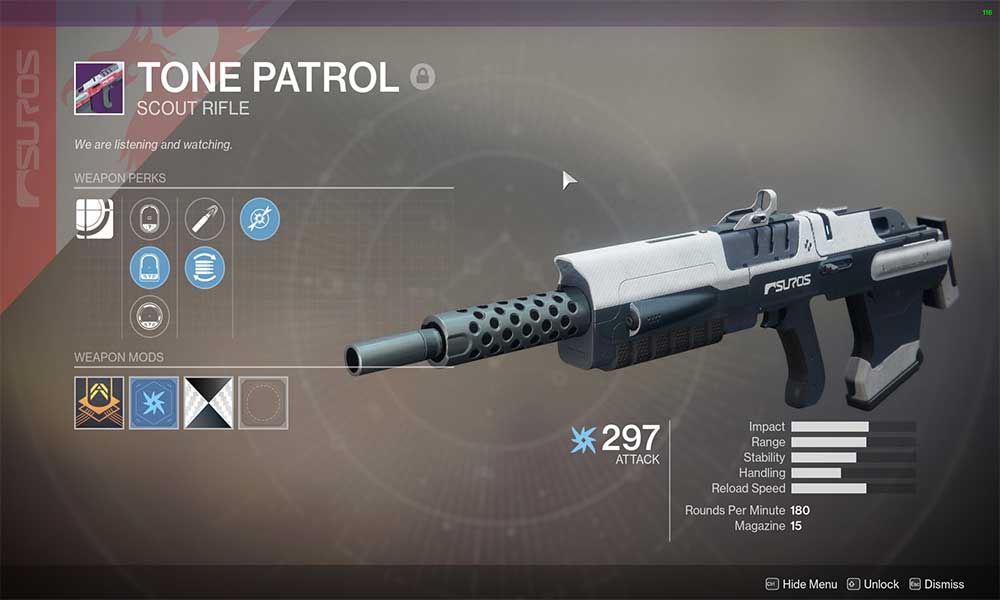 It's a frame legendary scout rifle out there, and you can look for it from the Gunsmith Banshee-44 or legendary engrams. Tone Patrol has the perk Dragonfly, which helps with precision kills an elemental aspect. If you attached it with flared mag-well or high caliber rounds, then this weapon became beast, and you can easily squash your enemies in PvE.
9. Vouchsafe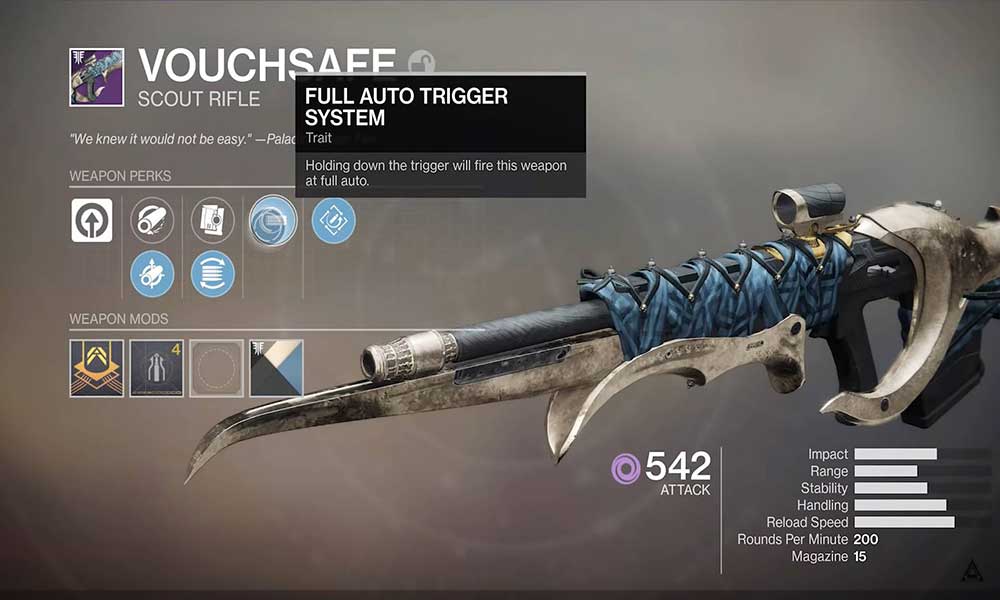 The viability and popularity of this legendary weapon are in another level and moderately much useful in PvP, and you can look for it in Dreaming city. Vouchsafe has the perk of being full auto with Rapid hit because it is a lightweight frame scout rifle. Moreover, it allows you to have greater mobility speed. Rapid hit gives you a benefit that temporarily increases the stability and reloads speed.
8. Conspirator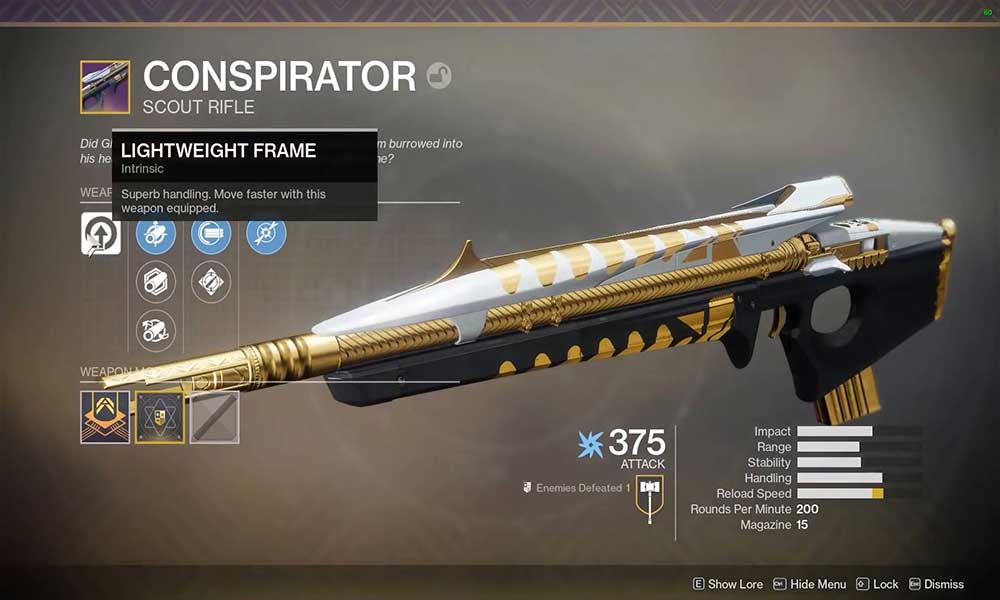 Conspirator is an average performance gun. However, if you need a weapon immediately to use, then you can get it from the raid.
7. Transfiguration
It's a Raid legendary scout rifle in which perks pairs with its original stats. But in case you want to customize it, then you will have to go with the Kill Clip and Rampage. However, you don't need to customize it because this gun already has excellent default stats, which gives you better control over recoil and stability.
6. Talons Of The Eagle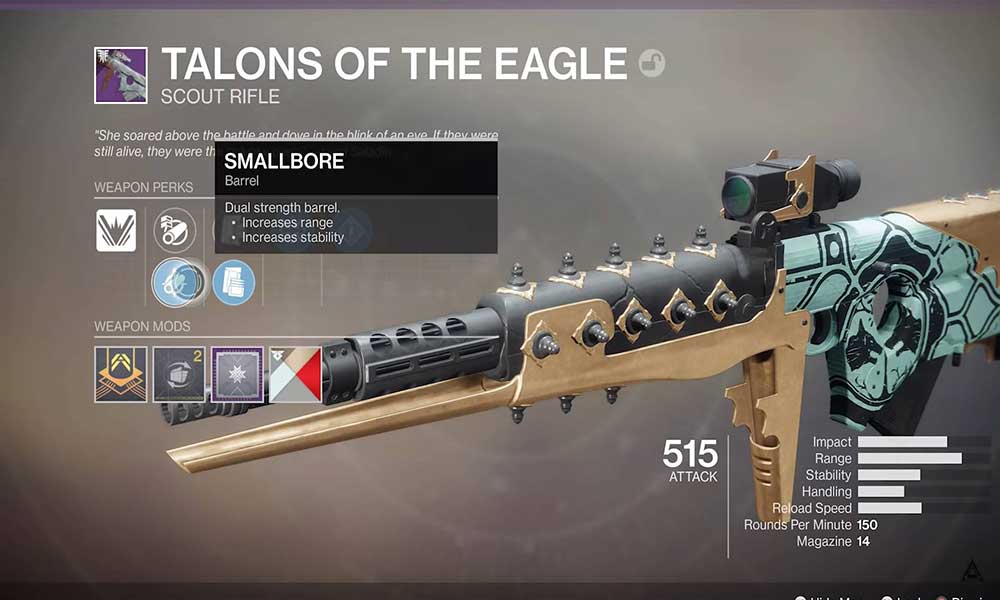 It's a legendary Scout rifle out there that can be obtained through the Iron Banner. Talons Of The Eagle becomes a monster when coupled with the perks, Firmly Planted and Moving Target. Accuracy, stability, and handling is increase due to Firmly Planted perk while movement speed and target acquisition while ADS increases by Moving Target perk.
5. No Feelings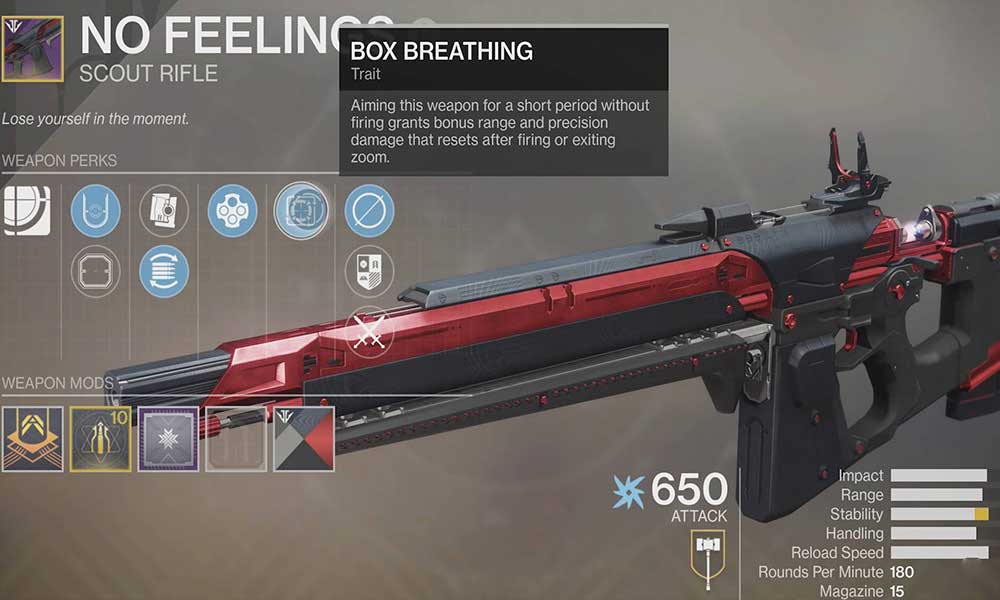 It's a Calus raid legendary Scout rifle, and it has the fastest time to kill among all the Scout rifles out there. In this Knucklehead Radar, combined with the Outlaw Perk, helps you to have a radar while ADS.
4. Polaris Lance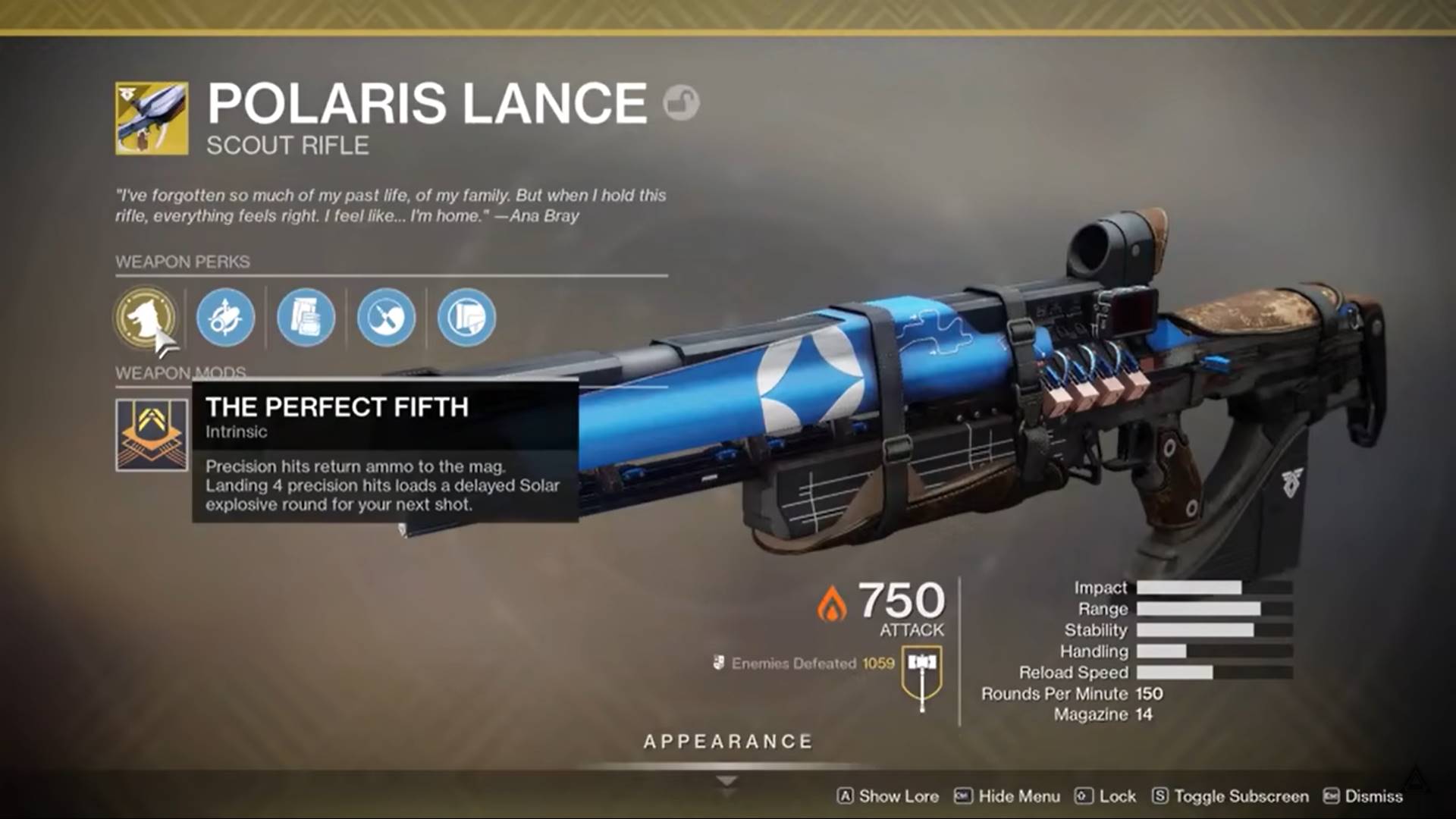 It is the best Scout rifle out there in the Destiny 2. This gun is the successor of Braytech RWP Mk II. It is the most favorable gun in PvP as Polaris Lance is the predecessor. So it has the same perks as Braytech RWP Mk II except for the Intrinsic perk. We highly recommend this rifle because it provides extra damage, and your time to kill the enemy becomes short.
3. Skyburner's Oath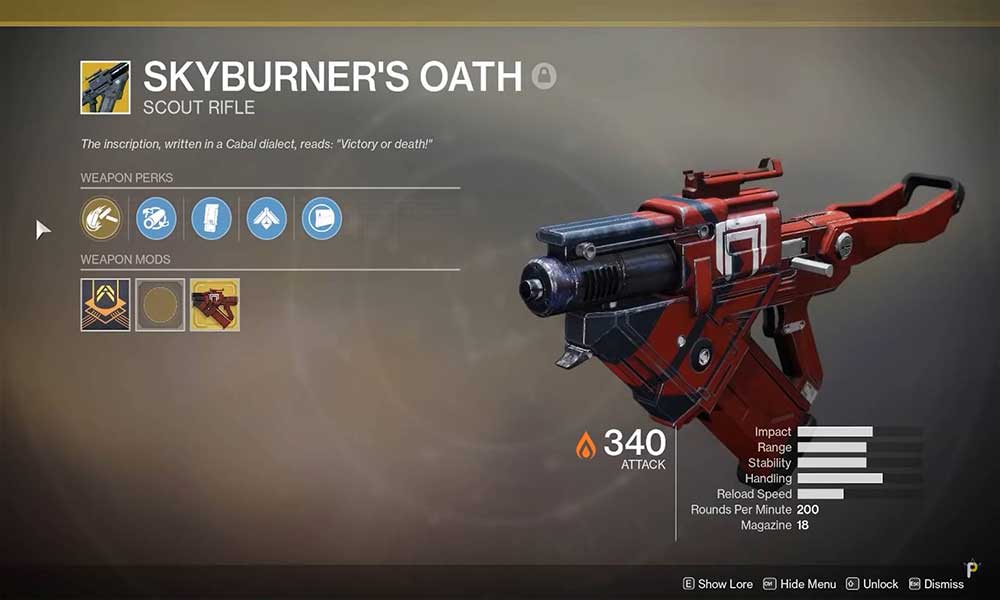 This exotic weapon is not known for battle damage, but if you can use Skyburner's Oath wisely, then it gives you an advantage. If you use the perk Slug Rifle, then this gives you explosive seeking slugs. It travels faster and straight, including greater damage. You can easily obtain from Exotic Engrams, Luminous Engrams from Milestones. Also, it can be obtainable through public events.
2. Braytech RWP Mk II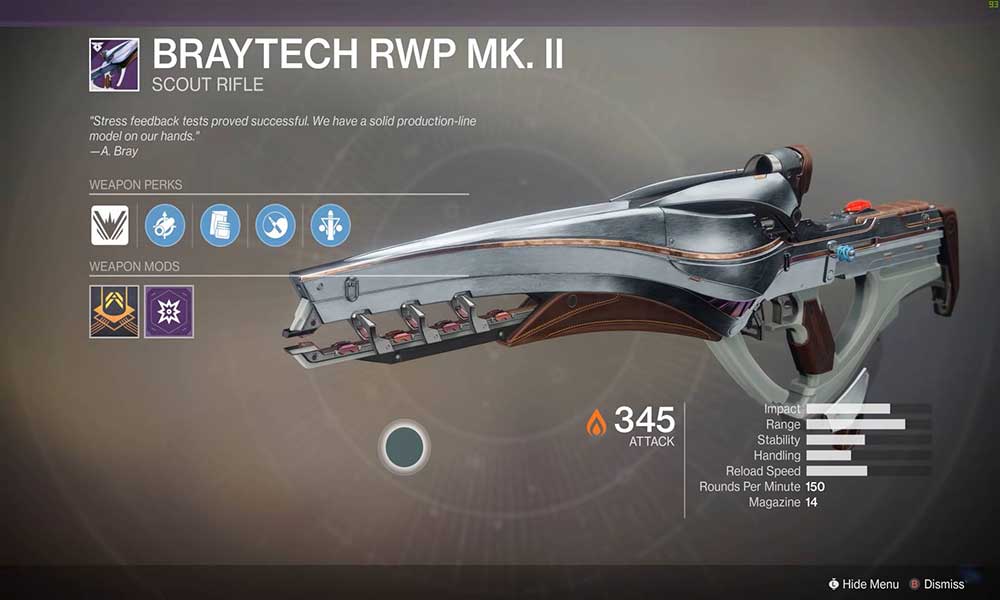 The most used legendary scout rifle because of its easy handling, but some of you won't like it due to its less stability. This is the legendary version of the Polaris Lance having the same perks except for the final one that is Tripple tap.
1. MIDAS Multi-Tool
This Exotic weapon boosts the movement speed. MIDAS easily fits into anyone's loadout because it is the best PvP Scout rifle out there, which keeps your radar active while ADS. That's why we have placed it at the top of our list of the best scout rifles in Destiny 2.
That's all we have for you on best Scout Rifles In Destiny 2: Season Of Arrivals. We hope this guide helped you. Now, If you liked this guide, remember to check out our other Windows Guides, Gaming Guides, Social Media Guides, iPhone Guides, and Android Guides to read more. If there are any queries or suggestions, comment down with your name along with the email ID, and we will reply shortly. Also, subscribe to our YouTube Channel to watch awesome videos on gaming and smartphone tips and tricks. Happy Gaming.