miHoYo's Genshin Impact is an anime-themed open-world action RPG game. The game is well known for being a good storyteller who is anime-themed. It is free to play, and it is available for all platforms, including Nintendo Switch. As a player, you will start your journey from the fantasy world of Teyvat.
It is also home to seven nations, tied to specific elements representing different Gods. Initially, you start the journey with your twin sibling, who later gets lost in Tevyat. In your quest, you will have to find and unite again with your twin sibling.
While you search for your sibling on the vast map, you will also have to encounter the nation's affairs and get through it. There are 4 characters at a party; the player can choose and play with any character. Also, the characters are interchangeable.
Characters can also be switched between combat so that players can take full advantage of different characters and their abilities. And just like traditional RPGs, you can even upgrade the character, with special abilities and skills. As an anime-based game, it offers amazing textures and smooth gameplay to aid the experience further.
Game Character – Hu Tao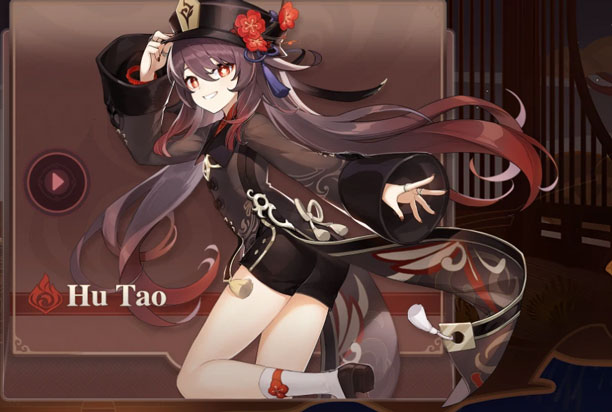 Hu Tao is a playable Pyro character in Genshin Impact, which also happens to be a medium build and the 77th Director of the Wangsheng Funeral Parlor. She has a well-known reputation for holding funeral ceremonies with the utmost attention. She usually prefers Polearms when fighting. She can repeat her normal attack up to six times rapidly. She's quite stout when it comes to battle. She could be the main damage dealer of the team when equipped with Pyro supports items.
However, when talking about weapons, there are tons available, that can well suit Hu Tao. Talking about special weapons, the staff of Homa is Hu Tao's Match Weapon. The weapon produces a lot of ATK bonuses according to the wielder's max health.
While casting a spell Hu Tao reduces her own HP, but that is nothing to really worry about. However, if you are looking for more awesome weapons for Hu Tao you've landed in the right place. This article intends to carve out the best three weapons that you can use while you are playing this specific character.
Best 3 Weapons for Hu Tao
Primordial Jade Winged-Spear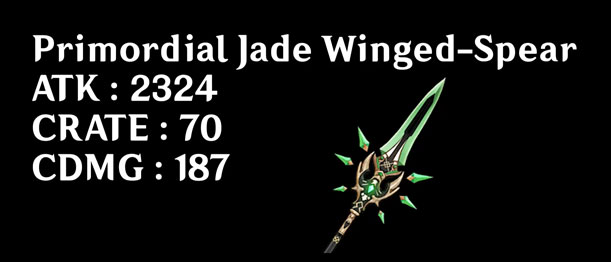 This is a Polearm weapon, which means it's best suited for Hu Tao. Gain a stack after successfully hitting an enemy. After acquiring the 7th stack, the weapon activates its passive effect. Getting this weapon is not easy tho, though you will have to go to the Wanderlust Invocation banner to get it.
Other than Hu Tao, this is a great weapon for many of the DPS characters. This has to perform well after all it is the signature 5-star polearm weapon of Xiao in the game. It increases the character's base CRIT Rate to 4.8 percent. And when you possess the maximum number of stacks, the damage will increase by 12 percent.
Deathmatch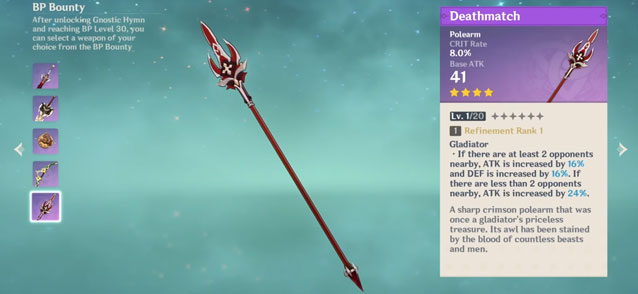 This one's a limited weapon and is only available if you buy the battle pass. Deathmatch boosts pretty much everything, including your CRIT Rate, ATK, and DEF. It's an incredible polearm in Genshin Impact as it also boosts the damage output and allows much better survivability in the game.
If you're playing as a DPS or a sub-DPS character, then it is a very handy weapon for you. Many characters are compatible with this weapon, but only a few suit really well, such as Hu Tao and Xiao. When more damage and most CRIT are your priority, then deathmatch is the weapon that you call for.
White Tassel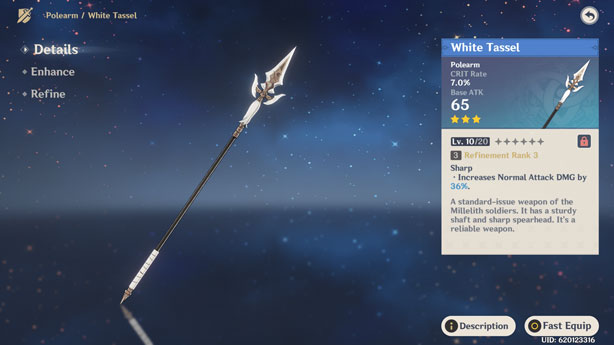 It is a very versatile yet dangerous weapon for certain characters in the game. It appears to be a Black and Gold Plated Polearm. Go for the White Tassel if you want to subdue enemies easily. While the Base ATK could be low but it has excellent CRIT Rate sub-stat. This 3-star weapon is obtainable via Wish Banners.
You can also get this weapon from scattered crates in Tevyat, once you start exploring each crate you find. It comes with a base Base Attack level of 90 and an additional 90 stat. Once upgraded, it can have 48% more power in ATK DMG at R5.