Portable technology has evolved significantly over time. As a result the means to capture memories became more advanced too. Camera with films was once the only way to capture pictures and videos. It was quickly replaced by modern mass storage technology allowing people to hold hours upon hours of footage in a card as small as their nail. But sometimes digital memory gets corrupted, and it seems impossible to get your videos back, but today we shall show you how that fear is a thing of the past as well.
The Causes of the Video Files Loss/Corruption
One of the most heartbreaking things in life can be spending countless hours of your time creating perfect videos and down the line realizing that it got corrupted or it would not play anymore. Or maybe part of the video skips, and the other parts have weird lines and artifacts on some frames and places.
These are the signs of your video file being corrupted. There can be many reasons why this can happen, though we shall list down the most common causes of video file failure and corruption for conciseness's sake.
Video Shut Down Prematurely:
 Any form of digital data, including video files, can have the risk of being corrupted when the device that was playing it faces an unexpected shutdown or reboot. In a scenario where this occurs, parts of the video can get corrupted and start to skip or stop playing altogether.
Using Poor Third-Party Players:
 A poorly designed third-party video player or video editor can cause harm to your video files as it may or may not have the required standards and properties to easily handle and encode/decode video files, causing them to go corrupt.
Damage to Your Storage Media Device:
 Careless handling of your mass storage devices such as SD cards or External Hard Drives can cause them to suffer physical damage. Too much physical damage to their internal components can result in data loss and file corruption.
Malware and Virus Attacks On Your Storage Solutions:
 Video players can have difficulty or stop processing the video files due to virus and malware attacks on them. Typically these viruses change the video file extensions to something unrecognizable, making it impossible for them to play the video.
Mismanagement of File Structure Video 
Files carries much more than just audio and visual data such as headers and metadata. Video files would be easier to read between each player and device. Tampering these values can cause your files to fail and be rendered unreadable.
What can video repair tool do?
Video repair tools are useful programming pieces that can help you fix corrupted video files for you and make your entertainment playable once more for all players and devices. Useful repair tools fetch your corrupted files for you and try to retrieve audio and video file portions that are not lost completely.
Video repair tools usually feature these functionalities with them
It helps you repair back your video files that are corrupted, broken up, truncated, or damaged

Fixes your video files not playing in certain media players such as Windows Media Player or QuickTime

Fixes movies that the camera could not encode or finish properly

Reconstructs raw video file and audio stream of the file being repaired to achieve smooth playback

Reconstruct missing data from videos such as its meta-data and header parameters
You can typically find these features in high-quality video players themselves, such as VLC Media Player with its built-in video repair tool for convenience. Still, for a sure-fire way to fix your video file completely without any compromises, we recommend Wondershare Repairit, the video recovery tool with the highest success rate out there.
Features about Repairit
Wondershare Repairit is the robust video recovery tool you need to fix any video format file you desire, whether MOV, MP4, MKV, M4V, or any other file extension. Repairit can handle it all. It allows you to recover multiple files simultaneously and even shows you a preview of your repaired one before saving it.
Some key exclusive features of Repairit which set it apart from its competitors and offer the best in video repairing are:
Amazingly friendly and up to date User Interface
 See all the technical details such as the video's frame rate, bit rate, and format behind your video in Repairit feature covered User Interface and even be allowed to set your own thumbnail for the video
Advanced Enhancement Repair
 This advanced feature permits you to feature a sample to repair severely broken videos with a better success rate. Moreover, sample file verification helps choose an appropriate sample.
Repair High Definition Videos
 

Fix your videos with fully high Definition resolutions ranging from 4k all the way up to 8k resolutions.
Support for multiple recording devices
 

Repairit can work with any camera or phone recording whatsoever and successfully repair any file you offer.
Steps To Repair Your Video Files:
After installing Wondershare Repairit onto your system, by following these 3 simple steps, you can get back and video file you present it in no time.
Add your corrupt or damaged file to Repairit

.
 The software will ask you to add whatever files you wish to recover back initially so it may start. Click on "Add" to start Repairit.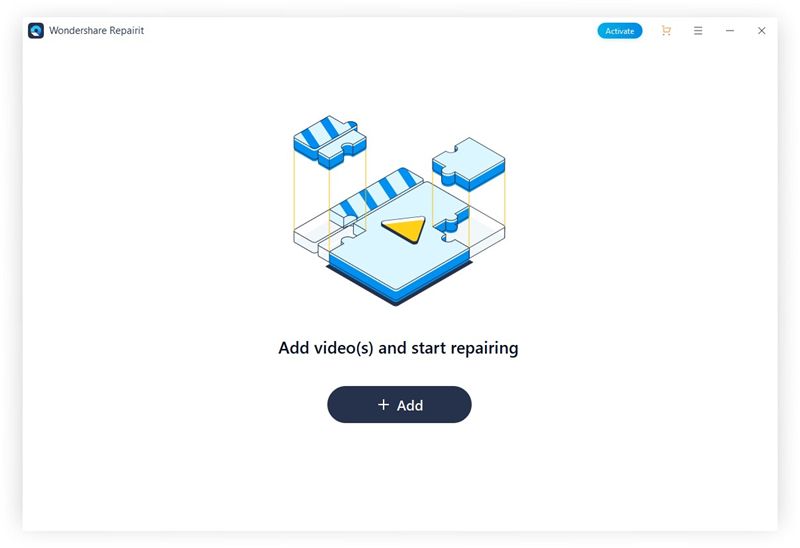 2. Start repairing your corrupt or damaged video with Repairit
 Repairit shall present you with a list of videos you can choose from. Select the corrupt video files and do not open them anymore to start the process to repair them. Click "Repair" to get started.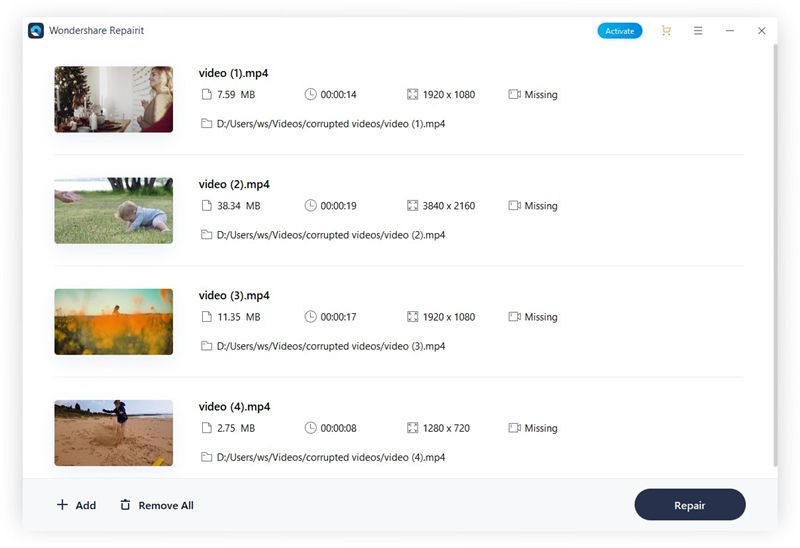 3. Confirm your content with Preview Feature in Repairit
 Watch the preview presented by the tool to check if the file is fully recovered and the content you recovered is correct or not. If satisfied, then simply click on "Save" to get your media file back.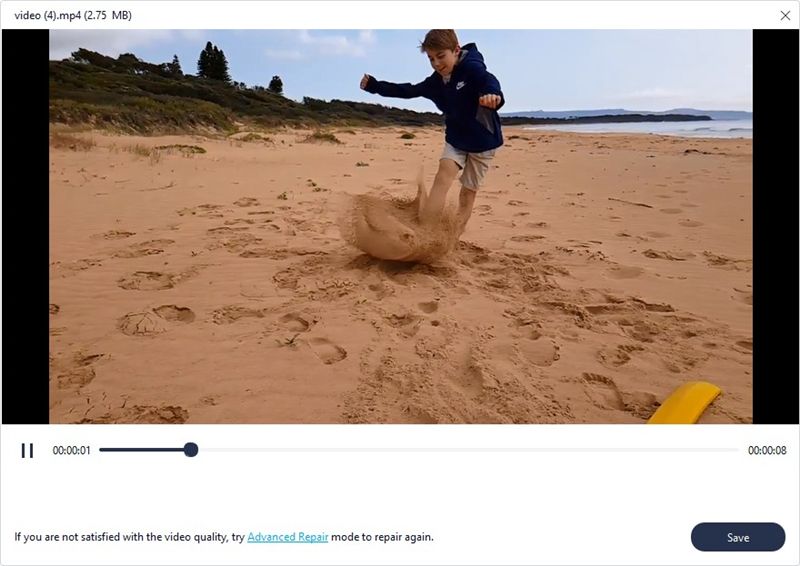 4. Finish up saving the repaired video by Repairit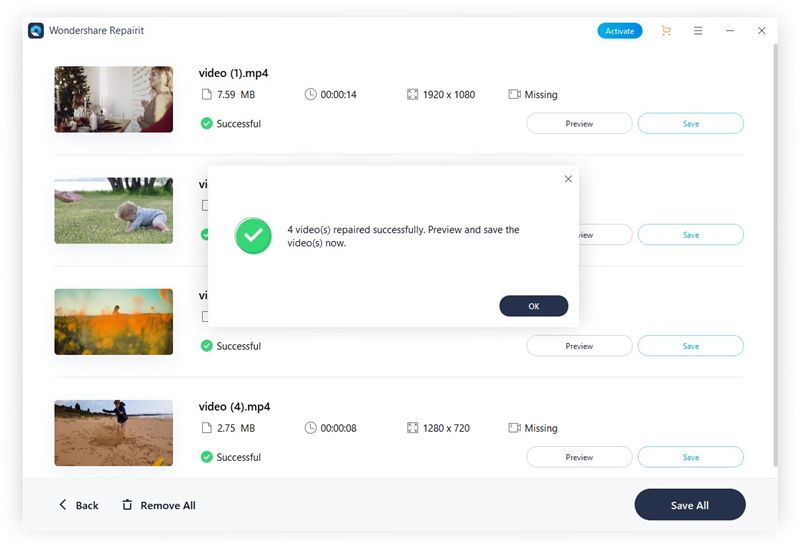 As soon as Repairit is done with its tasks repairing your selected videos, you shall be asked to save your repaired videos on your computer and shall be given a preview.
And just like that, you have successfully repaired all of your selected media with the power of Wondershare Repairit. Just go to where you saved your videos and start playing them once more.
Note: If you can't download and install Repairit, then Wondershare has got your back there as well.
For even greater convenience and a quicker solution to repair your video files, you can also opt for Wondershare Online video repair tool, which can help you get your videos back up and running in no time. What's great about this online video repair tool is that it's completely free and requires no tedious sign-up to use it. Any video you upload to this tool shall be safe and secured with our guarantee of it not falling to any other hands with our Privacy Protection System. Upload any video file under 200 MB's and have a seamless experience getting your media repaired in a second. Wondershare Repairit is available for both Windows and Mac for you to enjoy, which is one of the best video repair tools in the market, so try out the best video recovery tool today,