Genshin Impact is an action role-playing video game that rose to fame in a very short time span. After advancing just two weeks into its release, the game already collected over 100 million dollars in revenue. The initial release of the game dates back to the last week in September 2020 and it is available on PS4, Nintendo Switch, Microsoft Windows, iOS, and Android.
Birthday Rewards in Genshin Impact is a way of giving away certain items for the players in the game. They do this to encourage and motivate the players with a little bit of surprise that can be added to when their birthday arrives. Anyone can claim this reward in the game. If you don't already know how to get them, then read on to find out how to get birthday rewards in Genshin Impact.
Birthday Rewards in Genshin Impact | How to get them
In order to get the birthday rewards in Genshin Impact, all you have to do is set your birthday to the current date. Within the game, the players will have the option to set their birth date, so by utilizing this setting, you can easily claim the birthday rewards. To set the birth date and claim your rewards, all you have to do is open your profile and click on the pencil icon at the top right side. Here, you'll be able to edit your profile details as well as your birthday. By setting your birthday, you'll receive a mail. Wait until you see a red icon over your mail button in the pause menu. When the red icon appears, go into the mail button and you'll get to collect the rewards from there.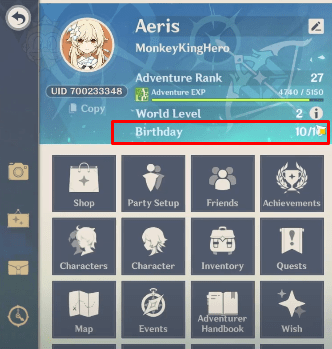 The item that players get through the Birthday Rewards in Genshin Impact will be Resin. The players can use the Resin for upgrading their stats in the game. Along with the Resin, the players will also get a special birthday cake to vibe up the date. That said, we hope reading the guide above has brought some valuable information and help to you. Please let us know by commenting down below if you have any further queries regarding the same.
Also, check out our iPhone Tips and Tricks, PC tips and tricks, and Android Tips and Tricks if you've got queries for it or want help. Thank you!