Gaming smartphones are becoming a separate entity in themselves. There is a lot of popularity and hype for gaming phones these days. Thanks to the craze of mobile games like PUBG, Fortnite, COD etc gamers are investing in dedicated gaming smartphones. This even led to popular smartphone makers to produce gaming phones at a reasonable price. One example can be Xiaomi's Black Shark series. Xiaomi, like it rolls updates for its regular smartphones, is also making sure to keep its gaming devices loaded and secure. Speaking of which a massive update is rolling for the 2019 gaming machine Black Shark 2. Currently, the Black Shark 2 software update is rolling out with two build numbers SKYW1909192OS00MP4 and SKYW1909192OS01MP4.
If you wonder why two versions for a single device, then let us clarify the reason. The OEM mentions that the global version software will have special optimizations. It will be rolling to various regions. So, they have to make two versions of the software.
The changelog on both versions of the Black Shark 2 software update is the same. In fact, it is a massive changelog that brings August 2019 security patch, adds Digital wellbeing, updates for Game Dock 4.0, etc. Also, the OEM aims to fix the screen brightening issue due to fingerprint unlock, invalid device theme and USB debugging. The Black Shark 2 software update also adds the lock screen notification swipe and desktop drop-down notification system.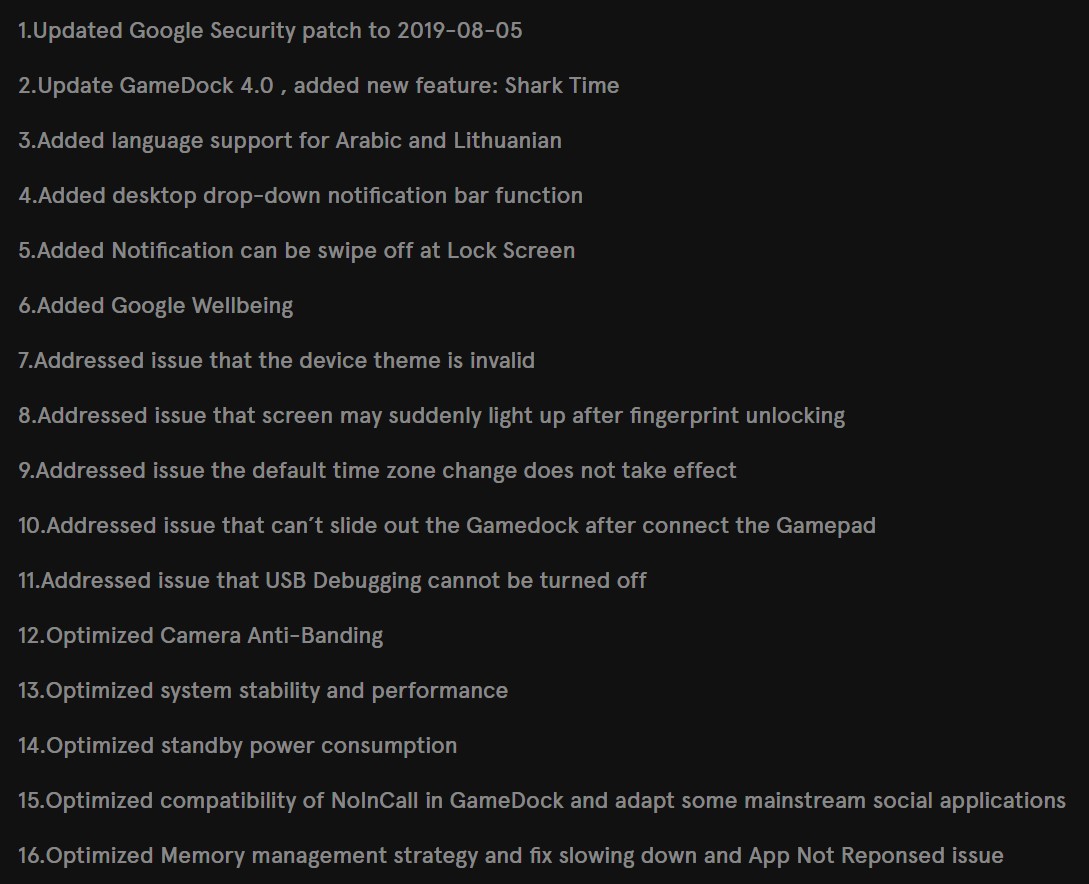 The new software update also optimizes the memory, camera and overall system stability of the device. It also optimizes the power consumption of face and fingerprint unlock. Also, the update will stabilize the device better when the gamepad is in use.
In a gaming device, usually, we see gamers get too engrossed in playing games for hours. Professional gamers are in a different league so it's okay if they keep gaming for hours. However, kids and young adults should spend their time with smartphones productively. This means there should be a fair use of smartphones and not abuse. This is what Google's Digital Wellbeing aims to promote and help the user. It's a great move from Xiaomi that it has implemented the Digital wellbeing for its gaming device.
This software update should knock into your device automatically. OTAs move on their own, so you can expect it to show up anytime on your device. If you are not of the waiting kind, then you can manually lookup for the update. To do it,  go to Settings > System > System updates and tap on "Download and install".
Try to download the update using Wi-Fi. This way you can save carrier data charges. Also, have enough battery charge on your Black Shark 2 while you perform the update download and installation. A low battery is not ideal during software updates.
So, if you are a gamer who sports a Black Shark 2, watch out for the SKYW1909192OS00MP4 and SKYW1909192OS01MP4 update. Obviously, to make your gaming machine more efficient it's a must that you install the update. Install and enjoy.