Currently, hardcore fans of Bloodborne interested in delving into the game's mythology can obtain the legendary "Ring of Betrothal" in Bloodborne! This will allow them to propose to the Queen of the Vilebloods, Annalise.
Anybody interested in learning deeply about the history of the Pthumerians and how they are linked to the Great Ones should consider getting this item. We have here a brand new guide right here to help you get the Ring of Betrothal in Bloodborne with relative ease.
Easily Get the Ring of Betrothal in Bloodborne
The first step, when you begin in the Hunter's Dream, is to head straight for the fourth ritual altar, you see. After this, teleport the hunter to the second layer. You will notice a certain hallway directly to the right of the character. Proceed forwards through it, and eventually, you will come across a large rock that's adorned with candles. Approach it and activate the elevator there, so that it rises high. Now walk beneath it and make your way towards the large tunnel with broken bars.
You will now have to climb some stairs and turn right until you find a large door with a flaming torch mounted near it. Enter it, leap down the hole, and head left. Wait until you see the road forking into two separate tunnels up ahead. Choose the right one, and soon you will find yourself in a specific forbidding room. This place is filled with mounds of rotting dead bodies and a gigantic rat. You will see a large coffin to the right of this room. Approach and open it, and you will find the Ring of Betrothal inside.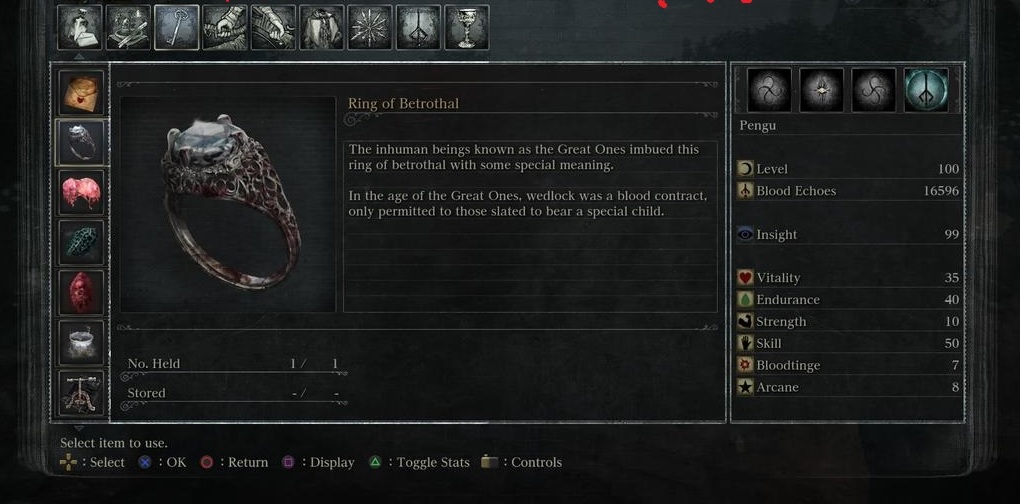 About the Ring of Betrothal
Check the in-game description for the Ring of Betrothal, once you have got it. It should read, "In the age of the Great Ones, Wedlock, there was a blood contract which only permitted to those slated to bear a special child." You can now proceed to approach Queen Annalise. Choose the "propose marriage" option when it comes up and see what happens for yourself. The ring does not really serve any other purpose in Bloodborne, apart from this Easter Egg. However, it is certainly interesting to find out about the lore surrounding marriage and childbirth between the Pthumerians and the Great ones, in the legendary mythology of Bloodborne.
We hope our guide proves useful in helping you to get the Ring of Betrothal in Bloodborne. If you liked this, go and check out our other guides on iPhone and iPad, PC Troubleshooting, and Android Guides for more. We want you to participate in the $150 giveaway by subscribing to our YouTube Channel. If you have any feedback or queries, comment down below with your name and e-mail ID.