The recent update brings the new Revenge of the Cartels event in Borderlands 3, which brings us the Grease Trap Legendary Pistol along with it. This is the legendary pistol in the new event, something that the players are all hyped up about. It is indeed a powerful piece of weaponry. The powerful shots by this pistol will pierce armors and puts a death sentence upon flesh!
In this guide that we have today, we'll discuss how to grab the Grease Trap Legendary Pistol in Borderlands 3 and some other info about the weapon. The process of getting the Grease Trap Legendary Pistol is relatively easy – simply farm the new boss in the event that the update brought along and this legendary weapon if yours for the taking. So without further ado, let's see the complete guide to Grease Trap Legendary Pistol in Borderlands 3.
Borderlands 3: Complete Guide to Grease Trap Legendary Pistol
In order to get the Grease Trap Legendary Pistol in Borderlands 3, you must farm Joey Ultraviolent. He's the new boss the new update brought and you'll find in Villa Ultraviolent. The fight to get to Joey Ultraviolent is straightforward – simply kill some adds, the enemies linked to Joey Ultraviolent, and finally, kill Joey himself. You can get there either by finding the coordinates or simply encoder rings for Maurice, who will open a portal for you to get there.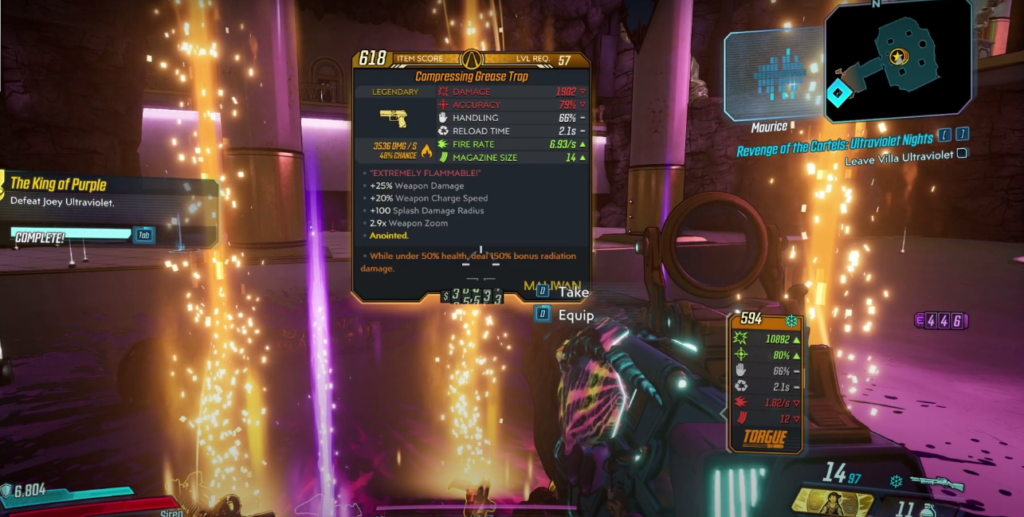 This legendary pistol showcases two firing modes. The one will throw out pretty powerful shots dealing extremely well against single targets. The second mode will do corrosive damage, which is perfect against enemies with armors.
Conclusion
Summing up our guide, all you have to do to get the Grease Trap Legendary Pistol in Borderlands 3 is to farm the new boss you'll find at Villa Ultraviolent, Joey Ultraviolent. Getting to Joey is relatively easy and straightforward as you just have to go to the destination and fight your way through the enemies, which will ultimately take you to the boss. If you have any further queries, please let us know in the comments down below. Good luck!
Also, check out our iPhone Tips and Tricks, PC tips and tricks, and Android Tips and Tricks if you've got queries for it or want help. Thank you!