The 12-player highly anticipated and class-based free-to-play third-person shooting video game from the house of Amazon Game Studio, Crucible, was released this week on the 20th of May. It has already been receiving mostly positive reviews for its wonderful graphics and creative style of gameplay that encourages every player to freely try their hand in the proceedings and contribute to helping their team triumph in the challenging missions. There are ten different playable characters featured in the game. Obviously, every serious player needs to properly understand their strengths and weaknesses effectively, in order to make the best use of them.
It's interesting to know that of all the hunters in Crucible, Bugg is the only robotic character currently available to play as. This is a small yellow insect-like being that flutters around nourishing certain important plants. Bugg derives the bulk of his defense from these very plants, which will relentlessly strike any approaching foes with white-hot laser bolts. No one can deny that he is the cutest character in the game. You can use this to protect your team from otherwise deadly attacks and slow down your opponents. This can seriously turn the tide of battle in your favor. And for that, you must learn to manage Bugg's plants and know where to plant seeds. Let's take a look at the abilities of Bugg along with upgrades in Crucible.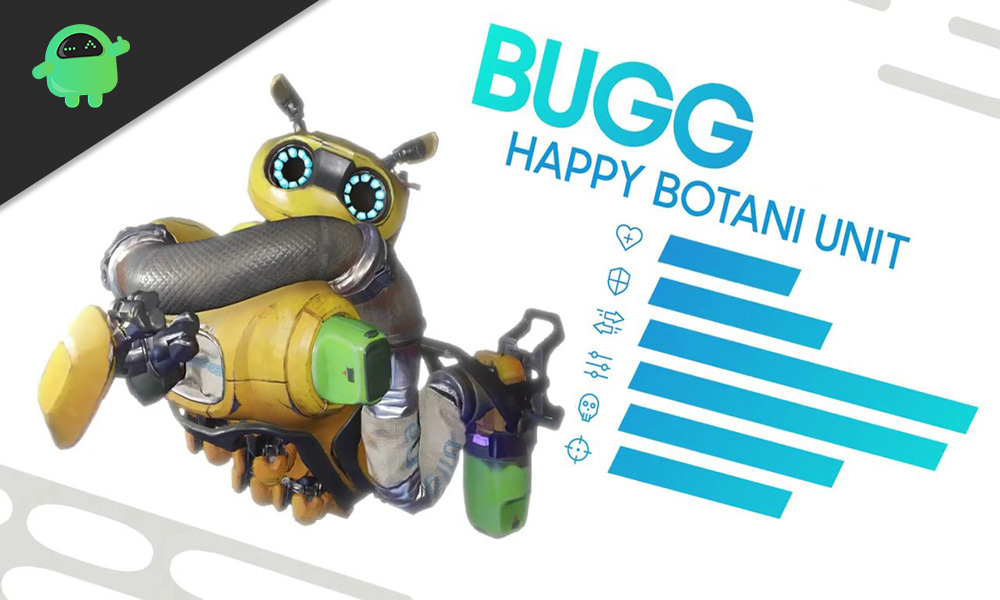 How to Play Bugg in Crucible: Abilities and Upgrades
Here we present to you the abilities and upgrades of Bugg in Crucible along with some additional hints that will help you explore and use Bugg to his full potential.
Abilities
Anti-Grav (Passive): With this ability, the direction you are facing will not matter, you will be able to move at the same speed in all directions.
Spray (Left click): This injures your enemies and activates nearby seed pods as well.
Seed Pod (Right-click): This unleashes a seed pod that you can spray and activate.
Thrusters (Left shift): You can use these devices to propel you forward and vertical to your position.
Shield Burst (Q): By using this, you can produce a temporary but effective over shield around yourself, your plants, seed pods, and any friendlies in the vicinity.
Crop Dust (E): This creates an area with impeding and damaging effects right underneath you.
Essence Upgrades
Level One
Onboard Diagnostics: This will allow your medkit to regenerate after every 30 seconds. It will also produce a healing area for you, your plants, and friendlies.
Early Bloomers: You will be able to activate seed pods without watering them.
High pH mixture: This will increase spray damage by 25 percent as damage over time.
Level Two
Realigned Gyros: This boosts normal movement speed from 4.5 to 5.5 meters per second.
Level Three
Tend and Protect: This will increase the Shield Burst amount by 50 percent.
Protective Husks: This will spawn seed pods alongside over shields.
Blooming Blossoms: You will now be able to water plants to the point of overcharging them, paralyzing foes in the vicinity.
Level Four
No-Weed Pesticide: If you choose this, crop dust will produce vulnerability.
Level Five
High-Grade Bio-Fuel: If you choose this, using Thrusters will produce an initial burst of high speed.
Daisy Chain: This will allow plants to chain their attacks to an extra target.
Additional Hints
You should aim a little higher above your target because Bugg's weapons possess an arcing fire pattern.
You can use Thrusters to beat others to areas at high altitude.
It's advisable to position your plants closely, in order to make them cause greater damage. Bugg can plant a seed every four seconds. After three are planted at the same time, the earliest seed will disintegrate. Use this to plan out your strategy against enemies.
You can use Crop Dust effectively against melee hunters, and Shield Burst to protect your allies. But be wary of the 19-second cooldown for these abilities.
Keep in mind that it will take seven seconds for Bugg's jet fuel gauge to refill. This can cause some delay in launching back into flight.
You can use Thrusters and jet packs to gain altitude and pound on unsuspecting enemies below.
That's all we had for you with character Bugg. We hope our guide helps you use Bugg's unique abilities efficiently in Crucible. If you liked this guide, then go out and check our best iPhone Tips and Tricks, PC tips and tricks, Games and Android Tips and Tricks. You can also subscribe to our very own YouTube Channel and participate in the $150 giveaway contest. Moreover, if you have any queries or feedback, do comment down below with your name and e-mail ID. Happy gaming!