FIFA 20 is the latest addition to the flagship football simulation game by EA Sports. It is the 27th addition to the FIFA series. The spectacular graphics and exceptional gameplay experience of this game account for its great ratings. Lately, EA Sports decided to add a Squad-building Challenge or SBC to the FIFA 20 Ultimate Team. If the players can complete this challenge, EA Sports assures a Bundesliga Team of the Season So Far (TOTSSF). The Bundesliga TOTSSF squad will be available for one week. It started on May 15 and will end on May 22.
Talking about FIFA 2020, it is a game that even a newborn child knows of. It is practically the most most popular game after GTA 5. But the difference is you can only play football. And that is everything if we look from the perspective of a soccer fan. Now, as the SBC challenge is nearing, users are getting a tad bit more interested in it. So that made us bring up a guide that covers all the details of Bundesliga TOTSSF Squad along with SBC in the game. So without any further ado, let's get started.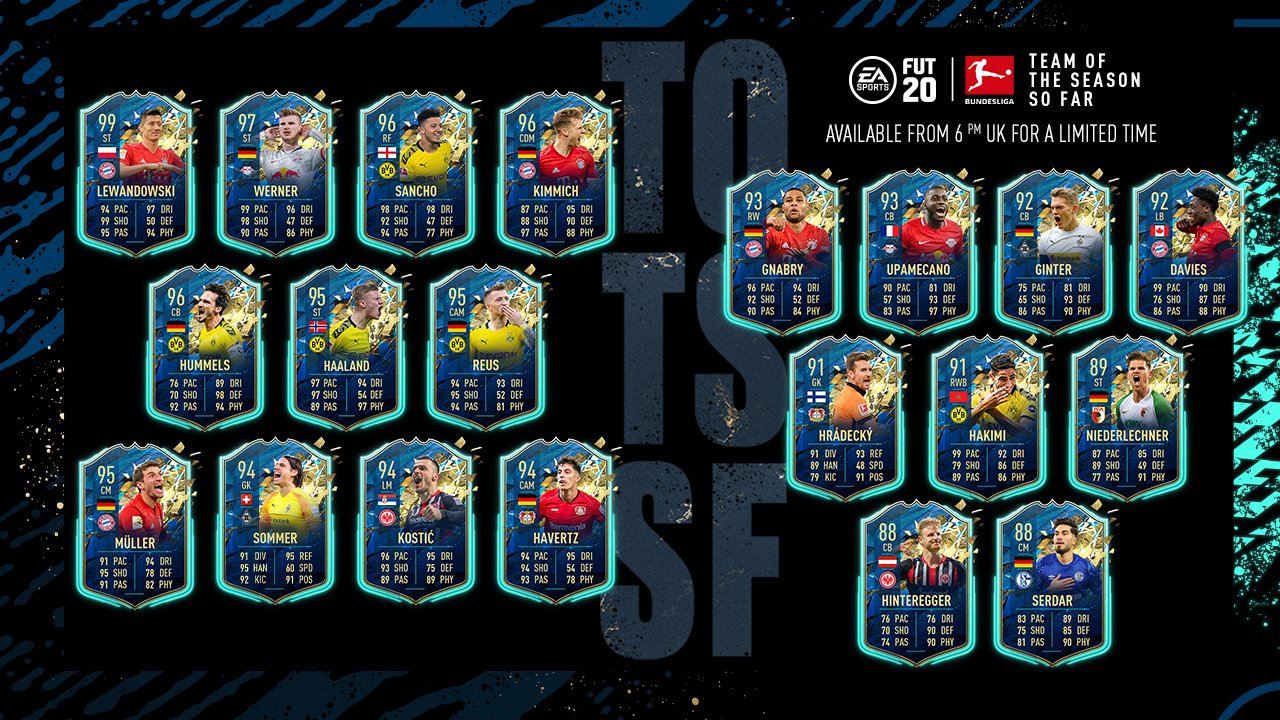 How to Complete Bundesliga TOTSSF Guaranteed SBC in FIFA 20?
The guaranteed Bundesliga TOTSSF player is going to be an untradeable card. It merely means that you cannot sell that in the FUT market. However, there are a lot of players who can boost up your ultimate team, for sure.
Several high-rated cards are from the 96-rated Joshua Kimich from Bayern Munich, and Jadon Sancho from Borrusia Dortmund, a 97-rated Timo Werner from RB Leipzig and 99-rated Robert Lewandowski from Bayern Munich, each one of them can help boost your team. If you wish to complete this, you have to bring in an 86-rated squad having a minimum of 70 chemistry.
Also, having one TOTSSF player is mandatory. According to FUTBIN, the SBC costs are different according to platforms. It costs 166,450 FUT coins on PC, 148,350 FUT coins on PlayStation 4 and 147,000 FUT coins on Xbox One.
Here's a Shortcut for you
According to FUTBIN, there's a cheaper solution to complete the Bundesliga TOTSSF guaranteed SBC:
Iker Casillas, Porto (86-rated)
Eoin Doyle, Swinton Town (87-rated)
Alex Telles, Porto (84-rated)
Pepe, Porto (84-rated)
Andre Omana, Ajax (85-rated)
Miralem Pjanic, Piemonte Calcio (86-rated)
Paulo Dybala, Piemonte Calcio (88-rated)
Christian Eriksen, Internazionale (88-rated)
Douglas Costa, Piemonte Calcio (84-rated)
Lautaro Martinez, Internazionale (84-rated)
Gonzalo Higuain, Piemonte Calcio (85-rated)
The Bundesliga TOTSSF is a thrilling mission to complete. The card is one of its kind. However, the Bundesliga TOTSSF card cannot be sold in the FUT Market as it will be an untradeable card.
This guide was to help the players of FIFA 20 to help them complete the Bundesliga TOTSSF Squad to confirm their entries in SBC. After reading our guide, they will be more confident and strategic regarding this. We hope our guide helped you. If you have any queries or feedback, feel free to comment down below with your Name and E-mail ID. Likewise, check out our iPhone Tips and Tricks, PC tips and tricks, Games and Android Tips and Tricks for more such tips and tricks. We urge you to participate in our third week $150 giveaway by subscribing to our YouTube Channel. Thank You!