Are you fond of capturing photos and videos in hi-res 4K mode ?. Then get the latest Elephone EleCam Explorer Elite 4K Action camera. You can buy Elephone EleCam Explorer Elite at the best deal of $58.59 from GearBest. A straight 24% discount is currently going on for 6 days. The link to buy this camera from Elephone is present below. More specifications and features are mentioned ahead. This stunning cam helps you capture HD images and record 4K video. It also captures high-speed motion scenes.  The underwater mode and electronic image stabilization are some of the added features that add icing to the cake.  Also, it can be controlled by Elite Explorer App which you can grab from the download section. A brief tutorial is also included below to install the firmware.
Elephone is a popular OEM that sells smartphones and electronic peripherals. It is based out of in Shenzen, China. Established in 2006, the company has annual sales volume of over 10 million units. It operates in Europe, North America, South America and south-east Asia. It is well known for its budget-friendly Android smartphones.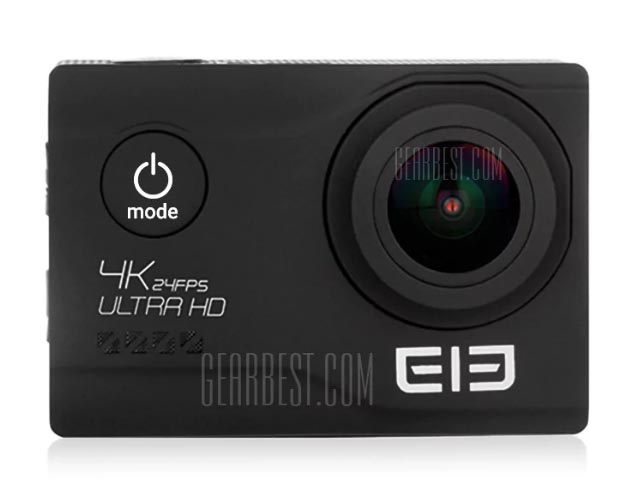 Buy Elephone Elecam Explorer 4K Action Camera From GearBest
Features of Elephone EleCam Explorer Elite 4K Action Camera
 NTK96660 chipset with fully improved performance enables you to record 4K video.
Supports WiFi Connection to operate via App to easily preview and share videos.
 Comes with glossy and delicate wiredrawing texture which brings you an excellent feeling.
Underwater Mode Fill-in Light improves by 15 to 30 percent that enables you to take better pictures.
Good Image Permeability with 12MP for fine dynamic capture, and image freeze-frame at 60fps.
170 Degrees FOV provides Wide angle ensuring excellent vision and retains more realistic and immersive scene.
  Electronic image stabilization to greatly reduce camera shake and vibration for a perfect shot.
 New photography modes like night and time-lapse at night provide customizable exposure settings.
 Strong waterproof protective box casing.
 Controllable by App "Explorer Elite", for both iOS and Android system.
Built-in battery.
General Specifications of Elephone EleCam Explorer Elite 4K Action Camera
| | |
| --- | --- |
| Brand |  Elephone |
| Model |  Elecam Explorer Elite |
| Type |   Sports Camera |
|  Chipset |  Novatek 96660 |
|  Function |  Anti-Shake, Auto Focusing, Camera Timer, 4K, Delay shutdown, Wi-Fi, Auto white balance |
|  Display |  960 x 240 TFT |
|  Power |  1050mAh External Battery with 100hours standby |
|  Audio/Video |  built-in MIC for Audio, HDMI Mp4 support with 60 FPS |
Download Explorer Elite App for Elephone EleCam Explorer Elite
Here is the direct link to download the firmware for the Elephone EleCam Explorer Elite 4K action camera.
You may also like to take part in GetDroidTips Anniversary Giveaway. There are cool prizes you can win such as brand new Xiaomi Mi A1 and lots of other goodies. Participate now..!!!
How To Install Explorer Elite Firmware
Easy steps to install the firmware on Elephone EleCam Explorer Elite 4K action camera.
Step-1 Get  a Micro SD card (preferably above class 6)
Step-2 Format the SD card
Step-3 Copy the firmware file FW96660A.bin into the SD card.
Step-4  Remove the battery from your equipment, then insert the Micro SD card.
Step-5 Connect the USB cable to the camera's Micro USB port,  you will see red light flashes.
Step-6 Wait for sometime as the firmware update will take 10 to 15 seconds to finish.
Step-7  Remove the memory card and install the battery.
Verdict on Elephone EleCam Explorer Elite 4K Action Camera
With all the modern-day features like underwater light mode, waterproof, etc this is a device is a must for your daily camera requirements. Moreover, you are getting this at a whopping discount of 24% with the best deal of $58.59. So, if you are fond 4K experience in video/photography just go grab it while the flash sale lasts.
Follow GetDroidTips to know about all the amazing deals and discounts you can get on latest electronic gadgets.