Here we will guide on how to bypass Windows 7 password without losing any data. You can simply follow this tutorial to easily bypass the windows 7 password problem.
So, you can't remember your Windows 7 password anymore. It's a big deal if you need to access your PC immediately for some emergency purpose. It is already understood that you are frustrated and annoyed and maybe tried every possible thing you could do to reset your computer password and horribly failed. Well, firstly, we would advise you to calm your mind because resetting your Windows 7 computer password is certainly possible.
Steps to ByPass Windows 7 password without losing any data
Indeed you can bypass the Windows 7 password using your password reset disk but most people don't even anticipate that this moment might ever come in their lives and doesn't bother to create one until its too late. Fortunately, there are myriad ways to bypass Windows 7 password and in this guide, we will show the most favorite ways to reset your computer password. Keep on reading and try any method from this tutorial to unlock Windows 7 computer.
Method #1: Reset Windows 7 password from a separate Administrator account
If you have multiple administrator accounts registered on your computer then you can easily change the password of your profile from accessing any of those admin accounts. Here's how to achieve that –
Step 1. Turn on your computer and enter into the system from any other administrator account.
Step 2. Press Windows + R key together to open the Run app and type "cmpmgmt.msc" to launch the computer management window.
Step 3. From the left sidebar, go to "Local Users and Groups" and open the "Users" tab.
Step 4. Right-click on the username of your PC from the right side panel and click on "Set Password".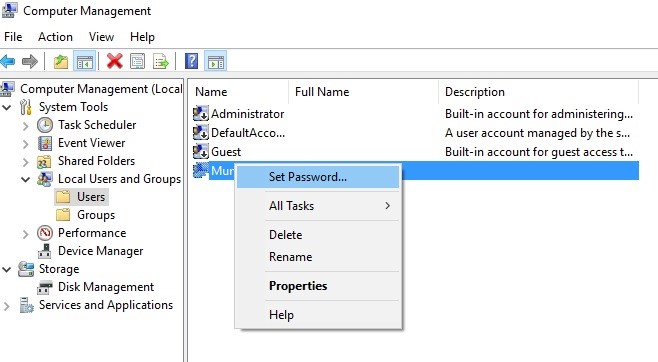 Step 5. Set up a new password for your PC and reboot it to apply the changes.
Cons –
Other accounts must be registered before getting locked out.
Won't work if the other accounts don't have administrator privileges.
Method #2: Recover Windows 7 Password with Ophcrack
Ophcrack is well known and ancient Windows password recovery program that actually helps to recover the password of your computer. Please note that it can only recover weak passwords and works with only 32 Bit Windows computers.
Step 1. Download Ophcrack from the official website and burn the ISO image on a CD/DVD.
Step 2. Insert the bootable disc on your main computer and reboot the computer.
Step 3. Ophcrack will be loaded automatically on the home screen. Choose "Ophcrack Graphic Mode – Automatic" and press Enter.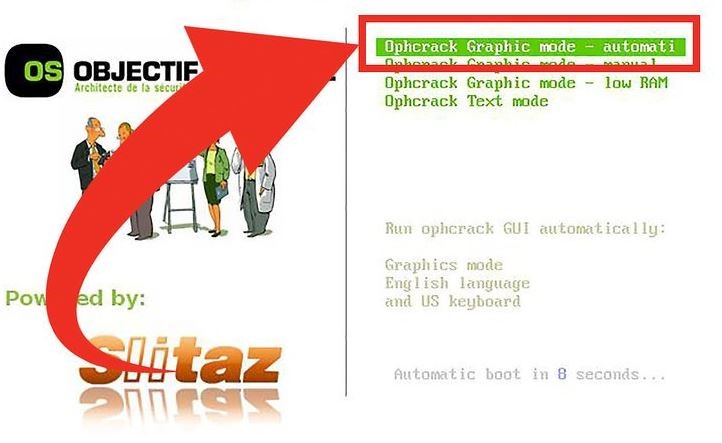 Step 4. Ophcrack uses brute force attack to recover your password, so it may take several hours before it can crack the password of your PC. So kindly, be patient and once the password is recovered, it will appear on the main user interface of the program like the following screenshot –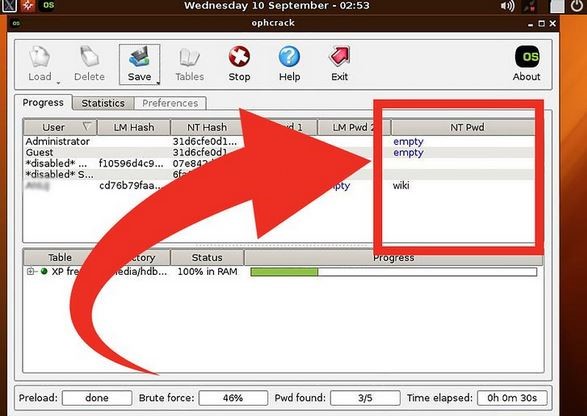 Finally, write down the password on a piece of paper and use it access your PC normally.
Cons –
Outdated software with no potential to crack strong passwords.
Doesn't work with Windows 8 and Windows 10.
Method #3: Bypass Windows 7 Password with iSeePassword Program
Tunesbro WinGeeker is yet another magnificent Windows 7 password reset tool that helps to completely reset and bypass the password of your Windows 7 computer. It allows you to create a password reset disk first then you can use that password reset disk to unlock your main computer. This will work perfectly with all Windows versions of Windows XP, Windows Vista, Windows 7/8/10 and even with old Windows servers and it is guaranteed that no data loss will occur using this program.
It has been tested on over 3500+ Desktop and laptop brands like Samsung, Acer, Lenovo, HP, Dell, etc. and it has successfully bypassed the password in all of them. So, it is absolutely guaranteed that it can surely unlock your Windows 7 computer in no time.
Preparations –
A disparate working Windows computer.
An empty CD/DVD or USB flash stick.
iSeePassword program files
Some patience.
Step by step guide to bypass Windows 7 password with password reset tool –
Step 1. First, download and install the Windows password reset tool on the different Windows computer. Launch the program to see its main attractive GUI and insert a flash drive or CD/DVD on your PC.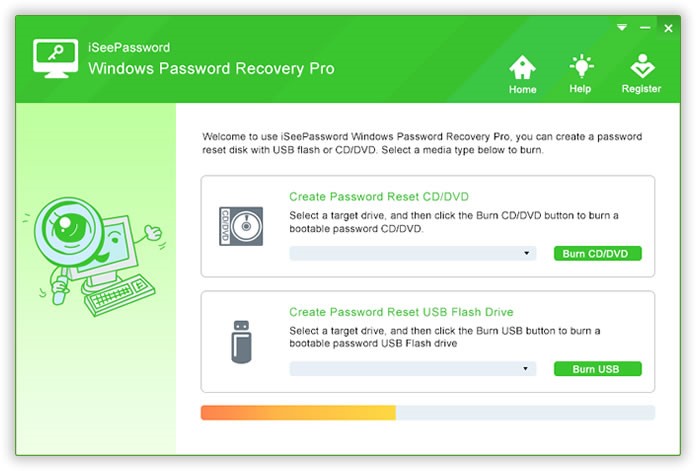 Step 2. Select the flash drive name or CD/DVD name and click on "Burn USB" or "Burn CD/DVD" to burn the ISO image on your removable device and create a password reset disk.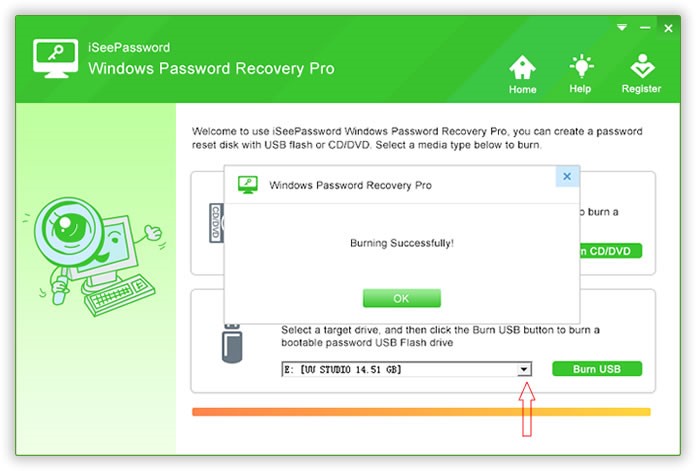 Step 3. Re-insert the bootable disk on your original computer that you want to unlock and restart to load the program on the welcome screen. Then, fill in the following details to bypass the login screen –
Select Windows version (Example – Windows 7)
Choose targeted username.
Hit "Reset Password".
Reboot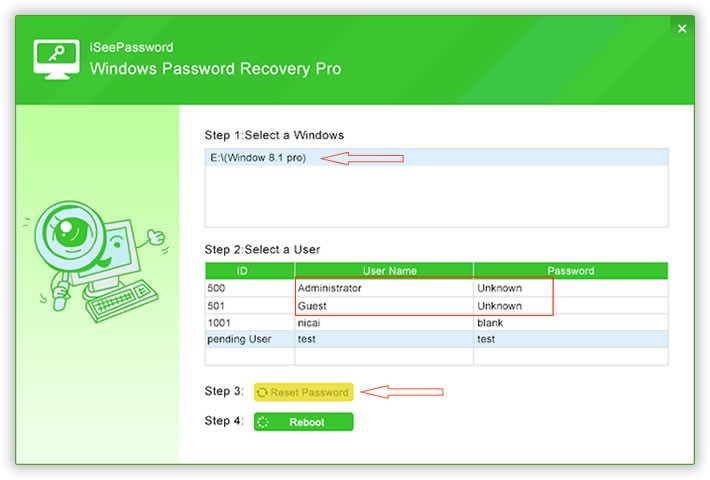 Done! Your computer should now turn on normally and it won't ask you to input any password at all.
Conclusion –
So, it is a conclusive proof that you can bypass Windows 7 password without losing any data or without formatting your computer. Obviously, it is highly recommended to create a password reset disk for your PC but even if you forgot to do that then iSeePassword – Windows Password recovery program is always ready to serve you. It has already helped millions of satisfied customers and if you don't believe then go ahead and check out the reviews and rating by yourself.
Hope you guys found this guide useful and don't forget to subscribe with us.