Today our guide will help the players to see the Top 5 loadouts for the Sniper that we have chosen for them in Call of Duty: Warzone.
Like in every other FPS shooter game, sniper and marksman rifles are two extremely important weapons in Call of Duty: Warzone. Their importance is even more significant in certain situations if you can use them well. For every weapon to be most effective, though, it needs to be equipped with a powerful loadout suited to it.
Of the two, sniper rifles are definitely more lethal and effective. Warzone features only three actual types of this powerful weapon, so it is prudent to consider marksman rifles with appropriate loadouts that will greatly enhance their power.
AX-50 Loadout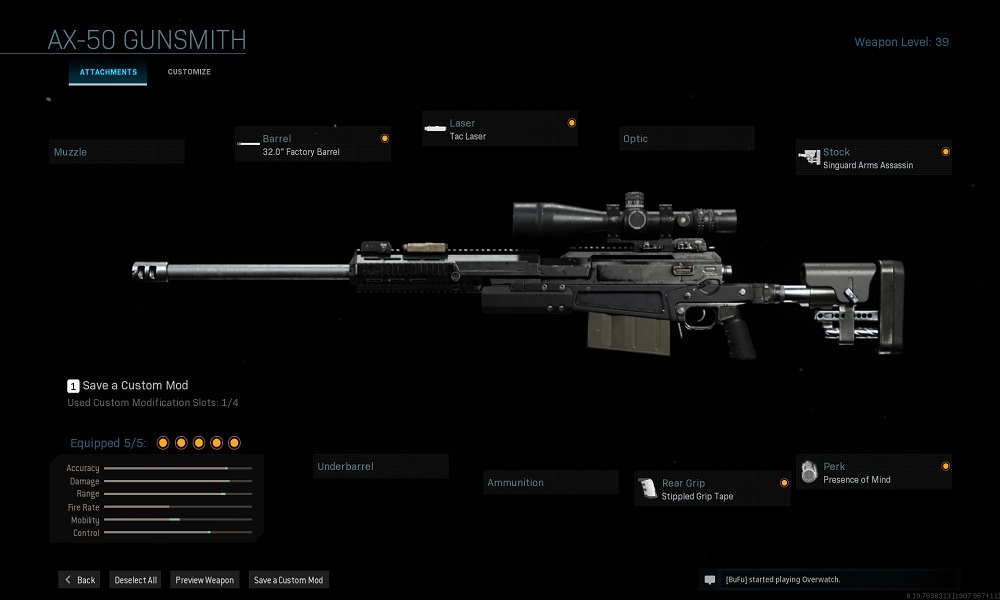 Barrel – 32.0" Factory Barrel
Laser – Tac Laser
Muzzle – Compensator
Perk – Presence Of Mind
Stock – Singuard Arms Marksman
The AX-50 shares a number of similarities with the HDR in terms of working and statistics. You can go for either of them as per your preference. Basically, the AX-50 can come in handy for taking out targets at long range. As long as you equip apt attachments and perks to it, you can even take out a heavily armored opponent with a single correctly placed shot.
SKS Loadout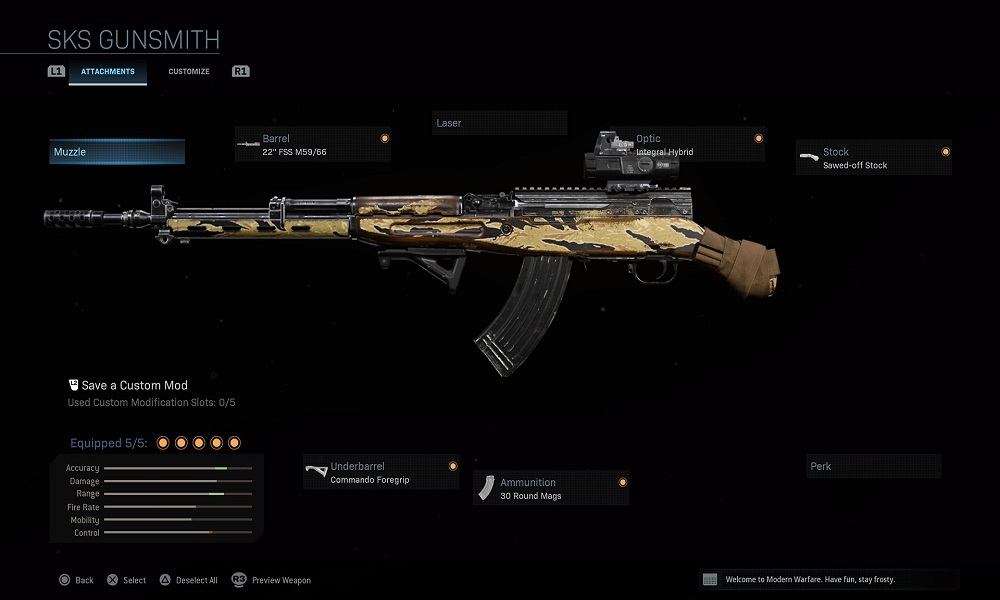 Barrel – 22" FSS M59/66
Laser -Tac Laser
Muzzle – Monolithic Suppressor
Optic – VLK 3.0x Optic
Under-barrel – Ranger Foregrip
The SKS is one of the most balanced and versatile weapons in the game. You can use it for a wide variety of playing styles. Apart from long-range sniping, it can even be used for engaging enemies up close if you have the appropriate loadout. Unfortunately, it has limited ammunition, so make sure you use it wisely.
EBR-14 Loadout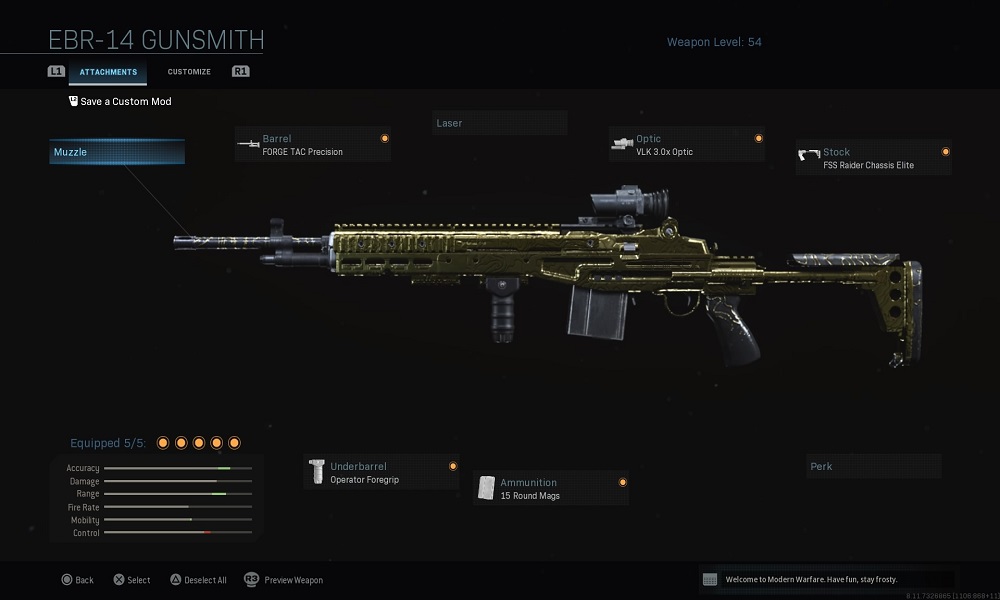 Barrel – Forge TAC Precision 22.9
Muzzle – Compensator
Optic – 4.0x Flip Hybrid
Stock – FTAC Lightweight Stock
Under-Barrel – Tactical Foregrip
The EBR is quite possibly the best all-rounder when it comes to rifles in Call of Duty: Warzone. However, it is also abysmally low in terms of damage. Your best bet is to use it as a secondary weapon while the ghost perk is not active. Like the SKS, it has limited space for ammunition. So make sure you use it wisely when firing.
HDR Loadout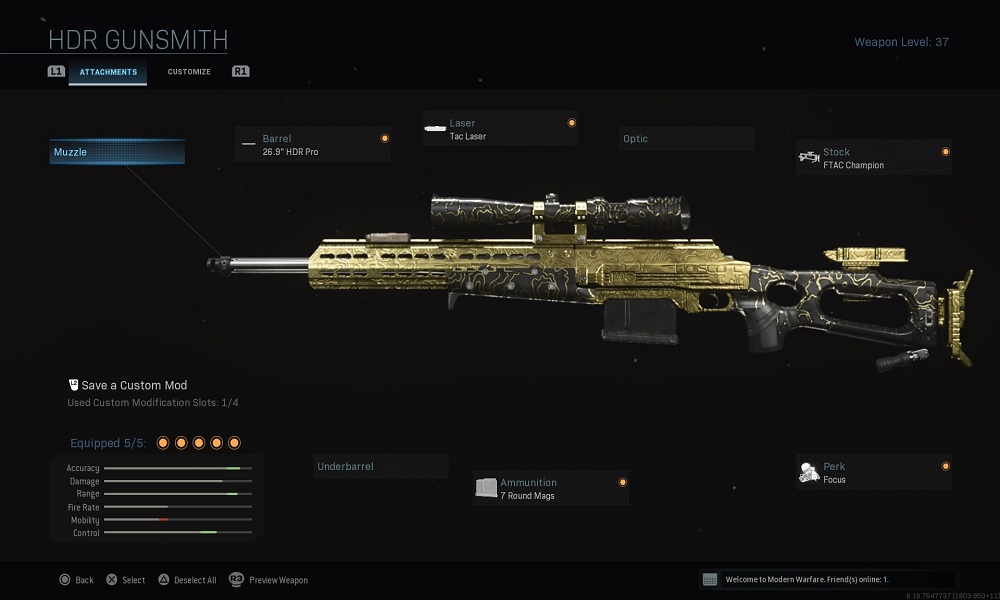 Barrel – 26.9" HDR Pro
Laser – Tac Laser
Muzzle – Monolithic Suppressor
Optic – Variable Zoom Scope
Stock – FTAC Stalker-Scout
The HDR is, along with the AX-50, one of the best sniper rifles in the game. Its effectiveness at long range is virtually unmatched and can unleash incredible carnage in the hands of a skilled shooter. If you use apt attachments, you can actually achieve negligible bullet drop and traveling time. Along with this respectable muzzle velocity, that makes this weapon handy and seriously lethal.
Dragunov Loadout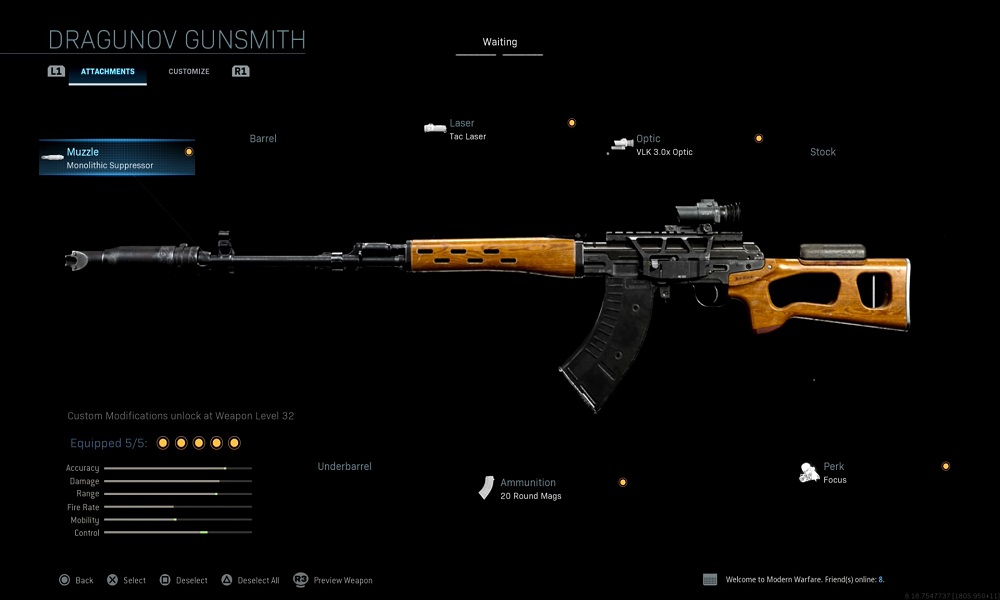 Barrel – 510mm Compact Barrel
Magazine – 15 Round Mags
Muzzle – Compensator
Optic – VLK 3.0x Optic
Stock – FTAC Hunter-Scout
The Dragunov sniper rifle is excellent for mid-range encounters that require swift and deadly action. However, it has rather low damage and is not really effective for long-range targets. That is because it has a rather high bullet drop and abysmal muzzle velocity. The setup shown here helps it possess a good firing rate, especially considering it is the only semi-automatic sniper rifle on here.
That is it for now. We hope you have a great time checking out the top 5 loadouts for sniper rifles in Call of Duty: Warzone. Check out our Windows Troubleshooting, Gaming Guides, Social Media Guides, iPhone Guides, and Android Guides for more great content. Subscribe to our YouTube Channel to participate in the $150 giveaway contest. If you have any queries or feedback, comment down below with your name along with e-mail ID, and we will reply shortly. Best of Luck!