It's 2021 and most of you may think that social media is reaching its saturation point. I mean we already have Facebook, Twitter, Instagram, and Snapchat to name a few. So, we don't need any more social media apps. However, a unique approach to social networking has made way for a new app called Clubhouse. While the name sounds like some dating app, this app is actually a community messaging/chatting app. It came into existence during the first quarter of 2020. The brains behind the project are Paul Davison and Rohan Seth.
There is a twist though. Instead of a regular way of putting up text-based messages, users have to interact through audio clips. Yes, you have to speak up whatever you have t say. Clubhouse follows a concept of a chatroom that has an individual room for various topics. So, depending upon what topic a particular user is interested in, they can join a dedicated chatroom. When users with similar tastes come together they can talk about various aspects regarding that topic. It will definitely give a unique touch as if everyone talking face-to-face in real life.
Can Everyone Join the Clubhouse Social Media Platform?
Well, as of now, not everyone can join Clubhouse. The app follows a sign-up process that is based on invites. So, you need to have an invitation from an active user of Clubhouse to be able to sign-up and create your profile. The app does allow the new users to select and secure their usernames even though most won't have an invite text to log in. Maybe at one point when they have a lot of users they can make the sign-up process like other regular social media apps like Facebook and Twitter.
From Where Do You Download Clubhouse Social Media App?
Currently, the Clubhouse app is only available on the Apple App Store. This means if you have an iPhone or an iPad, you can download the app. I checked on the Google Play Store but it's not there yet. The app has good reviews on the App Store with about 4.8 out of 5 stars.
I do believe that Clubhouse social networking app will also find its way to the Google Play Store. As the welcome page of the app mentions that Clubhouse is still under minor developments and will be available to everyone.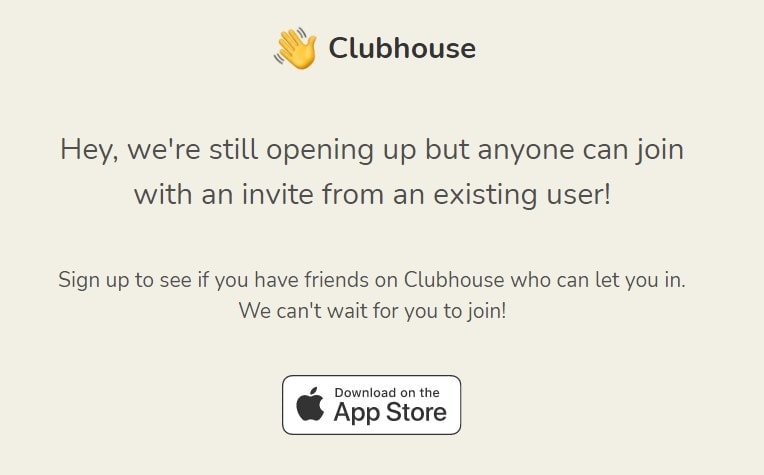 How to Get Username on Clubhouse
The process is pretty simple.
Install the Clubhouse app from the App Store
Launch the app
On the welcome page of the app, tap on Get Your Username

Enter your phone number
Tap on Next

A code will be sent to your phone number [it will automatically get verified]

Then enter your name
You will be redirected to pick a username screen
create your choice of username

You will receive a confirmation message for your username

What about the UI?
Well, the UI needs some development and I'm sure the guys are working hard on improving that. Sometimes, I saw a few text phrases are overlapping on the buttons during the username creation process. Again the username confirmation page has an incomplete message when greeting you with your newly created username.
What makes Clubhouse Different than Other Social Media Apps
Normally I see the run-of-the-mill social media is mostly about people with good looks get the most followers. Even though they have nothing useful to offer in their network, most have a huge number of followers. Some even create fake profiles to gather followers.
With Clubhouse, you do not have to worry about how you look. Your voice is your main identity. I'm sure this will allow a lot of people to express themselves freely in their preferred chatroom.
So, what's your opinion of the Clubhouse social media app? Have you signed up for a username or are you already a user of the audio chat app.? Do share your views in the comment section.