The recent Seasons of Arrivals update from Destiny 2 have introduced a lot of new and exciting elements. Players will see that Umbral Engrams are a part of Destiny 2 now along with a new Season Pass that brings with it a cool new weapon.
With the new Season Pass, as awesome pulse rifle is available for players. The Cold Denial in Destiny 2 is a must-have weapon. It has become very popular since its arrival, making it one of the best weapons.
In this guide, we will let you know how you can get your hands on a Cold Denial in Destiny 2.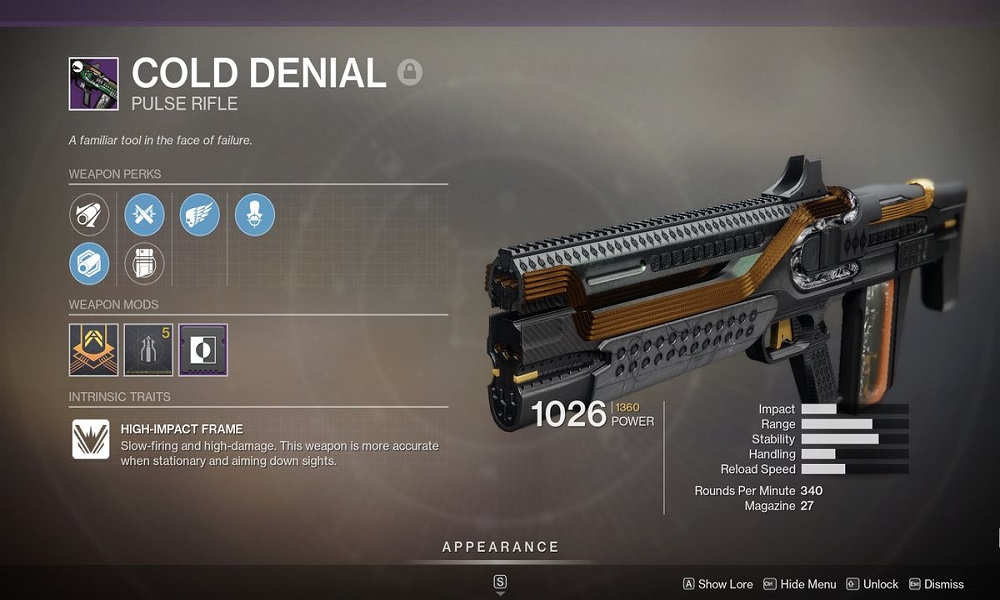 How to get Cold Denial in Destiny 2
Before we start on how to get the Cold Denial, let's find out what makes this weapon so bad-ass.
High-impact
The slow rate of fire
Improved accuracy
Body shots improve precision damage
In order to actually get this weapon, players need to make their way up to level 45 in Season of arrivals – Season pass. Once players do grind their way up to this level, they can unlock it from Umbral Engrams.
The Cold Denial comes as a reward for reaching this level in the free tier. This means that there are no strings attached to this!
Players can also try to decrypt the Arrival-Focused Umbral Engram. These will contain a Cold Denial rifle or a Falling Guillotine Sword. In order to get them, players will require getting a Season Pass. This means that players will have to make it to level 45 in Season pass before even thinking about making use of Arrival-Focused Umbral Engram.
These are some of the other perks that will be dropped in this Season Pass:
Zen Moment
Headseeker
Smallbore
Flared Magwell
Players can make use of the Cold Denial all throughout the Season if they are capable of getting a good role. It is accurate and useful for all environments, which makes it an excellent choice as an all-rounder. The Cold Denial pulse rifle on its own has some impressive stats, but to get the ultimate involves getting on 'God Roll.' Let's find out more about this.
Cold Denial – God Roll in Destiny 2
One of the essential perks to have for the best Cold Denial set up is the Killing Wind perk. Using these players can increase the Cold Denial's shooting range. The best part about this perk is that it will deliver additional final blows which result in getting better mobility, range, and accuracy.
Next up is improving he body shots to inflict precise damage against an opponent. This can be done using the Headseeker trait. Fortunately, this perk will work for beginners who do not have any kills, so its a good choice when starting.
The Swashbuckler perk is another good choice as it can effectively increase the damage dealt with each kill. However, it is limited to a maximum of 47 damage from using 5 stacks. Having this perk is very useful during large player-vs-player battles.
The last perk to have here is the Multkill Clip. This perk makes the reload deliver extra damage depending on the rate of rapid kills. Players will find that their damage will go up to 42, so using this along with Killing Wind, will result in absolute mayhem.
That concludes all the necessary information regarding the Cold Denial in Destiny 2. We hope this guide helps you. If you liked this, go and check out our Windows Guides, Gaming Guides, Social Media, iPhone Guides, and Android Guides for more great content. Subscribing to our YouTube Channel can help you win our $150 giveaway contest. If you have any queries or feedback, comment down below with your name along with e-mail ID, and we will reply shortly. Happy Rafting.