HTC U11 is one of the well-recognized smartphones in the present time. There are many factors that have contributed in helping this device attaining the level of popularity it is having currently. You might have no idea but the fact is HTC is paying special attention to the features and the designs since last few years and have come up with designs that are simply the best. The recent and in fact latest flagship HTC U11 is a perfect instance of this statement. With an impressive camera and an excellent battery life, this device has already grabbed the attention of a very large number of smartphone users all over the world. Probably it is a compelling smartphone with amazing features. However, like all Android devices, it is also suffering from some common issues. In this post, I will introduce you to common HTC U11 problems and solutions.
Although most of the problems discussed in this post are not necessarily due to hardware malfunction, it is necessary for users to know them. In case you own this amazing device or planning to buy it, it would be good for you to introduce yourself to these problems. There is actually nothing to worry as most of these issues are due to minor OS bugs that can easily be fixed. The guide has also been provided to help you know the common HTC U11 problems and solutions so that you can fix the same in the very easy and reliable manner. So check them out below.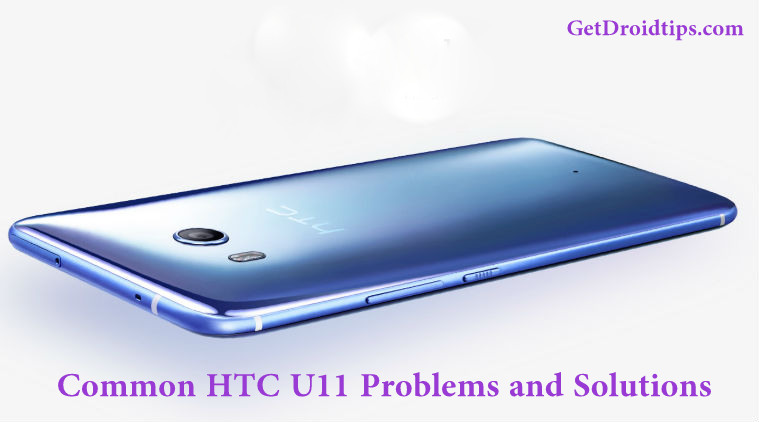 Common HTC U11 Problems and solutions
There are certain issues that have been reported in this device. It is not always necessary that users find only once at a time but there are chances that multiple issues that have been discussed in this post are there in the device. Thus, you need to check them out one after one. Most of the information about the common HTC U11 problems and solutions mentioned in this post is easy to understand and follow.
Problem 1- Unable to recognize Windows 10
Several users have reported that when the device is connected with the PC, it doesn't get detected by the Windows 10. Of course, this creates issues when it comes to transferring the data into the device or copying the same from it. In many cases, even the HTC Sync Manager also fails to recognize the device.
Possible solutions
First of all, make sure that the USB cable is not damaged
Check whether the USB drivers are updated or not. In case they are not, simply update them.
A detailed checklist is also available when HTC manager fails to keep up the pace in this matter. Click here to check the same.
Some the problem could be due to the fact that you are using the USB 3.0 port for connecting the device. Thus, it would be good if you use the USB 2.0 in case the same is available on your device.
Problem 2- Micro SD card issues
This is one among the Common HTC U11 Problems. In most of the cases, the device doesn't detect the SD card. Well, if this is a problem with you too, check out the following available solutions.
Possible solutions
In case the problem is related with mounting/unmounting, the same can be fixed with the update that is currently rolling out for the HTC U11.
Insert your SD card in another device to check whether if it is OK or not.
Remove the SD card and reboot your device. Once it restarts, insert it again and check if the problem is gone.
Perform a factory reset in case it's still there. Keep it in mind that factory rest will erase all the data from your device.
Problem 3- Audio and Video Out of Sync
Many users are frequently reporting that they are not able to play the videos on Whatsapp and on YouTube. The video actually got stuck after a while and when the same resumes, the video, as well as audio are out of sync.
Possible solutions
Update them in case they are not. This is the first thing that you should do.
Simply wipe the cache partition and the problem would be gone for sure.
Problem 4- Unable to receive calls and messages on Verizon
In US, many users are reporting to have this problem on Verizon network. In case you are one among them, check out below about the common HTC U11 Problems and solutions related to this.
Possible solutions
First of all, make sure your SIM card is in working condition.
Make sure you are not using your older SIM with the new U11. This can create problems related to compatibility. Get a new SIM card from Verizon store around you. The problem will definitely be gone after swapping the SIM.
The reason you are not getting the text messages may be due to CDMA provisioning. Call the Verizon customer care and ask them to remove the same.
Also, make sure the message center number is correct in the Settings.
Problem 5- No Headphone Jack is working
There are certain reasons why this problem occurs on your HTC U11. Check them out below.
Possible solutions
Make sure the audio jack and the earphones are not damaged.
Download the HTC audio jack adapter toolkit from the Play Store to update the firmware in case you didn't.
Make sure there is no dirt in the jack
In case the problem still exists, there are chances of a hardware problem. The only possible solution in such a case is to get the phone repaired by visiting an authorized repair center. You can also use the USB-C port to enjoy the music. However, keep this thing in mind that you wouldn't be able to charge the phone by the time you use the same for enjoying the music.
If you don't mind using a Bluetooth headset, you can proceed using the same.
Problem 6- Connectivity issues
This is the issue that most of the newly introduced devices face. When it comes to HTC U11, there is no need for you to worry about anything. This is because the problem can simply be eliminated and in fact without doing much. The most common issues are Wi-Fi connectivity, Bluetooth connectivity or both. Check out the solutions for the same below.
Wi-Fi issues on HTC U11
First of all, simply turn device and the router OFF for at least ten seconds, then turn them back and retry the connection.
Open Settings and scroll down to find the Power saving Option. Make sure it is turned OFF.
With the Help of Wi-Fi analyzer, check how crowded your channel is, and switch to a better option.
Forget the Wi-Fi connection. For this, open Settings – Wi-Fi and long tapping the connection you want, then selecting "Forget". Re-enter the details and try again.
Make sure the applications and software on the device are up to date.
Go into Wi-Fi – Settings – Advanced and make a note of your device MAC address, then make sure that it is allowed access in the router's MAC filter.
Make sure the router firmware is up to date.
Bluetooth issues on HTC U11
Make sure you are not missing an important part of the connection process.
Open Settings – Bluetooth and ensure nothing needs changing
Open Settings – Bluetooth delete all prior pairings and try setting them up again from scratch.
When it comes to issues with multiple device connection, keep it in mind that only a future update will be able to address this problem.
Following are some of the guides to help you know more about common HTC U11 problems and solutions. Follow the instructions mentioned above in an easy manner.
Hard Resetting HTC U11
First of all make sure that you have backed up any important files and content you might you saved on your phone.
Go to Settings and tap Backup & Reset.
Tap on Factory Data Reset.
If you want to save the content of your SD card, make sure that "Erase SD card" is unchecked.
Tap Reset Phone and click OK.
It must be kept in mind that when it comes to common HTC U11 problems and solutions, most of he users proceed with this option.
Hard Reset with hardware buttons
First of all, turn off the device.
Press and hold the volume down key. Then press the power button until the phone vibrates. Release power button until a screen with red and blue text appears.
Use the volume down key to navigate to "reboot to bootloader" and press the power button to select it.
Another screen will then appear, where you can use the volume down key to navigate to "boot to recovery mode."
Using the volume down key to "Wipe data/Factory Reset."
Select "Yes — delete all user data" to confirm the whole operation.
After that select option "reboot system now."
Soft Reset HTC U11
First of all, turn on the device screen
Then press and hold the power button and tap on Restart.
If the device is not responding, press and hold the power button and volume down key simultaneously until the phone vibrates and then release the buttons. You may have to press and hold the keys for up to 15 seconds.
Boot HTC U11 into Safe Mode
When the phone is on, press and hold the power button.
In the popup menu, press and hold Power Off.
When you see "Reboot to Safe Mode," tap on OK.
Restart the phone to go back to the normal mode.
You can also boot into Safe Mode using hardware buttons. When the phone is off, press the power button to turn on the device.
When you see the HTC logo on the screen, press and hold the volume down key until you see Safe Mode written at the lower portion of the screen.
Wipe cache partition
Use the first four steps in the "Factory Reset" section to go into Recovery Mode.
Press the volume down key to "wipe cache partition" and then press the power button to select.
In addition to this, there are other common HTC U11 Problems and solutions that you might be looking for. Well, the fact is, there are issues that can only be corrected by updating your device. Some of these issues include quick battery drain, slow processing of device and sRGB mode. In case you are still not able to address the problems after following the instructions mentioned in this post, there are chances that your device is suffering from a hardware glitch. You need to get it checked thoroughly by an expert at an authorized repair center by HTC.
It must be noted that although this guide is for HTC U11. It also works reliably for HTC U11+ and U11 life device. Thus you can proceed with this post if you are using any of these devices also. so thats all about common HTC U11 problems and solutions.