When it comes to smartphones, a lot of new manufacturers have made their entry into the international market. There are only a few of them that have attained success in attracting the user's attraction towards them. Oppo is one such manufacturer. Launching the superb camera quality devices when the craze of selfies just started enabled them to sale a very large number of units in the shortest possible time. One of their devices which were launched in March this year and is still very popular is Oppo F3 Plus. It is one of the best devices available till date in a decent price range. The fact is just like all other gadgets, it is too facing the common issues that are affecting its performance. If you are one among them, this post is for you. A complete information on common Oppo F3 plus problems and fixes – Wi-Fi, Bluetooth, Camera, SIM, and More has been provided in this post to enable users to avoid them simply.
Oppo F3 is actually a device that has mixed reviews of the users towards it. Some largely appreciates it while some call it a wastage of money. The fact is it's still popular and there are a very large number of users of this device presently. Most of the users think they face these issues because of no other reason than Android Marshmallow. Yes, the Oppo F3 is still running on this OS and Oppo seems to have no plans to provide the Nougat or Oreo update for it. Thus looking for the common Oppo F3 plus problems and fixes is something that is becoming quite popular for most of the existing users of this device.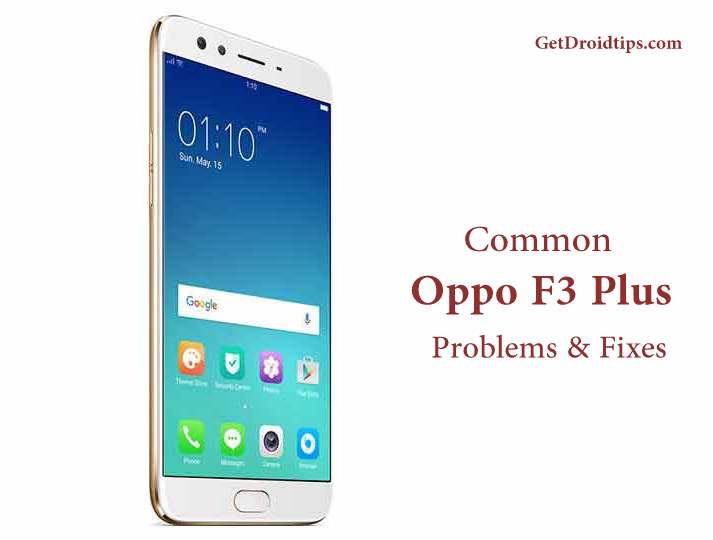 Oppo first made it available on Android Lollipop and it was later provided the Marshmallow update. The massive 6-inch display is one of the major factors that simply let many users ignore everything related to the common Oppo F3 plus problems and fixes. The device comes with 1.95 GHz octa-core processor and is having 4GB of RAM installed in it. Users have the option to store 64 GB of Data and the same can be extended to 256 GB through an SD card. Both primary and secondary cameras are of 16MP. They are already popular for capturing the HD pictures and videos. Also, the 4000mAh battery offers a good battery backup.
Although the specifications are good enough to be considered, the device is still experiencing many problems related to OS. These are actually minor problems and can simply be fixed. Thus, pay attention to the following paragraphs to boost your knowledge about the common Oppo F3 plus problems and fixes.
Common Oppo F3 plus problems and fixes
There is nothing much you need to do to get the favorable results in this matter and things can simply be brought back on the track. Thus you can proceed further without worrying about anything.
Connectivity related problems can declare their presence due to certain reasons. You might have no idea but sometimes even a minor glitch can be the major trouble creator for this. First simply reboot your device and check if the problems related to Wi-Fi or Bluetooth connectivity are gone. If they are still present, check out the solution below.
For Wi-Fi  
Turn off the router for a few minutes,
In the Wi-Fi settings of the device, tap on forget the preferred network. Then add the details from scratch.
In the WI-Fi Analyzer application, check the level of activity. If required, switch to the different
Disable Power Saving Mode in Settings.
Ensure that the MAC address for the phone is recognized by the router.
For Bluetooth
No power saving mode should be enabled.
Turn the Bluetooth of your device on and off.
If the problem persists, go to Bluetooth Settings and clear the cache.
Restart the phone.
If there are multiple profiles, then maybe you have exceeded the limit of profiles you can save. Delete old and profiles no longer in use. Then try setting the connection from the beginning.
When it comes to common Oppo F3 plus problems and fixes related to Bluetooth and Wi-Fi, it is not always necessary that they can be due to similar reasons.
Brightness Problem
The Oppo F3 Plus has been reported to have brightness problems by many users. If you are too facing the same, you need to pay attention to the following solutions to avoid the same. This issue on Oppo F3 Plus can be fixed with the help of an app. If you have the latest OTA, then upgrade and see if the brightness issue has solved. In case if you still see the brightness problem. A permanent solution will soon be available. In the meantime, you can download Lux Auto Brightness app from the Play Store. It is one of the best tools which help in getting a control the brightness feature. Fortunately, there is a free version too available.
Bad camera quality
The most common factor due to which this problem declares its presence is nothing but capturing snaps/videos with a shooting mode not desired for that particular situation. There are certain modes actually which are designed depending on the lightening and other conditions. Always make sure you choose the same. Pay attention to following factors
Make sure to turn ON the flash if lightening is low
Clean the camera lens gently
Performance issues
Performance related issues are quite common in any Android-based device. The fact is they arrive in any device with time. Many factors can be held responsible for this. To avoid them, the very first thing is to avoid and remove the third-party apps installation. Next factor to pay attention to is how much space is free on your device. For decent performance, always keep at least 2 GB of free space. It the problem still remains present, follow the below instructions.
Download the Greenify app from the Play Store. It lists the applications which are active on waking the phone. Then you can change the settings for these apps. This should reduce the slowdown.
There may be a rogue app which could be the cause of the poor performance. Boot the device into Safe Mode. If the problem persists, delete the last few apps you may have installed before the problem started. The last resort is to perform the factory reset. But do the factory reset only if it is necessary as you will lose all your data.
If you need more information about more apps to help you understand more about common Oppo F3 plus problems and fixes, search on the Play Store.
Windows 10 doesn't recognize by the phone
Many users of this device have been reported to face this problem. Actually, it becomes extremely difficult for the users to share data if the device fails to recognize the Windows on the laptop/computer. Well, if you are one of those users of Oppo F3 plus who are facing this issue, pay attention to the following.
Open Settings – About Phone and keep tapping on Build Number several times till a pop-up
The pop up will say "You are now a developer."
In the Setting menu, a new option will appear called Developer Options. Open it.
Tap on USB debugging to enable it.
You may have to reboot the phone once.
Plug in the phone and change USB configuration to MTP.
The problem will probably be gone after this.
Earpiece Sounds Robotic
Many users are complaining about this issue. If you too are facing it, try the following
Use another good quality earpiece for doing a phone call.
Try to do another way. During a phone call press the volume up button to make the sound louder.
This will help to make the other person more audible and will not remove the robotic tone of hands-free.
Battery draining quickly
It is not always necessary that only hardware related issues can lead to battery drainage problem. Most of the time it's nothing but minor software glitches that are responsible for this issue. So pay attention to the following
See if all the installed apps are up to date or not. If not, update them immediately
If your device battery is draining too quickly, the most common factor is the installation of third-party apps. As already mentioned, you need to disable it by taking your phone into the safe mode.
Make sure your device too has all latest updates installed on it.
You can go to settings> battery and battery setting usage to see which app is using how much battery and uninstall that particular app
Apps not working on mobile data
When it comes to looking for the common Oppo F3 plus problems and fixes, this is the fact that you must know. The reason is this problem is quite common. All installed apps work fine when the device is connected to a Wi-Fi internet connection. However, a few have been reported to crash or doesn't work well when connected to mobile data. If you too are facing this problem pay attention to the following available solutions
Go to Settings-more networks-mobile network-access point names.
Tap on APN for your network.
Change the APN Protocol to IPv4 or IPv4/IPv6.
Remember the issue is related to APN settings.
No SD card detected
If your Oppo F3 Plus is not detecting the SD card, you can proceed with the following solutions
First of all, make sure your card is under 256 GB which is the upper limit on using an SD card on this device.
Remove and insert the SD card again after restarting the device
Try to format the SD card on the computer first and then insert it in the device
See if another card is working properly on your Oppo F3 Plus.
Make sure the SD card slot is not damaged.
Unresponsive Touchscreen
If the touch screen is not working or showing unexpected behavior, you can follow the below guide
Try to restart your Oppo F3 Plus and check if the problem is solved.
Make sure your hands are clean and not wet.
Make sure the screen is totally clean and there are no oil or dust particles.
There could be a software problem in some cases and the touch screen is unable to perform its tasks.
Try to reset your factory option, if nothing works
SIM related problems in your device can be due to restrictions on the service by the Service Provider. You need to consult with the service provider first. Also, make sure the SIM you have is actually compatible with the device. Get your SIM replaced if it is too old.
Notifications clearing automatically
Automatic notification clearance is among the common problems on the Oppo F3 that have been reported by a lot of users. Most users say they are not able to locate the notifications after 15-20 minutes. Actually, it is not related to a bug. It is related to battery management. Follow these simple steps.
Go to Settings – battery and then disable Hibernation/Aggressive Dose
If you want to select which apps send you notifications, you can do it here. . Go to Settings – Battery – Battery Optimization (tap the three vertical dots at the top right corner). Here you can select which apps you want to receive notifications from.
Overheating problems
Using a device which is overheating while general use or during charging is not recommended. Therefore you must pay immediate attention to this. Pay close attention to the following issues.
Charge your device only with the authorized charger and not with a duplicate one
Update your device to the latest version if you haven't
Clear the cache and see if the problem is gone
Make sure there is no extra burden on RAM due to any reason
Make sure the device is not getting extra power if you charge is through a power bank
Well, this guide on the common Oppo F3 plus problems and fixes simply let you boost the overall performance of your device without doing much. If problems remain present even after following the above procedure, you need to visit the repair shop around you which has been authorized by Oppo. This information on common Oppo F3 plus problems and fixes can easily be trusted and followed.