Oukitel K10000 is a smartphone whose battery can be put equal to a power bank which we all use for charging our smart gadgets. It may seem strange to you but actually, it's true. The Oukitel has gained popularity because of one leading reason and i.e. they introduced the smartphones with massive battery power. The K10000, as the name indicates come with a 10000mAh battery which is capable to give you more than 3 days of backup once it is charged fully. Although it is good enough to be considered, there are a few users who have complained about minor issues they are experiencing with it. In this post, I will introduce you to the common Oukitel K10000 problems and fixes – Wi-Fi, Bluetooth, Camera, SIM, and more.
The fact is, these are actually not the hardware related faults but due to issues in the Operating System. Many users are considering the true cause of the problem as its OS and this is because Oukitel K10000 is still running on Android 6.0 (Marshmallow) even when modern devices in the present time are quickly upgrading to Android 8.0 (Oreo). However, this actually doesn't mean that you need to wait for long in order to get the things back on the track. This post can simply boost your knowledge about the common Oukitel K10000 problems and fixes and help you to keep up the pace regarding the same.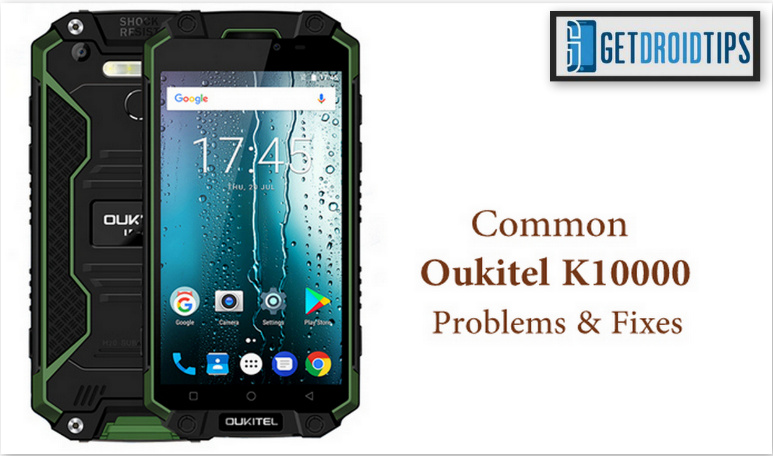 This device comes with a 5.5-inch screen and is capable to offer a screen resolution of 1280 x 720 pixels. It has been powered by 1GHz processor and 2 GB RAM for enabling users to have performance. You can store up to 32GB of data. As far as the matter of cameras is concerned, it has been provided with an 8MP rear and a 2MP rear camera. This clearly indicates that it stands nothing as compare the specifications of a modern gadget.
If you are still using this device and want to know about the common Oukitel K10000 problems and fixes to make the device run smoothly, you can proceed with this. It must be noted that Oukitel has no plans till date to update this device to Android Nougat or further versions. Thus, you can follow this guide which enables you to fix most of the problems you are already having.
Common Oukitel K10000 problems and fixes
Most of the problems associated with this device can simply be avoided just by following the solutions mentioned in this post. Thus, you can simply proceed further.
Connectivity issues
If you are having connectivity issues on your K10000, there are certain solutions available to help you. The fact is most of the problems occur in this device just because of performance-related factors. In case you are experiencing them, don't hesitate to try the following to get the things back on track again.
Wi-Fi issues
The very first thing to do is to see if the problem is gone with a simple reboot.
Make sure our router is in working condition and is not experiencing any issue from the network provider.
If not, open device Settings first and click on the option Connections.
You will see the option Wi-Fi over there. Click on it.
This makes your device automatically scan for the available networks and will display them on the screen.
When the first scanning has ended, tap for a few seconds on the Wi-Fi you want to connect and choose to forget the same
Then, tap on the same network you want to connect. Fill the authentication details and you're done. When you select an open network, there is no need to enter the password.
Bluetooth Problems
Make sure no power saving mode is enabled on your device
Turn the Bluetooth of your device ON and OFF.
If the problem is still there, Open Bluetooth Settings and clear the cache.
Restart your device simply after this
If there are multiple profiles, then maybe you have exceeded the limit of profiles you can save. Thus, you need to delete old and profiles no longer in use.
Screen brightness issues
Many users have reported that this device doesn't adjust its screen brightness automatically even when the option is enabled. The possible option to this issue is nothing but the problem in the sensor that fails to detect the nearby visibility. You can check a third-party app on Play Store that can help you to eliminate this problem if currently you are facing the same.
Performance issues
There are several factors that contribute when to a device performance. Before you proceed with them, keep this thing in mind that if you are comparing a modern smartphone with Oukitel K10000, you cannot expect the same performance from it. This is because the latter was introduced in the year 2015 and doesn't have specification that can beat a modern device. Thus, the performance always remains a bit slower. However, if you think it is not performing in a way it needs to be, check out the following guide
Make sure that your device ROM is not fully filled. If you fill it completely, of course it will put some burden on the processor and on the RAM which could lead to this problem
See if there is any virus in your device which is affecting its performance
Remove all the third-party apps you installed. For this, take your device into the safe mode.
Perform factory rest if you cannot fix the same. Probably you will find significant improvements after performing the same. However, as mentioned earlier, don't forget to save the device data.
Unresponsive Touchscreen
If your device is not giving any response while you touch the screen, there is not always a need to worry. This is because most of the issues related with screen are mainly due to other reasons than hardware glitch. Thus, stay calm and try the following set of solutions on your Oukitel K10000.
First check if it is gone with a simple restart
Make sure you are not wearing mittens or gloves while using your device
Clean the screen and make sure there are no oil or dust particles present on it
There could be a software problem in some cases and the touch screen is unable to perform its tasks
Always keep at least 3 GB free space on device as it can also be the reason of this issue.
Last option is to perform a factory restore if other methods doesn't work
Doesn't recognize the PC

The very first thing to make sure is you have all the updated drivers installed on your device. In case it is still facing this problem, there are chances that it might have a hardware problem. However, you can try the following before actually considering the same fact.
First of all, open device Settings and scroll down to find About Phone
Keep tapping on Build Number several times till a pop-up appears
The pop up will say "You are now a developer."
You can check a new option will appear in the Settings and i.e. Developer Options.
Open it and then tap USB debugging to enable it.
You may have to reboot the phone once.
Plug in the phone and change USB configuration to MTP.
Perform a hard rest if nothing works. However, you need to save your data first as it deletes everything on the device memory.
Failure to detect the SD card
Check out the following solutions if you are facing this issue
First of all, make sure your card is under 128 GB which is the upper limit on using an SD card on this device.
Remove and insert the SD card again after restarting the device
Try to format the SD card on the computer first and then insert it in the device
See if another card is working properly on your device properly or not
Make sure the SD card slot is not damaged.
Slow charging (common Oukitel K10000 problems and fixes)

The 10000mAh battery obviously needs some extra time to charge and this is the first thing you need to keep in your mind. In case the charging is too slow, check out the following methods that can help you to avoid the problem simply.
Don't use any other charger than the one you get in the box.
If you are using the power bank, make sure they are authorized by the manufacturer or are compatible in every aspect with your device
See if your device OS is totally up to date.
Make sure there are no dust particles around the charging port
Check if the connecting cable and the adapter are in working condition or not. Make sure there is no physical damage on any on them.
Check if the power socket is in proper working condition.
Make sure all the apps in the background are closed.
If the problem still exist, you need to perform a hard rest or need to get it checked at an authorized repair shop
SIM related problems are common in this device. First thing to keep in mind is Oukitel K10000 supports only GSM SIM cards. If you are using CDMA, of course you need to switch to the GSM technology. Check out the following solutions after this
First of all, make sure your SIM is in proper working condition
If it is too old, get it replaced before you use it in your brand new Oukitel K10000
Make sure there are no compatibility issues related to the frequency
If problem still exists, get your phone checked thoroughly from an authorized service center
The information regarding the common Oukitel K10000 problems and fixes about slow charging have been tested and will probably provide you results.
Battery draining quickly
Although this device comes with a massive 10000mAh battery as already mentioned, a few users have reported that they are facing the quick battery drainage problem. Actually, it is one of the widely discussed topics when it comes to common Oukitel K10000 problems and fixes. Try the following set of solutions to avoid the issue
Installation of third-party applications could be one of the major factors responsible for this. Thus you need to disable it by taking your phone into the safe mode.
Make sure all the apps are closed and not running in the background.
See if all the installed apps are up to date or not. If not, update them immediately
Make sure your device too has all latest updates installed on it.
Don't keep too much apps on your device
Poor camera quality
The Oukitel K10000 comes with cameras which are 8MP (rear) and 2MP (front). Thus you cannot expect the same images from it as a modern device is capable to provide. To boost the camera quality, there are certain apps available on the Play Store that can help you. One such app is "BeautyPlus" which you can try. Also, the following solutions can pretty good to enable you enhance camera quality upto good extent.
Make sure there is no dust in the camera lens
Make sure you tear the transparent cover from the screen and front the back which is installed on the new devices
Make sure you selected the appropriate shooting mode depending on the lightning conditions
Check if the default camera app is running properly. You can check this with many apps available on the Play Store.
Overheating Problem (common Oukitel K10000 problems and fixes)

This device has been reported to have overheating issues during the charging. Well, the problem is nothing but the 10000mAh battery itself. To avoid this problem, you can try the following solutions.
Reboot your device. There are certain chances that the problem will be gone. If not, proceed with further solutions
Make sure you clear the cache for all installed apps
Don't charge your phone while using it
Make sure you are not using a very high rated power bank.
Update your device to the latest version if you haven't
Charge your device with the recommended charger only (the one that comes with the device)
That's all about the common Oukitel K10000 problems and fixes. There might be other issues that are currently experiencing with your device. If so, do let us know. We will try to boost your knowledge further about the common Oukitel K10000 problems and fixes.