Oukitel K5000 is a dashing smartphone that made its entry into the international smartphone market in November 2017. It is actually a device that is gaining attention to a very large number of reasons. The most noticeable feature about it is its finest looks and attractive display. It actually seems too stylish and it's nothing but the style that is becoming the reason for its success. Another leading feature that has more than a ton of contribution to its success is its powerful 5000mAh battery. Of course, it is attracting the attention of those who need extra battery backup because of very same reason. Although it is good enough to be trusted, this recently introduced device has been reported to have several bugs that are affecting its functionality. This post reflects common Oukitel K5000 problems and fixes – Wi-Fi, Bluetooth, Camera, SIM, and More to let you use it without facing any issue.
There are certain good things about this device due to which it becoming one of the finest available options in the market when it comes to buying a smartphone. The manufacturer is offering a full bouquet of features at a very competitive price. Of course, the price is nothing when compared to the features and specifications it has been equipped with. Knowing the common Oukitel K5000 problems and fixes simply let you perform any task through it reliably.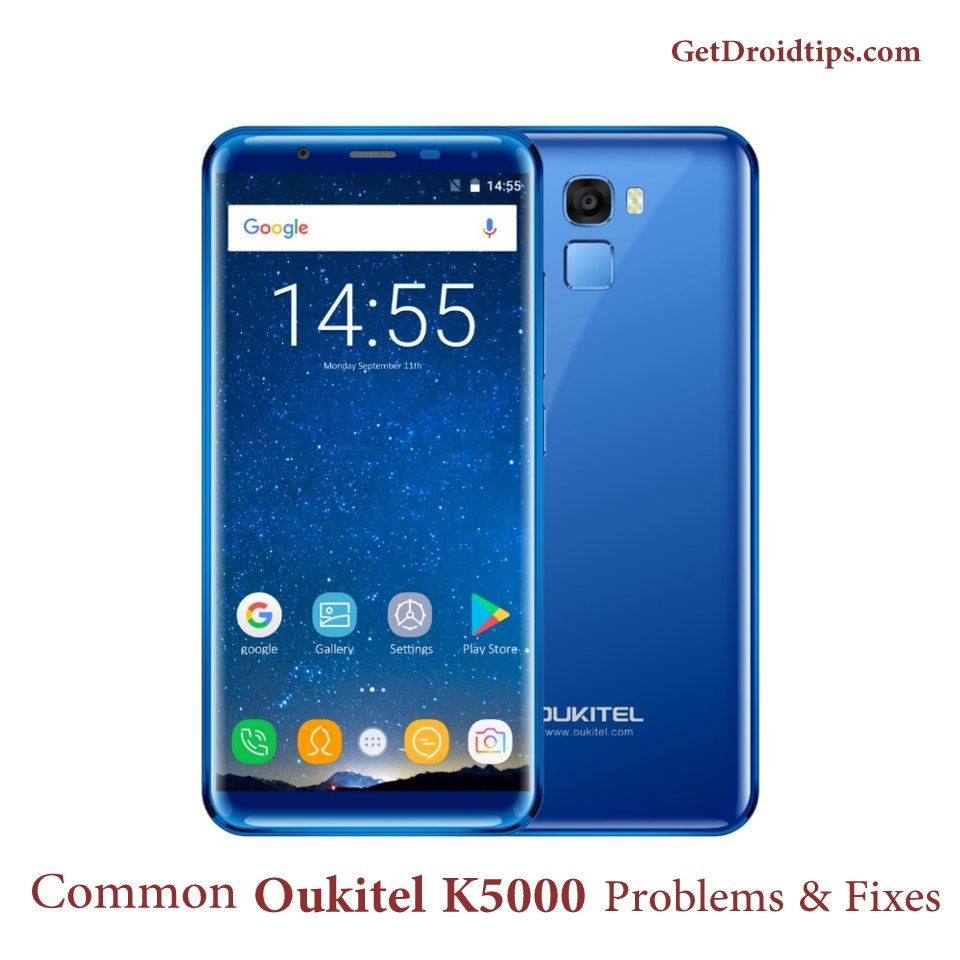 It comes with a 5.7-inch display that is good enough to display any content on it without compromising the quality. The 1.5GHz octa-core processor can be trusted for reliable and time-efficient operations. As it runs on Android Nougat, users can keep up the pace with every task they want this device to accomplish simply. For performance, the 4GB RAM it has been equipped with makes sure that operations can be geared up reliably. When it comes to camera, you can capture the images and videos with the 13MP rear camera. As far as the matter of battery is concerned, it's already mentioned that it has a 5000mAh battery for huge backup. The information regarding common Oukitel K5000 problems and fixes mentioned in this post can easily be trusted.
Although you find it a decent performer, the fact cannot be denied that just like other Android devices, there are many issues that this device is currently experiencing. Thus you need to boost your knowledge about the common Oukitel K5000 problems and fixes. Check out the below paragraphs for the same.
Common Oukitel K5000 problems and fixes
Before you proceed further with any information mentioned in this post, it's better to keep this thing in your mind that most of the problems discussed are due to minor bugs in the OS. Although you can fix it in the next update, it's not sure when the same will be released by the manufacturer. Thus you can proceed with this guide.
Unresponsive Touchscreen
The Oukitel K5000 has been equipped with a 5.7-inch touchscreen which can sometimes become unresponsive. Of course, this is a very daunting situation. You need to make sit sure that the phone has free enough space in it. This is because the full memory can largely impact the working of RAM and thus slows down the Oukitel K 5000 overall performance including the touchscreen response. You can proceed with following available options to eliminate the problem if you are facing it.
First check if it is gone with a simple restart
Make sure you are not wearing mittens or gloves while using your device
Clean the screen and make sure there are no oil or dust particles present on it
There could be a software problem in some cases and the touch screen is unable to perform its tasks
Last option is to perform a factory restore if other methods doesn't work
Connectivity issues
When a device experience connectivity issues, it's true that most of the tasks cannot be performed on it. Therefore it's good for you to find the connectivity related common Oukitel K5000 problems and fixes immediately. You can try the following guide to fix the concerned issues.
Wi-Fi issues
The very first do to is to see if the problem is gone with a simple reboot.
Make sure our router is in working condition and is not experiencing any issue from the network provider.
If not, open device Settings first and click on the option Connections.
You will see the option Wi-Fi over there. Click on it.
This makes your device automatically scan for the available networks and will display them on the screen.
When the first scanning has ended, tap for a few seconds on the Wi-Fi you want to connect and choose to forget the same
Then, tap on the same network you want to connect. Fill the authentication details and you're done. When you select an open network, there is no need to enter the password.
Bluetooth Problems
Make sure no power saving mode is enabled on your Oukitel K5000.
Turn the Bluetooth of your device ON and OFF.
If the problem is still there, Open Bluetooth Settings and clear the cache.
Restart your device simply after this
If there are multiple profiles, then maybe you have exceeded the limit of profiles you can save. Thus, you need to delete old and profiles no longer in use.
Performance issues
If the overall performance of your Oukitel K5000 is down and you cannot bring it back on the track, don't thing factory reset is the only available option. The fact is many reasons could be there why the device is facing this issue and thus it is not always easy to find the same. Try the following guide once.
Make sure that your device ROM is not fully filled. If you fill it completely, of course it will put some burden on the processor and on the RAM which could lead to this problem
See if there is any virus in your device which is affecting its performance
Remove all the third-party apps you installed. For this, take your device into the safe mode.
Doesn't recognize the PC

Many people who are using the Oukitel K5000 are reporting that they cannot connect their device with their PC. Well, if this is problem with you too, don't work about the data transfer. You can try the following guide for this.
First of all, open device Settings and scroll down to find About Phone
Keep tapping on Build Number several times till a pop-up appears
The pop up will say "You are now a developer."
You can check a new option will appear in the Settings and i.e. Developer Options.
Open it and then tap USB debugging to enable it.
You may have to reboot the phone once.
Plug in the phone and change USB configuration to MTP.
Perform a hard rest if nothing works. However, you need to save your data first as it deletes everything on the device memory.
Poor camera quality
The Oukitel K5000 is known to have the finest cameras installed on it. However, if you are facing the problems related to the camera, you need not to worry. First make sure you tear the transparent cover from the screen and front the back which is installed on the new devices generally. Select the right shooting mode. It would be good if you boosting your knowledge on which mode to select while using your device. Under low lightning if you use the general mode, the camera picture quality can go down. Try the following methods too
Make sure there is no dust in the camera lens
Check if the default camera app is running properly. You can check this with many apps available on the Play Store.
While using this device if you are facing the problems related to SIM, you can try the following
First of all, make sure your SIM is in proper working condition
If it is too old, get it replaced before you use it in your brand new Oukitel K5000
Make sure there are no compatibility issues related to the frequency
If problem still exists, get your phone checked thoroughly from an authorized service center
Slow charging
If your Oukitel K5000 shows slow charging, first keep it in mind that the battery of this device is 5000mAh and thus it may take some extra time than other devices for full charging. Most of the common Oukitel K5000 problems and fixes related to slow charging can be trusted simply. You can check them out below
Don't use any other charger than the one you get in the box.
If you are using the power bank, make sure they are authorized by the manufacturer or are compatible in every aspect with your device
See if your device OS is totally up to date.
Make sure there are no dust particles around the charging port
Check if the connecting cable and the adapter are in working condition or not. Make sure there is no physical damage on any on them.
Check if the power socket is in proper working condition.
Make sure all the apps in the background are closed.
If the problem still exist, you need to perform a hard rest or need to get it checked at an authorized repair shop
Battery draining quickly
Although the device has a huge battery, if you find it get drained very quickly, you can try the following methods simply
The common factor responsible for this issue could be the installation of third-party applications. Thus you need to disable it by taking your phone into the safe mode.
Make sure all the apps are closed and not running in the background.
See if all the installed apps are up to date or not. If not, update them immediately
Make sure your device too has all latest updates installed on it.
Don't keep too much apps on your device
Overheating Problem
The most common reason for the device to face this problem is when a very high power rated battery bank is used frequently for charging it. Thus you need to make sure that you are using an authorized and a branded power bank if you use it. Other methods that can help you are as following.
Make sure you clear the cache for all installed apps
Don't charge your phone while using it
Update your device to the latest version if you haven't
Charge your device with the recommended charger only (the one that comes with the device)
Thus guide on common Oukitel K5000 problems and fixes can simply be trusted. Most of the methods that are discussed help you to eliminate the problems simply. If you cannot find them working for you, you can proceed with hard rest. However, if the same is still present, you need to visit an authorized service center for your device. So this is all about the common Oukitel K5000 problems and fixes that most of the users have been reported.