The Style is exactly what the Vivo devices always carry with them. There is probably nothing wrong to say that when it comes to Vivo, almost all their gadgets are loaded with style and are known to attract the attention of a very large number of smartphone lovers across the globe. You might have no idea but the fact is Vivo devices are good enough to be trusted for the long run. A few devices can even be compared to some end-end smartphones present in the market today. In this post, we are going to talk about the Vivo X20. Although it is a good device, a few users recently reported about the issues they are facing. So here is the useful information on common Vivo X20 problems and fixes that most of the users have reported.
In case you have already purchased this device and is also experiencing the issues, there is no need for you to worry about anything. It has majorly been reported by experts that most of these issues are due to problems in the OS which are minor. In the next update, they will be fixed. However, it may take time and as of now, you can proceed with this guide on common Vivo X20 problems and fixes without worrying about anything.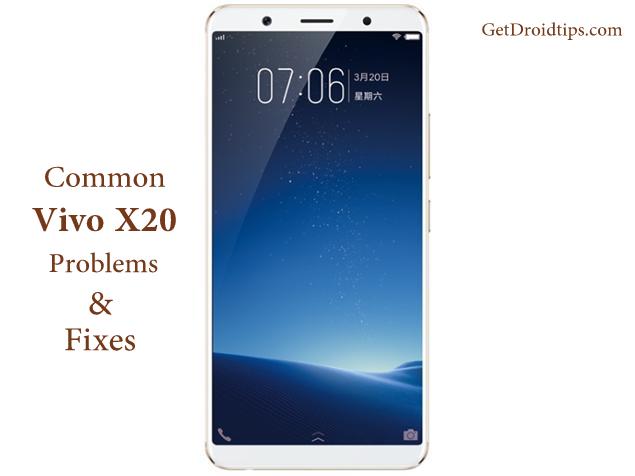 First I would like to introduce you to the specifications of this device which will help you to understand the below information on common Vivo X20 problems and fixes easily. One of the noticeable features of this device is it comes with a giant 6.43-inch screen that is capable to offer a screen resolution of 1080 x 2160 pixels. This enables users to enjoy their content very easily.
The 1.8GHz octa-core processor has been combined with 4GB of RAM so that users can always experience speed and performance. It has been packed with a 12 MP primary and a selfie shooter of the same power which let users capture quality snaps and videos. The Vivo X20 has a 3905mAh non removable battery which is capable to meet all your needs.
As far as the matter OS is concerned, it runs on Android 7.1.1 and is expected to have Android Oreo update in future. It is possible for the users to store data of upto 256GB with the help of a micro SD card. Probably you find these specifications best in every aspect, still it has been reported some minor issues. Check out the below paragraphs for common Vivo X20 problems and fixes.
Common Vivo X20 problems and fixes
Before you proceed further with the information mentioned in this post about common Vivo X20 problems and fixes, it is necessary to keep in mind that you have to follow the guide exactly in the way it is mentioned. Getdroidtips.com cannot be held responsible if anything goes wrong with the device while adopting any method.
Connectivity issues
Connectivity related problems don't let a device perform all the tasks that it actually can. It is true that a majority of tasks are purely based on internet and data transfer. Failure to perform the same creates many other issues for the users. If your Vivo X20 is showing the connectivity related problems, try the following methods to eliminate the same.
Wi-Fi issues
Turn off the router for a few minutes,
In the WI-Fi settings of the device, tap on forget the preferred network. Then add the details from scratch.
In the WI-Fi Analyzer application, check the level of activity. If required, switch to the different
Disable Power Saving Mode in Settings.
Ensure that the MAC address for the phone is recognized by the router.
Bluetooth Problems
Make sure no power saving mode should be enabled.
Turn the Bluetooth of your device ON and OFF.
If the problem is still there, Open Bluetooth Settings and clear the cache.
Restart your device
If there are multiple profiles, then maybe you have exceeded the limit of profiles you can save. Thus, you need to delete old and profiles no longer in use.
Notifications getting clear automatically
To fix this issue, try the following method
Go to Settings – battery and then disable Hibernation/Aggressive Dose
If you want to select which apps send you notifications, you can do it here. . Go to Settings – Battery – Battery Optimization (tap the three vertical dots at the top right corner). Here you can select which apps you want to receive notifications from.
Doesn't recognize the PC
Many times users find themselves unable to transfer data between a PC and a device. This is because smartphones often fail to detect a connection with PC. In case you are facing this problem, there is actually no need for you to worry about anything. The problem can simply be eliminated by adopting the following method
Open Settings – About Phone and keep tapping on Build Number several times till a pop-up
The pop up will say "You are now a developer."
In the Setting menu, a new option will appear called Developer Options. Open it.
Tap on USB debugging to enable it.
You may have to reboot the phone once.
Plug in the phone and change USB configuration to MTP.
Unresponsive Touchscreen
If you are facing accuracy problem in the touchscreen, of course, it creates a daunting situation for you. However, you need not to worry as this issue can easily be solved. All that you need to do is to follow the below methods simply.
Try to restart your Vivo X20 and check if the problem is solved.
Make sure your hands are clean and not wet.
Make sure the screen is totally clean and there are no oil or dust particles.
There could be a software problem in some cases and the touch screen is unable to perform its tasks.
Try to reset your factory option, if nothing works.
Poor camera quality
If you think the cameras on your Vivo X20 are not meeting your expectations, you can try the following methods.
Make sure there is no dust in the camera lens
Make sure you tear the transparent cover from the screen and front the back which is installed on the new devices
Make sure you selected the appropriate shooting mode depending on the lightning conditions
Check if the default camera app is running properly. You can check this with many apps available on the Play Store.
Performance issues
A slow performing device can definitely put a strict upper limit on the tasks that you can perform through it. Therefore dealing with the same is very necessary and important. There is actually no need for you to worry about anything if you are facing the same on your Vivo X20. Here are some methods that can help you to restore the same.
Make sure that your device ROM is not fully filled. It comes with 64 GB ROM and if you fill it completely, of course, it will put some burden on the processor and on the RAM which could lead to this problem
See if there is any virus in your device affecting it
Remove all the third-party apps you installed
There may be a rogue app which could be the cause of the poor performance. Boot the device into Safe Mode. If the problem persists, delete the last few apps you may have installed before the problem started. The last resort is to perform the factory reset. But do the factory reset only if it is necessary as you will lose all your data?
Slow charging
If your Vivo X20 is taking extra time, it can due to many reasons and thus you need to examine the issue carefully. Try the following set of methods that can help you in eliminating this problem in the best possible method.
Don't use non Vivo Charger to charge your device
If you are using the power bank, make sure they are authorized by the manufacturer or are compatible in every aspect with your device
See if your device is totally up to date.
Make sure there are no dust particles around the charging port
Check if the connecting cable and the adapter are in working condition or not. Make sure there is no physical damage on any of them.
Check if the power socket is in proper working condition.
Make sure all the apps in the background are closed.
If the problem still exists, you need to perform a hard rest or need to get it checked at an authorized repair shop
Most of the SIM-related problems occur when the same is damaged and have network restrictions. However, if the same is ok, you can proceed with the following set of solutions to keep up the pace simply.
First of all, make sure your SIM is in proper working condition
If it is too old, get it replaced before you use it in your brand new Vivo X20
Make sure there are no compatibility issues related to the frequency
If problem still exists, get your phone checked thoroughly
In case you are not able to eject the SIM tray from the device, try the following
Make sure you using the SIM tray tool provided with the device. It is in the same box the smartphone shipped in depending on the region, it may be in a cardboard envelope.
If you don't have the SIM tray eject tool, you can even use a paperclip to eject the tray from the smartphone housing.
Do not try to pry the tray out; otherwise, you'll damage it permanently. The only way to take it out is by putting the tool into the small slot located beside it.
If the tray is still not coming out, you'll need to take your smartphone to a certified Vivo technician.
Overheating Problem (common Vivo X20 problems and fixes)

Overheating problems are common in the Android-based gadgets. If you find it in your Vivo X20, follow the below methods to eliminate them.
Do not use the smartphone while it is put on charge.
If you are streaming high-resolution videos on a channel like YouTube, you can lower the resolution which could resolve the problem of overheating.
Vivo Smartphones comes with an installed app of Vivo which user can uninstall if it is not being used by them.
You can go to settings> battery and battery setting usage to see which app is using how much battery and uninstall that particular app.
You can put a limit to the number of games you have installed or play on your device
After uninstalling unnecessary apps from Vivo X20 user can perform a Factory reset.
Apps showing unexpected behavior
There can be certain factors responsible for this and it is not always necessary that you can deal with this situation in the first attempt. Thus you need to apply different methods as mentioned below one after one.
Disable third-party app installation and remove all the apps you have installed from other sources than Play store.
Go to Settings-more networks-mobile network-access point names.
Tap on APN for your network.
Change the APN Protocol to IPv4 or IPv4/IPv6.
Battery draining quickly
If the battery is not providing sufficient backup or gets discharged too soon, don't always expect that your device battery is faulty. First, try the following solutions.
If your device battery is draining too quickly, the most common factor is the installation of a third-party app. Thus you need to disable it by taking your phone into the safe mode.
Make sure all the apps are closed and not running in the background.
See if all the installed apps are up to date or not. If not, update them immediately
Make sure your device too has all latest updates installed on it.
This is all what you should know about the common Vivo X20 problems and fixes. Most of the steps/methods have been tested and are capable to provide you results in the way you expect. The information discussed about the common Vivo X20 problems and fixes in this post can simply be trusted. In addition to this, the Vivo X20 has been reported to have another problem and i.e. picture lags with sound when videos are played. If you too are experiencing this issue, wait for the next update. It will probably be fixed with the same.