Cyberpunk 2077, the most crowd-pleasing and awaited game of 2020. Currently, due to its bugs and irrational gameplay, Cyberpunk 2077 is facing criticism, and many players who pre-booked this game on PlayStation or Xbox want a refund for this Garbage. Sony PlayStation network started issuing refunds to PS4 and PS5 over games litter performance.
Should you buy Cyberpunk 2077? Don't worry, we will tell you the truth about all this stuff and suggest whether you buy this game. Cyberpunk 2077 and CD Project Red need to issue a refund procedure for everyone who pre-orders this game.
In the gaming world, everyone called this game an EPIC FAIL! Failure! So, we are here to help you out with our latest guide on Cyberpunk 2077 on how you can Get a Refund On PS4 and Xbox One right at your doorstep. So let's dive deeper into the refund process.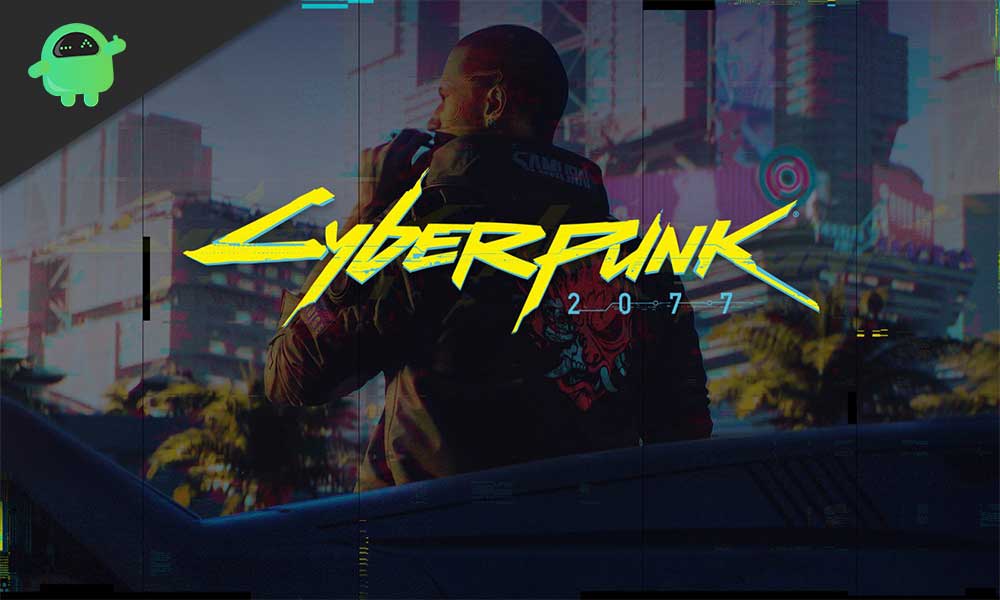 Cyberpunk 2077: How To Get Refund On PS4 and Xbox One
In the picture below, CD Projekt Red has apologized for the allegations of poor review and bugs head-on, asserting that they will retaliate the bugs and crashes and enrich the game's overall exposure.
So if you're viewing for refund Cyberpunk 2077, it may be worth waiting for a while. After all, they said they would manage to fix each bug ASAP, especially on consoles. A couple of big patches are coming in January and February updates, but it's reasonable if that is too long of a wait.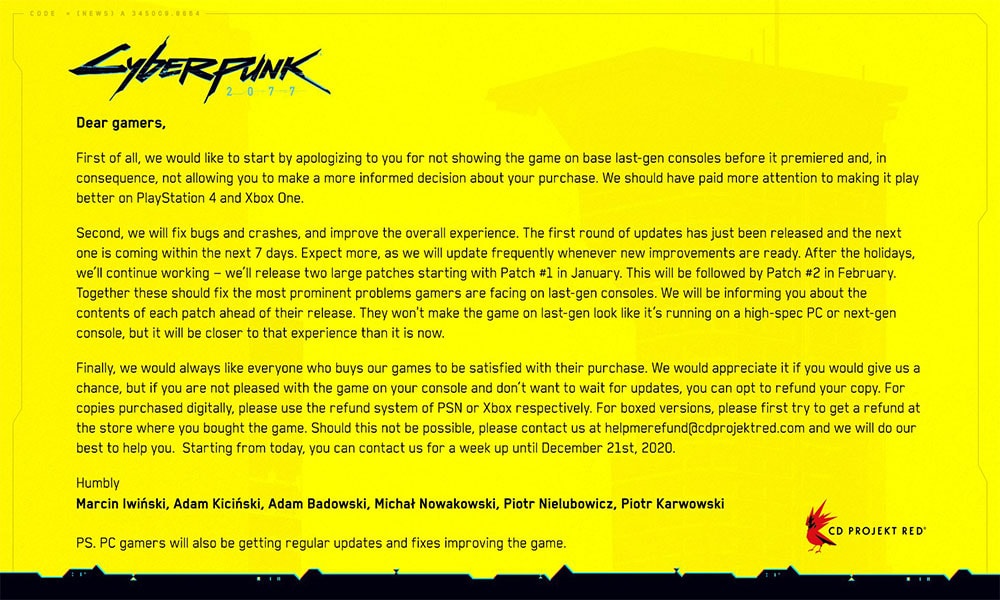 If you ordered Cyberpunk 2077 digitally on your PlayStation or Xbox, you require to use the particular in-build refund scheme. But before that, be assured that you read all the terms thoroughly because there are some fascinating contrasts between the two:
PlayStation Store refund request
Microsoft Store refund request
In case you purchase the boxed copy of Cyberpunk 2077, it doesn't matter you ordered it from a shopping app or picked it from an official store. You need to reach out to the store or website you bought it from.
At the same time, if you are a PC user who brought this game, then there are several ways to get a refund, such as: –
Steam refund system
GOG.com refund
The humble support refund portion
Additional Info
We suggest you do not buy this game if you are planning to buy this game cause Cyberpunk is an overrated and overhyped game. Are you from those who have already purchased it?
Don't worry! Wait for a few whiles cause CD Projekt Red already apologized and assured the gamers that they are trying to fix each issue, and within a few weeks, they manage to settle down everything. So till then, hope for the best.
That's all we have for you on Cyberpunk 2077: How To Get Refund On PS4 and Xbox One. We hope this guide helped you. For more gaming and other updates, subscribe to our YouTube Channel. Also, check out our Gaming Guides, Windows Guides, Social Media Guides, iPhone, and Android Guides to know more.