Xiaomi has attained a great height of success in a very short span of time. It is a well-known factor that they have worked very hard to provide top quality products with lowest possible price. There is nothing wrong to say that there is a huge difference in the price of other products with similar features as offered by Xiaomi. If you think they have gained a solid reputation only as a smartphone manufacturer, you are possibly wrong. There are several other amazing devices by Xiaomi that has contributed in making them one of the best smart gadgets manufacturers across the globe.  One of their latest and product is Mijia Camera that comes with so many features.
Now available for flash sale at only 106.99$. This offer is only for limited period. So grab this asap!
The same is exclusively available on the popular Gearbest website under an eye-catching deal. Its current market price is around $140.51. However, repeating its history of selling electronic and smart gadgets at a discounted price, Gearbest has made it available exclusively at a price of $106.99 as a part of the promotional offer. You can own get Xiaomi Mijia Camera at this price after applying the coupon code "GBXMINI" before selecting the payment making an option on Gearbest.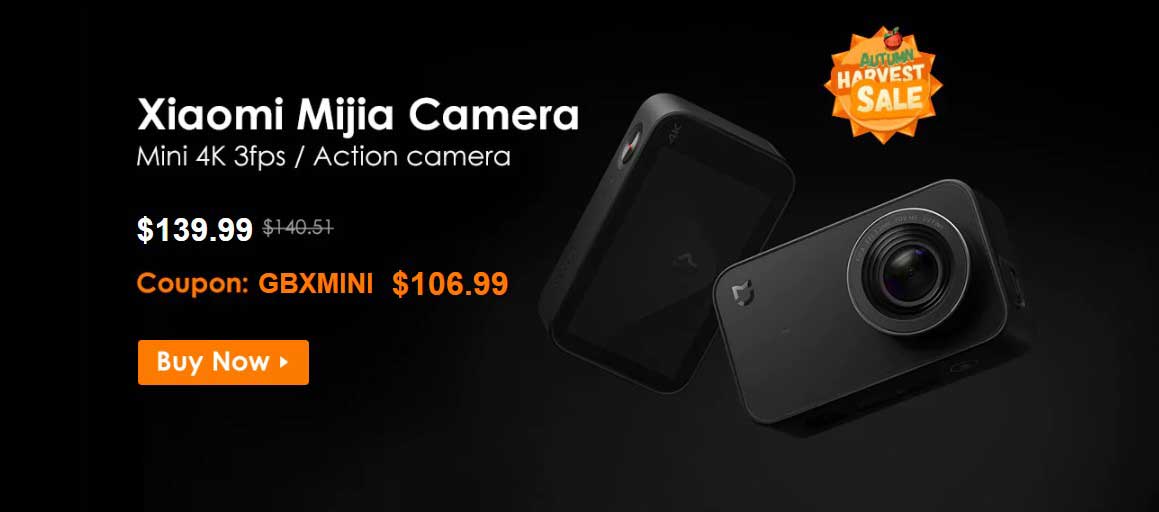 The Xiaomi Mijia Camera is one of the best devices that can simply transform your experience of capturing the best moments of your life. It comes with a lot of features and as already mentioned you cannot have them all in a similar product with a similar price. Also because it is available at a much lower price than its exact cost in the market, the right time to buy the same is now.
Xiaomi has equipped this amazing camera with 2.4-inch touch screen for handling and managing it easily. The continuous 2 hours of backup once fully charged is another vote to its overall features. In addition to this, the Mijia Camera by Xiaomi comes with Wi-Fi and Bluetooth Connectivity which makes it easier for you to transfer the captured snaps into any other device such as laptop or smartphone.
You can also record videos that have a quality better than any video recorded at 1080p without compromising with the sharpness. The time-lapse mode is another best feature that makes this camera pretty easy to use. You can take your own snaps with the help of self-timer function. It is possible to set the time between 3 to 15 seconds to capture snaps under this mode.
In addition to this, the 7-glass lens and Sony IMX 317 sensor makes it a powerful device. If you are looking to buy a camera that can simply let you capture snaps like a professional photographer, this is the product you must buy. So visit the Gearbest website right now to grab this amazing deal available on this product right now.