If you are thinking about buying a budget range laptop for your office or school work, then considering Dere V10 Yoga is not a bad idea. This laptop has everything that you need for normal day-to-day use. Yeah, we are not here claiming that you can play heavy games on it because that's not the purpose of this laptop.
However, this is a 360-degree flip and fold touch screen laptop, which means you will enjoy this device both as a laptop and a tablet. Well, it's the right time to get this laptop as on Aliexpress, the Dere V10 Yoga 360° flip and fold touch screen laptop is available at just $199, which is nothing when compared to its feature.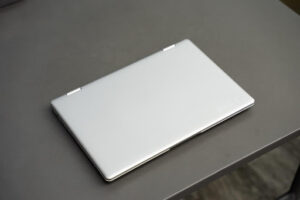 Why Choose Dere V10 Yoga?
There's no reason not to choose the Dere V10 Yoga 360° flip and fold touch screen laptop as it has everything from a decent processor to storage. Also, it is perfectly suited for office workers or students as you can work nonstop on this laptop for up to 8 hours because it comes with a powerful 4800mAh Lithium battery.
Is Dere a Good Brand to Trust On?
The company was founded in 2009 in China Shenzhen and specializes in consumer electronics. However, providing Higher Quality & More Cost-Effective has always been their mantra. Also, in Dere Shenzhen, various modes of operation integrate, such as R&D, production, brand operation, and sales.
Meanwhile, in order to create novel, stable, and reliable digital products, they leverage their own technical strengths and channel advantages, which make them different from others.
In addition, the company has a goal to provide unique products specifically suited to the customer's specific needs. So, I think you should definitely go with the Dere if your budget is not allowing you to go for the high-end devices.
What Are The Notable Features of Dere V10 Yoga 360° Flip And Fold Touch Screen Laptop?
Although there are many features, but the most notable features that excite me are mentioned as follows:
#1. 360° Flip-And-Fold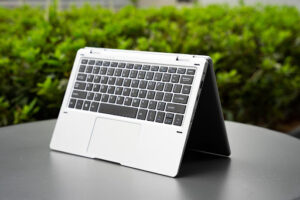 You will have an extraordinary fully flip and foldable screen that allows you to fold your laptop screen up to 360°, which I think is a really good feature that Dere offers.
#2. Touch Screen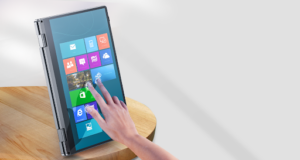 At this price range, no other company offers a touch screen laptop, but with the Dere V10 Yoga 360° Flip-and-Flop, you will get a 10-point touch compatibility screen.
#3. Light Weight
The laptop is extremely lightweight; even if it has an 11.6" screen, it has a weight of 1KG.
#4. Processor
This laptop features an Intel Celeron N4000, which has a clock speed of 2.6GHz. Therefore, it can easily handle your normal day-to-day activities.
#5.RAM/Storage
Now, talking about the RAM and internal storage that the Dere offers in this laptop, then it comes with the 4GB DDR4 RAM along with the 128GB SSD & 8GB LPDDR4 RAM with 256GB SSD.
#6. Operating System
Most surprisingly, it comes with a pre-loaded Windows 11 (4+128-WIN10), which is, I think really good step from Dere.
What is The Pricing And Where To Buy it?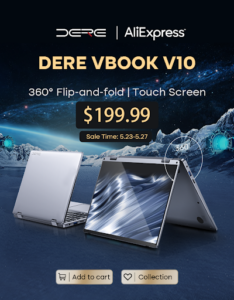 Now, finally, the most important segment the pricing. Well, the Dere V10 Yoga 360° flip and fold touch screen laptop price is just about 199 dollars in a sale period of 23rd to 27th May PST. However, you can easily buy it from either their official online store or from Aliexpress.
So, that's everything you need to know about the Dere V10 Yoga 360° flip and fold touch screen laptop. We hope that you find this article helpful. For further details, visit Dere's official website.