Along with the arrival of the Season of Arrival in Destiny 2 comes the Cold Denial Pulse Rifle. Although this weapon is a little bit slow, this is a powerhouse machine. If we keep aside its disadvantage of being slow, this will make one heck of a hard-hitting Pulse Rifle! As this particular weapon has already been introduced to the game, now all that remains are the means to grab one.
In this guide today, we'll talk about how to get the Cold Denial Pulse Rifle in Destiny 2. We'll take you through the entire process of getting this particular Pulse Rifle. So if you're carving for this weapon, then read on as this guide will most definitely end your cravings. So without any further ado, let's get right into how to get Cold Denial Pulse Rifle in Destiny 2.
Destiny 2 Cold Denial Pulse Rifle: how to Get
Getting a Cold Denial Pulse Rifle in Destiny 2 involves a pretty straightforward process. The Cold Denial Pulse Rifle is a reward from the free Season Pass so you don't necessarily have to put in any amount of money into the game for this particular weapon. All you need to do is to hit Rank 45 in the Season Pass and the Cold Denial Pulse Rifle will be sent to your Umbral Engram loot pool. Then, from there, you can get it new rolls from Umbral Engrams. As we are having access to the Prismatic Reactor in the game this season, you can focus the Umbral Engrams pretty easily. Another thing to keep in mind is that turning them into Pyramid Focused Umbral Engrams will narrow down the line of weapons, giving you a greater chance of receiving the Cold Denial.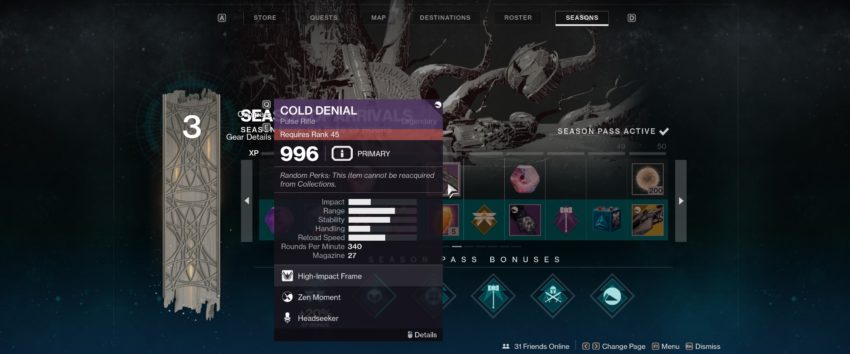 Summing up our guide, all you need to do to get the Cold Denial Pulse Rifle in Destiny 2 is reach Rank 45 in the Season Pass. This is a free Season Pass reward so you don't have to spend any money for the Season Pass if the Cold Denial is what you're aiming for. After reaching Rank 45, the weapon will be sent to the Umral Engram loot pool and you can win the weapons from there. That said, we hope reading the guide above has brought some valuable information and help to you. Please let us know by commenting down below if you have any further queries regarding the same.
Also, check out our iPhone Tips and Tricks, PC tips and tricks, and Android Tips and Tricks if you've got queries for it or want help. Thank you!