Nezarec's sin exotic helmet takes the place of pride as one of the most excellent helmets in Destiny 2. It is proven to be potent and can be used by all warlock subclasses. The helmet comes equipped with void energy. This makes it a perfect fit for your protection and combat. Hence, helping you stay safe while you bring down the many oppositions on the other side.
The helmet performs excellently well when used for crucible and PVE. In order to reach its maximum capacity, the helmet may require a complete void setup and will do well in PVE, making it one of the most sought-after equipment in Destiny 2. In the guide below, we'll take a clearer look into the Nezarec's Sin Exotic Helmet. So without any further ado, let's dig deeper about the Nezarec's Sin Exotic Helmet in Destiny 2.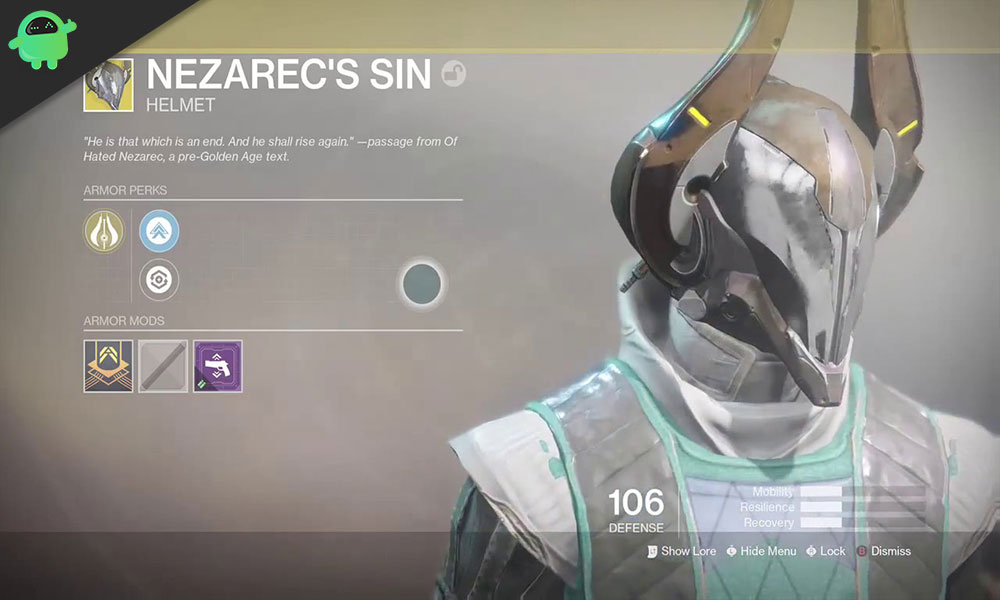 When to use Nezarec's Sin Exotic Helmet in Destiny 2
The helmet requires void kills for it to function. In order to achieve this, you will either use a void weapon or subclass. the best setup will be to combine the void weapon and subclass for the seamless functioning of the helmet. Similarly, the helmet works best with the void walker, and the reason for this perfect harmony is that with the activation of Devour, your grenade can be recharged, offering you two buffs to recharge your grenade.
Furthermore, the Nezarec's Sin Exotic helmet is excellent when used in the oppressive darkness mod. This mod works to weaken combatants damaged by a void grenade. Using the Nezarec's Sin Exotic Helmet, combined with devour and Insatiable, will make it easy to keep combatants under the effect of grenade damage for a long time. This provides a perfect timing to use the helmet.
Best ways to get Nezarec's sin
You can easily purchase the Nezarec's Sin Exotic Helmet in Destiny 2 from Xur, as it is often available on the loot pool. You can also unlock one if you are lucky as it doesn't come that easy.
Abyssal Extractors – Nezarec's Sin Perk
The abyssal extractors is a Nezarec's Sin perk, and it is responsible for increasing your rechargeability rates after a void kill. This means that whenever you succeed with a void damage kill, you will receive the abyssal extractors that are often active for 5 seconds. During this period, your ability to recharge rate will refresh and improve. This makes it pretty powerful even in these times.
The Nezarec's Sin Exotic Helmetis one must-have body equipment in destiny 2. If you manage to use the void subclass and weapons, you are in luck as Nezarec's Sin will offer you more excellent protection. With that, we hope reading the guide above has brought some valuable information and help to you. Please let us know by commenting down below if you have any further queries regarding the same.
Also, check out our iPhone Tips and Tricks, PC tips and tricks, and Android Tips and Tricks if you've got queries for it or want help. Thank you!