Lately, there has been a significant amount of hype surrounding the future of Bungie's popular free-to-play online FPS, Destiny 2. On Tuesday, Bungle finally revealed details about this summer's Season of Arrivals and the new expansion for Destiny 2, "Beyond Light."
Given below is the roadmap of Season of Arrivals, and everything we know about it so far.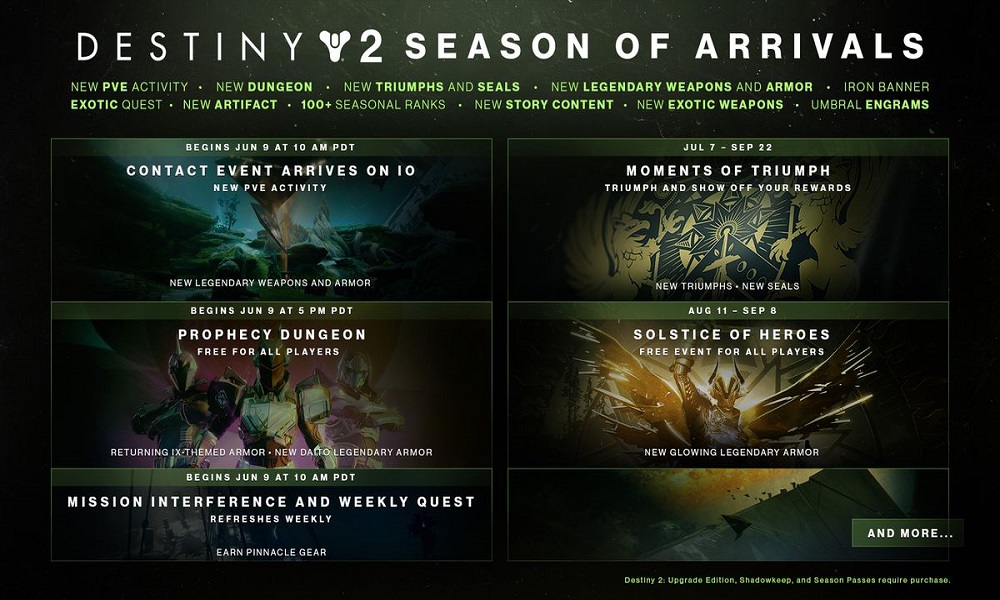 Contact Public Event
Gamers will have to team up and participate in public events on Io, in the shadow of the gigantic Pyramid ship above, in order to get ready for the great battle against the Darkness. There will be enemies dropping from the Pyramid ships, and you will have to destroy them with the help of your teammates. Doing this will grant you access to the ancient power of the Pyramid.
New Engrams
The developers revealed a few weeks ago that you will now be able to retrieve new Engrams from the ground. You can also change their contents by means of a newly introduced tuning process. Everybody will be able to use these Engrams, but those possessing a Season Pass will be able to get much better loot items from them.
Yes, the Darkness is here!
We had been receiving ominous warnings in the form of Rasputin Seraph Bunkers and those scary cutscenes. Yes, it is true – the Darkness is here at last. You can clearly see the fleet of deadly Pyramid battleships hovering over some planets, like Io, Mars, Mercury, and Titan. Although the actual war will take place in the fall, it is essential to know that the Darkness has finally turned up in our Solar System. They are all set to begin laying siege on planets. It is time to prepare ourselves as well.
The New Season Pass
As you know, there is a fresh new season pass for every new season in Destiny. In the Season of Arrivals, you will be able to obtain the all-new Witherhoard Exotic Grenade Launcher! If you possess the Season Pass, you will be able to grab this powerful new toy instantly. In case you don't, relax because you can still obtain it by leveling up in the free track of the Season Pass.
Season of Arrival Roadmap for Destiny 2
General
Exotic Quest
Iron Banner
More than 100 Seasonal Ranks
A New Artifact
New Dungeon
Some new Exotic Weapons (namely, the Exotic Grenade Launcher)
Several new Legendary Weapons and Armor
New PVE Activity (Contact Event)
Fresh Story Material
New Triumphs and Seals
Umbral Engram
June 9
Contact Event becomes available on Io
Mission Interference and Weekly Mission
New Daito Foundry Armor
New Legendary Weapons and Armor
Pinnacle Gear
Prophecy Dungeon (Freely available to all players)
PVE Activity
Returning IX-Themed Armor
July 7
Moments of Triumph (until September 22) – Freely available to all players
August 11
Solstice of Heroes (Until September 8) – Freely available to all players
New Glowing Legendary Armor
The roadmap covers all the crucial events and prizes to be featured in this season. The developers have created the game's schedule in a way to allow players to plan their own preparations for the Season of Arrivals adequately. The roadmap does happen to be a bit scant in regards to details, just like in the case of Season of the Worthy.
You will be able to unlock more and more seasonal events in the upcoming weeks. And then, get ready to take part in the Solstice of Heroes summer holiday later! There are still a number of Exotic missions and objects like the Lie that are not featured in this schedule. However, they will definitely turn up before Beyond Light is officially released in the fall.
We hope you have a most wonderful time experiencing the roadmap in Season of Arrivals in Destiny 2. Remember to check out our Windows Guides, Games, Social Media, iPhone Tips and Tricks, and Android Tips and Tricks. Subscribe our YouTube Channel for participating in our $150 giveaway contest. By the way, if you find any queries, doubts, or feedback, do comment down below with your name along with e-mail ID, and we will respond shortly. Happy Gaming!