Fortnite is one of the most famous Battle Royale titles in the world of gaming. Fortnite was released back in 2017 by Epic games and for all the major platforms. Including Xbox One, Play Station 4, Microsoft Windows, Nintendo, as well as for Android and macOS too. The game is now updated to its latest form of Creative and Save the world. Moreover, week ten challenges are now live as well. This Battle Royale game is an immense success, and one of the most played games around the globe.
Now the final week of usual set challenges is out with Week 10. This was originally set to be the end of the Battle Pass and the end of the season. Unfortunately, the season has been extended to June, and so there will be a lot of Overtime missions and challenges to complete. Among the most tricky ones is the Golden Pipe Wrench challenge. Players are finding it really difficult to complete, and they are finding the best solutions to this. Just like you came here for help. So keep on reading to collect all the Golden Pipe Wrenches in different locations.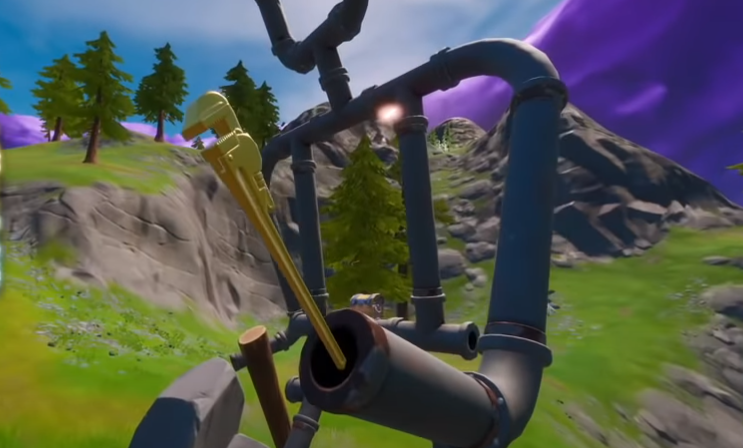 Locations for Different Golden Pipe Wrenches
The challenge is quite reasonable, and you can find random pipe wrenches floating all around the Fortnite map. But you cannot say how they got there, all you have to do is go near them and search using your interact button. Now we will discuss the different locations where you can find the Golden Pipe Wrenches.
Where to Find Them?
You will have to go down the five locations that we have marked on the map below.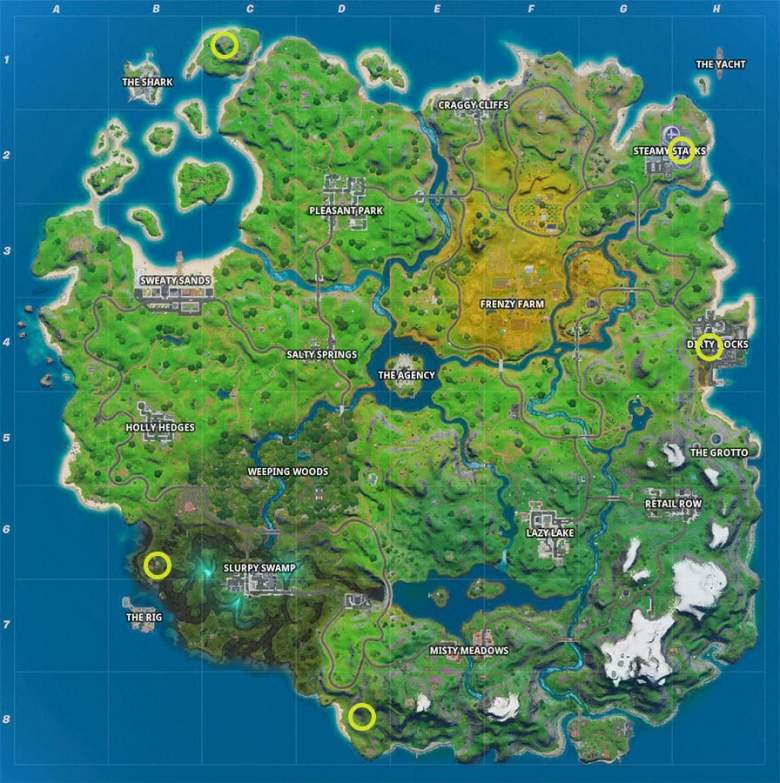 In the map, you are able to see the exact locations of the Wrenches. So all you have to do is visit them over the course of several matches, or even one may be enough if you are that lucky! You may, however, need to cover a great distance, so there may be a chance you may not complete all at once due to the storm.
Here is a brief explanation of where are those Golden Pipe Wrenches. And indeed they are there you just need to reach there.
On the Top of Lockie's Lighthouse
North of The Rig in a small pond
On the South Side of the map, handing on the arm of the Pipeman
In the center of Dirty Docks
In Steamy Stacks near the bus
Once you collect all those, your challenge will be completed, and you will now be able to move on to the next challenge.
Although this is the unofficial week of final challenges, there are going to be several special missions that will require you to sacrifice Legendary weapons to a Ghost or a Shadow Dropbox. If you can do this, you will be able to select a different style for your Midas, and you will complete your Battle Pass missions. So think about what you really want to do.
Wrap-UP
This guide was to help the players of Fortnite who were having difficulty in collecting Golden Pipe Wrenches. After following our guide and locations, they can easily obtain them. We hope our guide helped you.  If you have any queries or feedback, feel free to comment down below with your Name and E-mail ID. Likewise, check out our iPhone Tips and Tricks, PC tips and tricks, and Android Tips and Tricks for more such tips and tricks. We urge you to participate in the $100 giveaway by subscribing to our YouTube Channel. Thank You.