Finally, it's here and it's official. Google currently released the final and stable form of Android P better known as Android Pie. Android 9 Pie is quite early to the work from what it seems. Android Pie is the ninth major release of Android. It is the successor to 2017 Android 8.0 and 8.1 Oreo.  Google's Pixel devices are currently receiving the 9th version of Android OS. If you use Google's Pixel devices you can download Android 9 Pie factory images and full OTA files. Android Pie also brings the August 2018 security patch update along with it.
While Google's Pixel, Pixel XL, Pixel 2 and Pixel 2XL are getting the upgrade to android P, Pixel C, Nexus 6P, and 5X are getting the August 2018 security patch which is based on Android 8.1 Oreo.
What Are The Features of Android Pie
Here let's just a have a glance on what Android P brings for the devices.
Adaptive Battery
App Actions
New system navigation with the overview mode
New circular icons for notifications and expanded previews for messages
Track your app usage and set App Timers to prevent overusing apps
Android 9 Pie update is rolling via OTA. It will drop in batches to the users. You will receive the OTA update anytime soon on your device. Otherwise, you can check for the OTA update manually by following the below-given instructions.
Follow the instructions to check the OTA update manually and download Android 9 Pie.
Go to Settings –> System menu –> System Update —> Now tap on the Check for Update option. If you see the Android 9 Pie update with Google August 2018 Security patch, then hit the download button to begin the update.
We have put up both the OTA and Factory image links for the Google devices getting the Android  Pie with August 2018 Security. You can download Android 9 Pie the update by following the below step by step instructions.
Download Android 9 Pie OTA and Factory Images
Here are the official links for the OTA and factory images for various Google devices that bring Android Pie.
How To Manually Install Android 9 Pie on Pixel Devices
After you download Android 9 Pie it's time to flash it on your Pixel devices. For installing the Android Pie system Update on your device make sure to download the required tools and drivers on your PC.
Requirements:
You can either follow the ADB Sideload method to install the latest update or you can also use the factory image installation process.
Steps of  Android Factory image Installation
Step-1   open the ADB fastboot folder on your PC. It may there either on your desktop or C:/ADB i.e. Windows C drive.
Step-2 Next step is to extract the files of respective devices and move the files to ADB folder.
Step-3 Now in the same ADB folder, press and hold the 'Shift" key and right-click on anywhere inside the folder to select 'Open command window here.'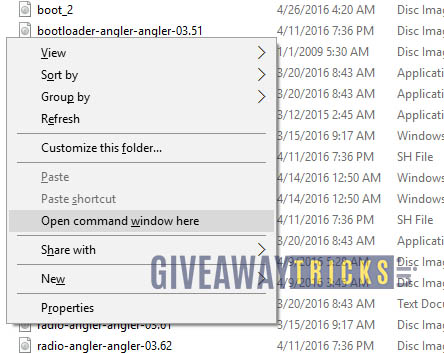 Step-4 In the command prompt windows need to enter a command for which your phone has to be connected to your computer system. The command is as follow:
   adb devices
Step-5 Using the following command boot your handset into bootloader mode.
adb reboot bootloader
Step-6 Your phone will now automatically reboot itself and enter the bootloader mode.
Step-7  Now begin the installation of latest ROM on your Pixel and Nexus phones. Firstly, open the Android 8.1 files that are present in the folder of ADB and simultaneously locate the flash-all script. To run the files double click on it to begin the installing process on your phone.
Step-8 You will be asked to press any key to exit as soon as you are through with flashing the respective build for the devices. Please do not exit from the terminal unless you are asked to do so.
Step-9 Lastly, all you need to do is reboot your Android device. Now you will be running the latest Android OS 9.0 Pie with Google Android Security patch level for August 2018 on the Pixel devices.
Alternatively, you can also flash the Android Pie ROM using ADB Sideloading method.
So, that's it. After so much wait and so much testing, Android P is finally here. If you are using Pixel devices from Google, then make sure to download Android 9 Pie and flash it using the instructions above. Do let us know about your experience with Android v9.0 Pie.