Today the smartphone domain consists of a large number of users. out of which a majority of users have a keen interest on the custom ROMs. We always bring you the best custom ROMs available which. Custom ROMs provide a lot of features whereas stock ROM has its limitations. One such new and different custom ROM have been developed by XDA developer dantheman78. This ROM goes by the moniker RattleSnake OS. It is for the Pixel devices. RattleSnake OS is focused on providing more privacy and security to the device. In this post, we have provided the guide on how to download and install RattleSnake OS.
RattleSnake OS makes use of a cross-platform tool, rattlesnakeos-stack.  This tool provisions all of the AWS infrastructure needed to continuously build your own personal operating system. This includes your own signing keys and your own OTA updates. However, to use this ROM you have to spend a few dollars per month.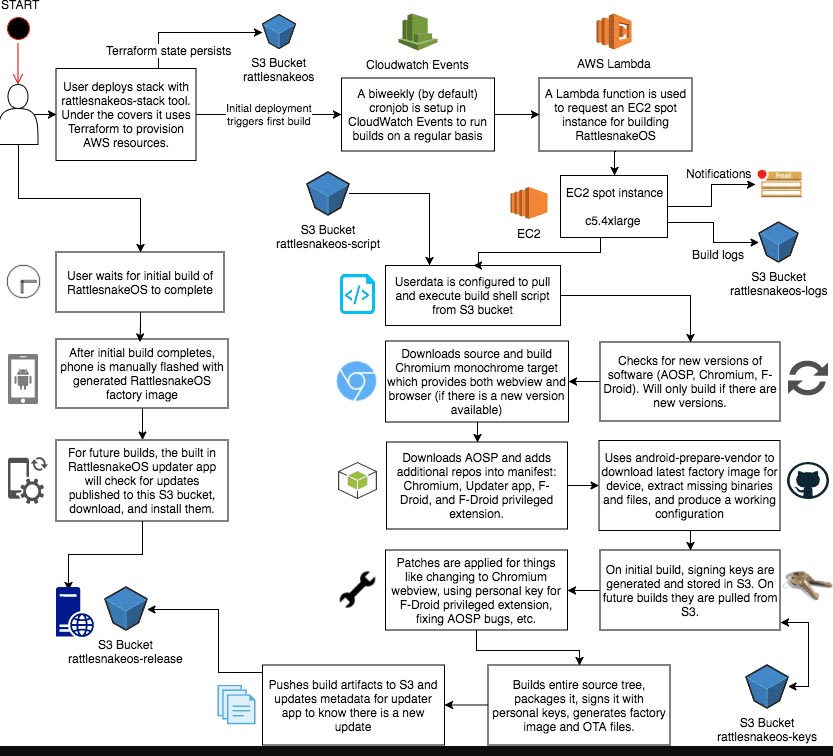 Features of RattleSnake OS
Here are the primary features of this ROM.
Based on the latest AOSP 9.0 (Android P)
Support for Google Pixel, Pixel XL, Pixel 2, Pixel 2 XL, Pixel 3, Pixel 3 XL
Monthly software and firmware security fixes delivered through built-in OTA updater.
Maintain verified boot with a locked bootloader just like official Android but with your own personal signing keys
Latest Chromium browser and web view.
Latest F-Droid client and privileged extension.
Free of Google's apps and services
Advanced build customization options
How To Install RattleSnake OS on Pixel Devices
First of all, you have to download the OS itself.here is the link to the same. It consists of all the necessary files the ROM requires.
Download RattleSnake OS [Custom ROM]
Disclaimer: GetDroidTips will not be responsible for bricked devices. Install this ROM at your own risk.
You May Also Like,
Pre-Requisite
You'll need to create an AWS account if you don't have one. If this is a new AWS account, make sure you launch at least one paid instance before running through these steps. To do this you can navigate to the EC2 console, click  Launch Instance, select any OS, pick a c5.4xlarge, and click Review and Launch. After it launches successfully you can terminate the instance through the console. If you can't launch an instance of this size with your new account, you may need to request a limit increase through the web console for that instance type.
In the AWS web console, you'll need to set up AWS credentials with Administration Access. If you're not sure how to do that, you can follow this step by step guide. You'll need the generated AWS Access Key and Secret Key for the next step.
On your local computer, install the AWS CLI for your platform and configure it to use the credentials from the previous step. Verify that the CLI credentials are configured properly by running a command like 'aws s3 ls' and make sure no errors are returned.
On your local computer, using the CLI, generate an SSH key and upload the public key to all regions in AWS as shown below. By default, we'll name the keypair as rattlesnakeos in the AWS. The public and private SSH key will be dumped to the current directory, make sure to save these to a safe place.
Installation Guide
Here is the complete installation guide that will help you out.
RattleSnake OS Installation Guide [Custom ROM]
So, that's it, guys. If you like trying out custom ROMs, then check out the RattleSnake OS. Tweak this new ROM on your device and let us know.